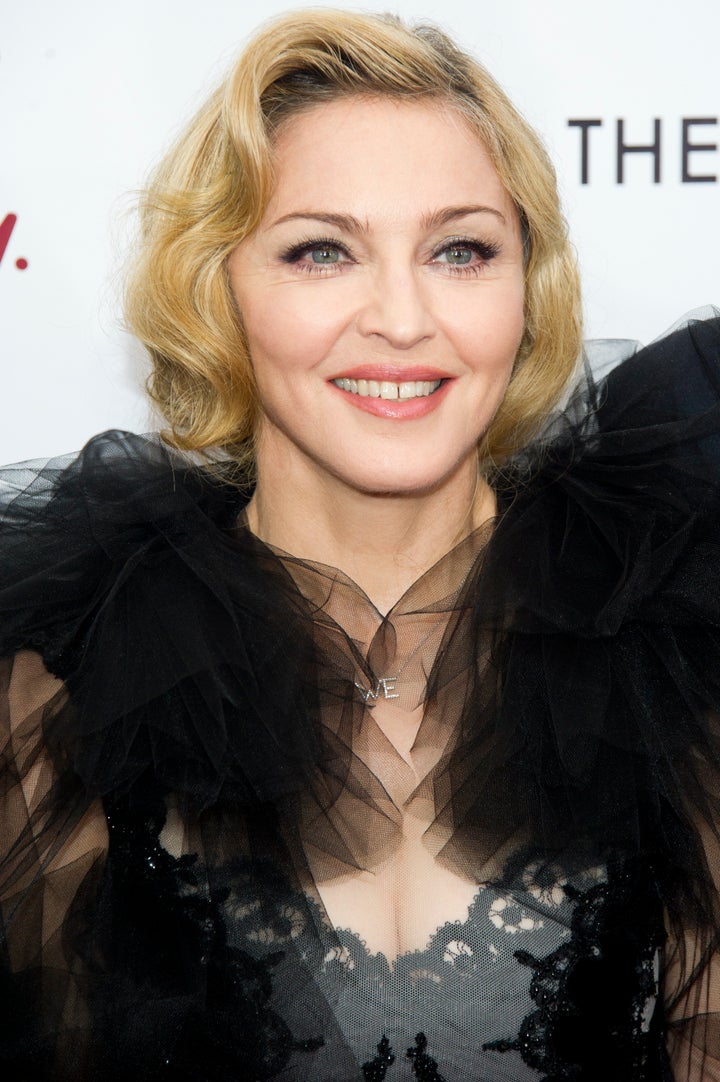 The last thing a moviegoer might expect from W.E. is that the film is more Merchant-Ivory than Material Girl. Because the director is Madonna -- who will be a magnet to the media when she performs the Super Bowl Halftime Show on Sunday -- it has been easy for some critics to take cheap shots at her directorial aspirations. But W.E. turns out to be a surprisingly classical -- and satisfying -- drama that cross-cuts between 1998 Manhattan and Europe 60 years earlier. It even overlaps with The King's Speech via scenes of the royal family, especially when we see Bertie stammering in 1936.
It's not surprising that Madonna was drawn to the story of Wallis Simpson, the Duchess of Windsor who famously said, "A woman can never be too rich or too thin." The film is anchored in her riveting character -- someone who (like Madonna) has a gift for reinventing herself -- a chic, smart American transplanted to England, a glamorous celebrity who pays a price for fame. "Men are such visual creatures, darling," she says in a mirror, after confessing that she wasn't beautiful but made the most of what she was given.
Wallis is superbly played by Andrea Riseborough, who is likely to be this year's Jessica Chastain: in addition to W.E., the versatile British actress will be seen in such disparate films as Shadow Dancer and Disconnect. (And whereas Chastain was announced as the female lead of the Tom Cruise-starring Oblivion, when she left the project, Riseborough entered.)
Both Wallis and her counterpart in the present of W.E. -- Wally Winthrop (Abbie Cornish) -- are shown applying make-up for male eyes and getting gussied up. Who better than Madonna to show/know from the inside how a woman puts on her public self? (How appropriate in this regard that cinematographer Hagen Bogdanski--acclaimed for his work in The Lives of Others and Young Victoria -- captures the allure of gleaming surfaces, including diamonds. In flashbacks that are exquisitely detailed and voluptuously dramatic, one feels the intertwining of Merchant-Ivory and that Material Girl.)
In a wonderful scene that seems to refer as much to Madonna as to the Duchess of Windsor, Wallis tries to flee photographers after the Duke abdicates the throne to remain with her: hoping to get them off her trail, she dashes from her car into the Claridge Hotel, but then out the back entrance and into another car. "My privacy, freedom, reputation" are the things Wallis says she lost, adding, "They can't hate you unless you let them."
Let's not forget that Madonna has already directed another feature, Filth and Wisdom (2008), a shaggy-dog tale set in London, narrated by and centered on A.K. (Eugene Hutz of Gypsy Bordello), Ukranian immigrant rock musician and male dominatrix. Whereas one of his pungent perceptions could have been in W.E. -- "The road to success is paved with humiliation. The earlier you accept that, the easier the road will be" -- Filth and Wisdom is scruffily independent where W.E. is elegantly polished.
Some of the criticism to which Madonna has been subjected is reminiscent of the barbs that were aimed at another singer-turned-actress-turned filmmaker, namely Barbra Streisand. While one can argue about degrees of talent, there is no question that determination and chutzpa characterize both pop icons.
A telling anecdote was related by Milos Forman when he was an onstage guest in my "Reel Pieces" series at Manhattan's 92nd Street Y. The filmmaker recalled that when he was casting Hair in the late 1970s, a very long line formed in Central Park for the open call for performers. The first person to audition -- the one who had stood on line longest -- was a young woman named Madonna.
Yes, W.E. could benefit from losing some of its arty shots; yes, the past tense story is far more compelling than the present one (not unlike Julie and Julia); yes, Abel Korzeniowski's swirling score is often redolent of Philip Glass. But the film's Wallis is a knockout. When it comes to female portraiture, Madonna has a knack that goes beyond crafting her own image.
Annette Insdorf is director of undergraduate film studies at Columbia University, and the author of books, including the upcoming "Philip Kaufman."
Popular in the Community