 How do you get under the skin of a French right-wing politician?
Just ask Madonna, who successfully ticked off National Front leader Marine Le Pen during a show in Tel Aviv, Israel, last Thursday.
The image appeared only for a split second in a montage featuring the likes of Sarah Palin and Chinese president Hu Jintao. However, the photo apparently caused enough of a stir for Le Pen to consider suing.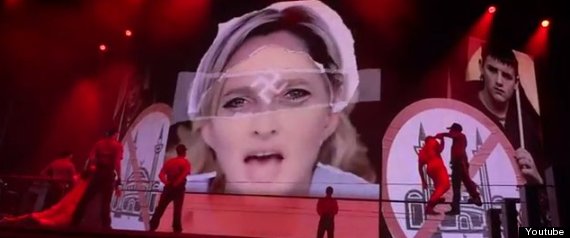 Marine Le Pen with a swastika superimposed on her forehead. (Screenshot from YouTube/mymdnaDOTcom) France's far-right National Front candidate for the presidential election Marine Le Pen delivers a speech in Paris, Tuesday, May 1, 2012. (AP Photo/Francois Mori)
Marine Le Pen is the head of France's National Front, a far-right political party that has been accused of racism.
"We are not a Nazi party, and object to being depicted as such," a party source reportedly told the Daily Mail.
The National Front won a record 18-20% of the vote in France's presidential elections on April 22.
Radio France Internationale, an international public broadcaster, reports that Le Pen will be "watching very closely" to see if Madonna does a repeat when she performs in Paris on July 14.
Skip to 1:32 in the footage below to see Marine Le Pen in Madonna's show:
Related
Popular in the Community