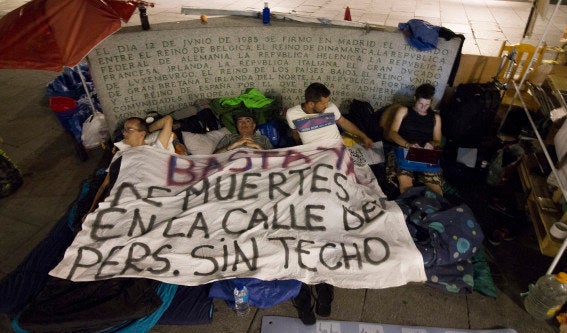 MADRID, Spain ― Day and night, Madrid's streets are sprinkled with homeless people. Many of them spend their nights outside supermarkets, tobacco shops, churches or other institutions, with only cardboard for mattresses. Passers-by sometimes acknowledge the homeless with spare pocket change; other times, they just keep walking.
Homelessness has been a growing problem in Spain since the economic crisis, which has left tens of thousands evicted, jobless and faced with poverty. In 2012, a few years after the property crash, evictions were taking place at a rate of 500 a day. An estimated 40,000 people in the country are currently homeless. 
According to the most recent survey by Madrid's city council, 1,900 homeless people live in the city, and about a third of them live directly on the streets.
Lagarder Daciu, a Romani activist who has devoted himself to drawing attention to poverty in Spain, suggests the real number of homeless people in the capital is closer to 5,000, and notes that many of Madrid's homeless don't end up in shelters. "I've seen entire families sleeping in vans or on concrete," he told HuffPost Spain.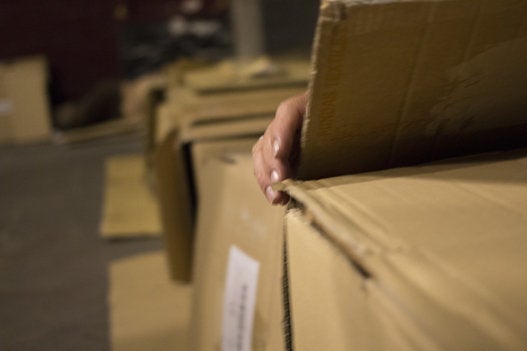 The activist recently staged a protest outside of the conservative ruling party Partido Popular (PP) headquarters in Madrid, decrying austerity measures and spending cuts under Prime Minister Mariano Rajoy's government.
The ruling party's statements and policies have often been regarded as hostile to the homeless. In her campaign during the municipal elections in 2015, the PP leader in Madrid, Esperanza Aguirre, promised to investigate why people "are permitted to live on the streets" of the Spanish capital, and crassly stated that homeless people scare tourists away.
In 2014, the former mayor of Madrid, Ana Botella, redid more than 4,000 bus shelters in Madrid with a new bench design that some described as "anti-homeless." The metal dividers on the seats prevented people from fully reclining on them.
Lagarder claims that despite the subsidies given to private companies tasked with providing services to the homeless, many people on the street are left unsupported.
"Given this situation, the only solution is making noise and protesting, and joining forces with associations [that serve the homeless] such as Chupano, Invisible Coslada or Invisible Tetuán," says Lagarder.
Streets Over Shelters
Lagarder refers to Madrid's main square, the Plaza Mayor, as the "makeshift roof." He says that between 60 and 80 people stay there every night.
"Then, around 7:30 a.m., the police come to drive them away," he says.
On a recent Sunday afternoon in the Plaza Mayor, two groups distributed food to the homeless, a parish and a group of young English women that visits the square every Sunday. In the span of two hours, about 200 people passed through the area to grab a sandwich and a drink of water.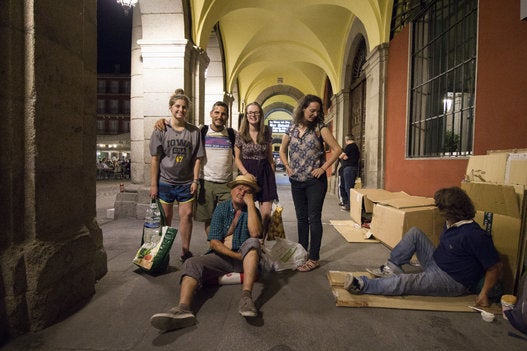 One of those people is Carlos, a homeless man who worked as a security guard for a decade before finding himself on the streets four years ago.
Carlos says he prefers not to resort to the city's shelters. "I prefer the street, where I don't feel coerced," he tells HuffPost Spain. "I eat well, and never run out of human warmth and cardboard."
Despite his difficult circumstances, Carlos manages to stay hopeful. "The time will come, you always have to be positive," he says.
Not everyone is as optimistic. From an empty bar terrace, Don Antonio, a 63 year-old man, says that ending up on the street was "a catastrophe."
He started working when he was 14, and ended up with a job in the construction sector. After he lost his job, he was evicted. "Things just happen in life," he tells HuffPost Spain.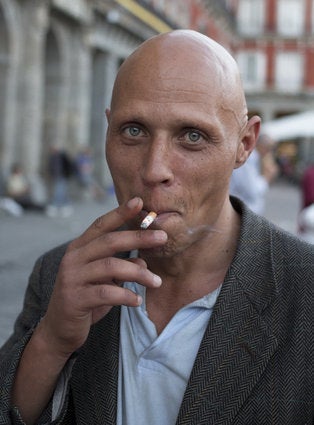 Like Carlos, he refrains from resorting to shelters. "I was not born to be given a plate of food. I have not earned that plate, and they are not under any obligation to give me anything," says Don Antonio.
He adds that shelters "lump together all kinds of people: drug addicts, the mentally ill ― people who should be supported by other institutions."
Nico (who is being identified by a pseudonym at his request) left his hometown of Ukraine and moved to Barcelona, where he spent five years working without a permit. When the financial crisis hit, he lost his job and came to Madrid, where he has spent the past three years making soap bubbles for children in the Plaza Mayor.
"At the end of the month, I'm going back to Barcelona, where there are more tourists," he says.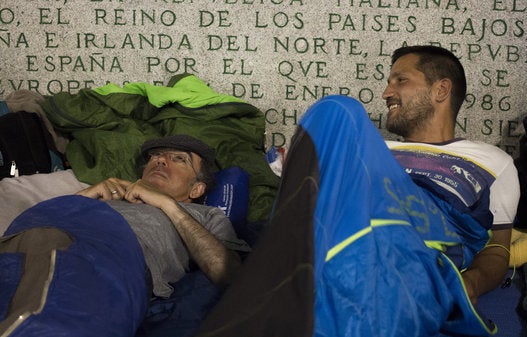 Disillusionment With Politics  
The general sentiment on the street is that during election seasons, politicians make many promises ― not only for the homeless, but also for those who are self-employed, among others. But as soon as the election wave comes and goes, the promises are left unfulfilled.
"The press is not interested in homeless people. They're only interested in politics, the rich and football.
When Podemos-backed Madrid Mayor Manuela Carmena took office in 2015, she arrived with a vision to protect housing and find a solution to mass evictions. In July 2015, she overturned eviction orders for 70 families, and set up a mediation service for people who are unable to pay their mortgage and banks.
But Antonio, a homeless Leonese man, maintains that Carmena is not doing enough to solve the housing crisis.
"Carmena has not fulfilled her promises, the housing we have is a box in the square," Antonio tells HuffPost Spain. "Nobody remembers the poor, the unwanted underdogs of society."
Like a large number of Madrid's homeless population, Antonio, who has a physical disability and a pacemaker, finds it difficult to secure a spot in local shelters or get access to basic services.
"Spain is disgusting. I am Spanish and our country is disgusting," he says.
Hungry and exhausted from spending night after night in a sleeping bag on the street, Antonio says: "I feel like a stranger in my country. I feel ashamed."
Antonio didn't vote in June's general elections. In fact, he has never voted.
"I don't vote because I don't agree with the policies of the governments we have had," he says. "They have all promised to help the poor and they've done nothing."
"For them, the homeless should be set apart, marginalized ― to them, we don't count," he says.
Antonio says he would only consider voting if he witnessed concrete action against poverty on the part of politicians. "Politicians only think about dividing up seats and money, they don't think about anyone else," he says.
His frustration extends to the media. "The press is not interested in homeless people. They're only interested in politics, the rich and football. The poor are not profitable," he says.
Papi, who heads an organization formed by and for the homeless called the Chupano Association, sleeps next to the theaters opposite a popular nightclub in the city. He has been homeless for six years, but for the past 160 days, he has lived on Doctor Cortezo Street, in the center of Madrid.
"They're not open today, but tomorrow there will be an Erasmus students' party and they will piss and shit next to me," he says.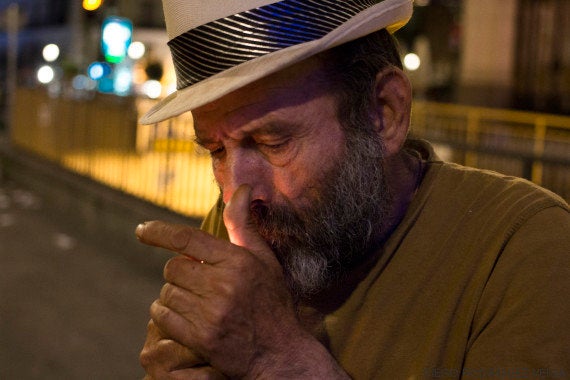 Like many of Madrid's homeless, Papi is disillusioned with politicians, but he says that he finds some of the city's inhabitants "very supportive." He says he's grateful when someone "stops to talk, to have an intelligent conversation."
In a poem he wrote that draws on Martin Luther King Jr.'s famous "I Have A Dream" speech, Papi expresses his deepest frustrations and dreams.  
"Last night I had a dream.
I dreamt everyone was working,
That the government had given them houses
And that priests and nuns and other bad weeds had lost their jobs.
I woke up and everyone was fast asleep.
No one woke up.
Wake up! Wake up! I yelled.
No one woke up and I went back to sleep
Because I'd rather keep on dreaming."
For now Papi, Antonio, Carlos and the thousands of homeless people living on Madrid's streets dream of brighter futures ― or at least, a safe place to spend the night.
This article first appeared on HuffPost Spain. It has been translated into English and edited for clarity. 
REAL LIFE. REAL NEWS. REAL VOICES.
Help us tell more of the stories that matter from voices that too often remain unheard.