Madrid is the top city in Europe for living abroad and the third-best in the world, according to previously unreleased data from the third annual InterNations Expat Insider 2016 survey. With more than 14,000 respondents, it is one of the most extensive studies ever conducted to explore the general living situation of expatriates. The only cities that are even more popular than Madrid among expats are Melbourne and Houston. However, European cities generally do well in the global ranking: Vienna ranks first for the quality of life, Frankfurt is best for working abroad, and Munich tops the chart for job security. On the other end of the scale, the latest survey by InterNations finds that expats in Italian cities struggle with the state of the economy and with their personal happiness in general.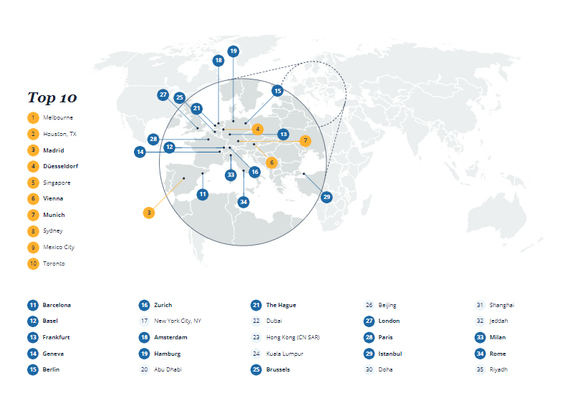 Madrid Is a Favorite for Foreign Residents
The sunny climes and friendly locals find favor with expats enjoying life in the Spanish capital: not only does Madrid make it among the global top 3 in the Expat Insider ranking, but it thus beats all other European cities featured in the survey results.
When it comes to general satisfaction with life abroad, an astounding 93 percent of respondents in Madrid rate this factor positively, noticeably more than the global average of 78 percent. Madrid also receives top marks when it comes to making expats feel welcome, ranking first overall in this subcategory of the Ease of Settling In Index. In fact, 77 percent of expats in Madrid feel at home in the local culture and 72 percent agree that it is easy to settle down in this city. Madrid is first when it comes to finding friends, too: 71 percent rate making new friends in the Spanish capital positively, compared to a global average of 60 percent. As far as making local friends is concerned, only 19 percent find this to be challenging, which is significantly lower than the global average of 36 percent.
Despite being the top city in Europe for the ease of settling in, Madrid struggles in the Working Abroad index, particularly in the Job and Career and Job Security subcategories. There, it ranks 30th and 32nd out of 35 destinations, respectively. The state of the economy is a concern for those working in Madrid: 43 percent rate this factor negatively, compared to the global average of 24 percent. This may also have an impact on how expats in Madrid view their career prospects: 29 percent rate their career opportunities negatively.
Vienna Takes the Cake for Quality of Life, but German Cities Better for Work
According to expats, Vienna is the best city in the world for the quality of life. Ranking first in both the Travel and Transport and Health subcategories of the Quality of Life Index has helped the Austrian capital to secure its first place. An astounding 83 percent of expats in Vienna think the transport infrastructure is excellent, which is far and beyond the global average of 29 percent. Expats in Vienna seem to take advantage of the excellent travel infrastructure, too: 92 percent rate their opportunity to travel positively, in comparison to a 79 percent global average. The affordability of healthcare in Vienna is also appreciated by expats, with 78 percent rating this favorably. In addition, 76 percent are satisfied with the quality of their medical care. Expats living in Vienna do not need to worry about the quality of the environment affecting their health. An overwhelming 96 percent rate this factor positively, in stark contrast to the worldwide average of 67 percent.
The Expat Insider survey finds that Frankfurt is the best city in the world for working abroad, followed by fellow German cities Duesseldorf and Munich in second and third place, respectively. Frankfurt also ranks first in the Job and Career subcategory, with 77 percent of respondents saying they are overall satisfied with their jobs and 78 percent feeling happy with their career prospects. Germany is also a great place for job security, with Munich, Hamburg, Duesseldorf, and Frankfurt claiming the top four spots in the respective subcategory.. For instance, 76 percent of expats in Munich feel generally positive about their individual job security, and more than half (52 percent) consider the local economy to be in excellent shape.
The Eternal City Falls Behind
Rome is the lowest-ranked European city according to the results of the Expat Insider 2016 survey: it comes in on a disappointing 34th out of 35 cities overall, with only Riyadh, Saudi Arabia, ranking lower. Milan does not fare much better, placing 33rd out of 35. Both cities struggle when it comes to job-related factors, ranking 34th and 35th in the Working Abroad index. The state of the economy is of particular concern for those living in Rome: a staggering 67 percent rate this factor negatively, more than double the global average of 24 percent. Political stability is also troubling for foreign residents in Rome, with 32 percent rating this aspect negatively, well above the global average of 18 percent. However, 74 percent of respondents are satisfied with their personal safety in Rome.
Expats in these two Italian cities are struggling to achieve la dolce vita: Rome ranks 32nd in the Personal Happiness subcategory of the Quality of Life Index, followed by Milan in 34th place. In the Personal Finance Index, Milan even comes last: only 45 percent of expats are satisfied with their financial situation, in contrast to a 64 percent global average. On a more positive note, expats in both Rome and Milan appreciate the availability of leisure options, ranking these cities seventh and ninth respectively, despite their economic and financial concerns. Indeed, three out of ten expats give the top rating to the available leisure activities in town.
Related