You know your Europe. You're about to unfold your map.
If someone cut out Portugal, erased only Spain, you would complain. Admit it: You expect Iberia to show up as a single shape. Take one of the peninsula's two parts away and what you expect would deflate.
Something strange would be lurking near France, looking down at Africa, poking out into the Atlantic.
It would be Florida without its handle. Italy without its heel.
In truth, though our eye prefers them together, Spain and Portugal are like fresh sangria and old port. They are different tastes. And while the Euro has helped to remake these countries in some similar ways, the two are like neighbors who roll their eyes at the shouts and spicy smells that drift from next door.
To try to get a glimpse of some of the differences, I went on recent trips to the Iberian capitals, Lisbon and Madrid.
Along with discoveries, I got caught up in the little puzzles that the peninsula puts in your mind:
Why does Lisbon live for pastries? What gives Madrid its appetite for olives, salty sausages and cheese?
How come Spain is up the entire night in discos and tapas bars? And why does Portugal sing fado, its particular brand of the blues?
And when it comes to a few key sights, tastes and traditions, how did they compare?
Here's a rundown on what I found.
Loud Nights (Madrid) vs. Lazy Days (Lisbon)
The word, Madrid, comes out best when it is said aloud. It's clipped, it's pointed at the end, it's proud. Spain's capital and biggest city, Madrid doesn't change its accent for a tourist. It stays up until dawn, then dissolves into a scramble of avenue stores, clinking cafe spoons and traffic sounds.
If you remember touring here a few decades back, like I do, when you could eat and shop on the cheap, you may be in for a surprise. The city of nearly 3.5 million people (and Spain itself) have left their bargain days far behind.
Set smack in the center of the country on a 2,100-foot-high plateau, the only thing that Madrid doesn't have is coastline. It doesn't need it. It's as crazy and cosmopolitan as New York; it's a Paris that's been placed up high on a plinth and spun around by shot after shot of mountain air.
When I get to the Plaza de Espana at the end of the Gran Via, it is evening, and instead of people vanishing for home, a crowd is surging around the monuments and the square.
A man hoists two boys onto the back of a bronze sculpture of Don Quixote astride his horse. They are up and I hear a passing woman in boots shout out: "Muy bien, muy bien!" (Very well!)
My first Madrid night begins.
Lisbon is not about the evening. It lives for its light. The city is stretched out along the water and you can smell it even when you are a mile from shore. Fog and clouds sail in, but the ocean keeps it one of Europe's mildest cities. Instead of Madrid's scouring winds, there are long, easy days--sometimes weeks -- of sun.
When I am here for the first time it is October, and I ask a waiter whether the mild fall day is normal. "Autumn is nice, very nice," he says, balancing cups of Brazilian coffee at a sidewalk cafe. "Even winter."
Portugal's capital and biggest city is more compact than Madrid, with about 3.2 million people in the metro area, but it is a big-city blend. The country's nautical history has brought in a mix of backgrounds, building styles and foods, and there are times when you are walking in cobbled streets when you forget where you are.
A trolley rumbles past and you think Boston. San Francisco. Then an insistent sun pushes out from behind clouds, and you remember. Lisbon. Time to look around.
Prado Paintings (Madrid) vs. Chiado Painted Tile (Lisbon)
In some minds, the word Madrid means "museums." Crowds in the capital bunch in front of big-name Goyas, El Grecos and Picassos. Along the Paseo del Prado, the Thyssen-Bornemisza museum, the Reina Sofía and the Prado itself stand grandly like heads of state.
My Prado visit comes one day before the King of Spain will unveil the museum's new wing. Like everyone else, I am curious, and get a peek through a crack in one of the barriers. What I find out is this: The new wing has red walls. Most of the galleries are beige, which seems to help calm down crowds.
A man with a beard sleeps peacefully while slumped on a padded bench. Art students begin erecting easels and squeezing out tubes of oils (called "oleos" here). Up come canvases, and stubby pencils scratch out knotted, nervous lines from "The Garden of Earthly Delights" by Hieronymus Bosch.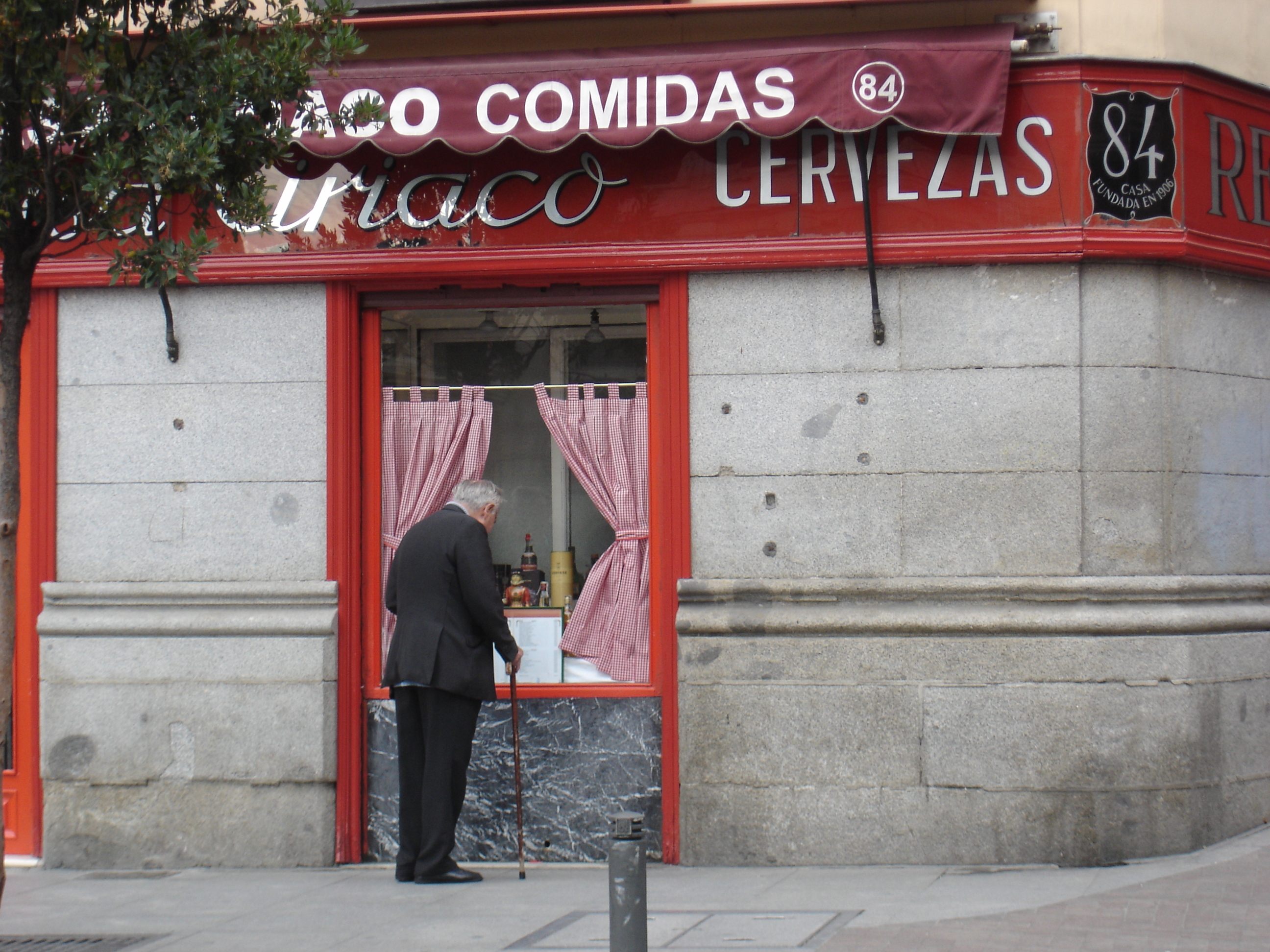 Lisbon has its museum world, too, within the Museu de Arte Antiga and the Museu Calouste Gulbenkian, among others. But it's the street art, the tiles in sidewalks and on walls and in side-street shops that, for me, steal the show.
I go on walks in the Bairro Alto and the Chiado districts pointing at painted tiles above and below. Some give buildings bands of soft sea green or cornflower blue. Some tiles are for sale -- singly, or in batches collected by galleries and stores. And there are thousands under my shoes.
A man in a corduroy suit sees me staring, just staring down at the harlequin patterns that edge up to an avenue curb. "Do you like it?" he asks. I am almost speechless. "How do they make these?" is all I can say. "It's like a jigsaw puzzle for streets."
"It take time," he laughs, moving his hand to his watch. "Lot of time."
Pasteis (Lisbon) vs. Tapas (Madrid)
The Portuguese-Americans on my street eat fish. Good fish, fresh fish. Fish that comes in cans. So when I get to Lisbon I am amazed that locals are obsessed with sweets instead: custards, powdered sugars, delicate cakes.
"Pasteis" is the name here for the pastries and "doces conventuais" (convent desserts) that are laid out in bakery cases all over town. Convents, I am told, used egg whites for ironing and had yolks left over. Solution: bake cakes. According to Samantha Martins, a hotel clerk I talk to, "Lisbon's pastries are better than in Paris." How come? "They are more sweet."
Another Lisbonite I meet, Jose Carvalho, insists I taste his favorites. "Once," he tells me, "my father finished 36 flans. It was a contest. And I think he won it."
We can't come close. But after a Pastel de Nata (pastry with cream), he leads me to a bakery in the Belem area, Docaria Caseira, which makes up little pie-like objects using beer.
Carvalho eats two. I try a bite and though I get some yellow goo, it doesn't taste like lager. It's got a wheaty flavor. I try another. One of the owners pops up proudly from the back. "Take some with you!" she urges. "Pastries of beer can last three weeks without refrigeration!"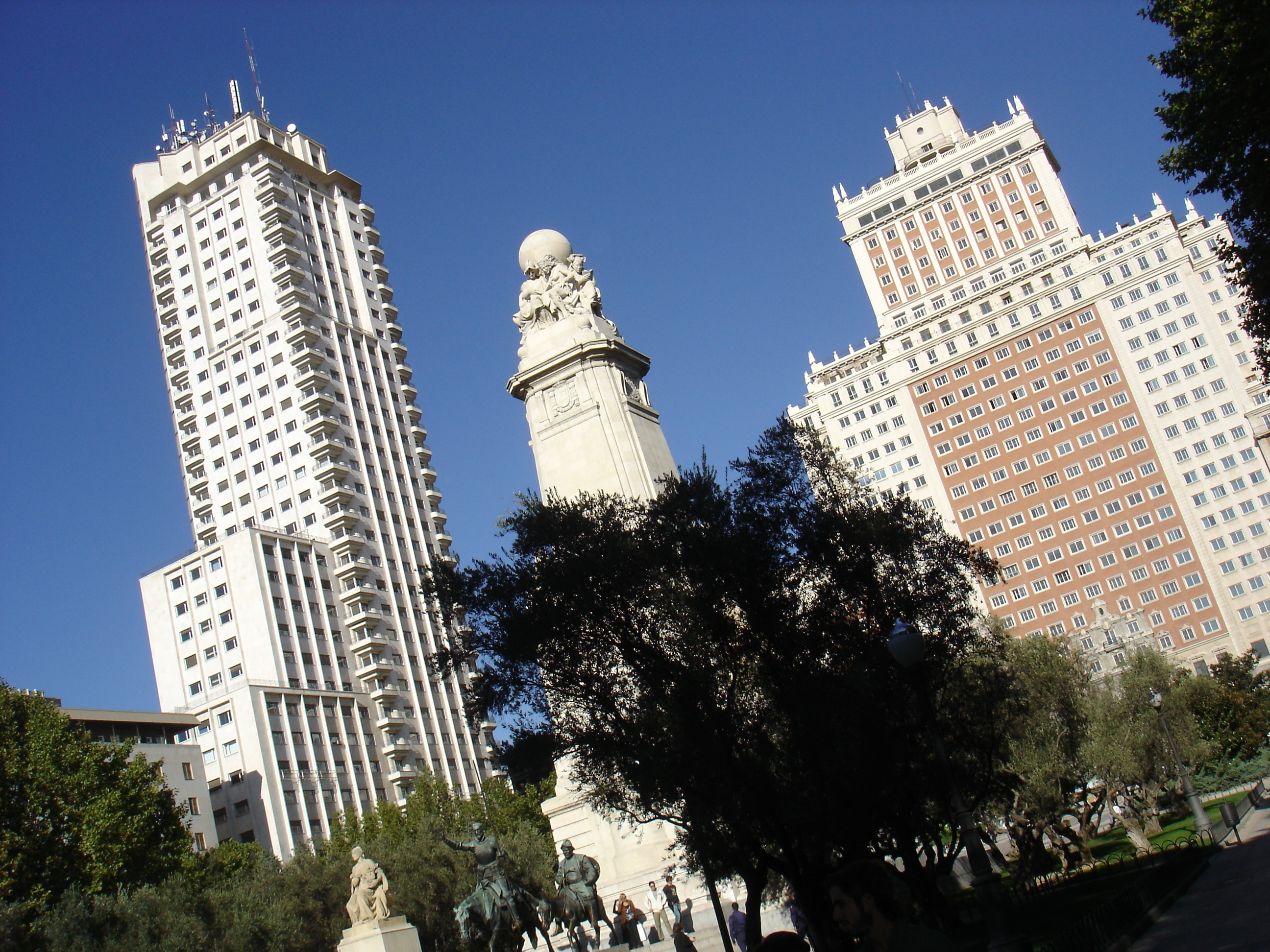 Madrid doesn't have much of a sweet tooth. But this is the birthplace of tapas, those savory, appetizer-sized special dishes that have conquered the world. You can't get dinner here until after 10 p.m. since tapas bars slow down the clock. Locals take their time over wine and over little plates. When I try some slices of a special Iberian ham called "Jabugo," I decide that I don't blame them.
Jabugo is like prosciutto but with more dignity and a deeper flavor. According to my waiter at Taberna del Alabardero, "it comes from pigs, particular pigs, that eat only acorns." This tapa has been tested in the lab, he adds. "It has no cholesterol."
I start eating more. There are anchovies and crushed tomato spread on bread. There are "mariscos" (plates of shrimp and calamari) and "chirrosa," miniature sausages that are fried in oil tinged with wine or cider. These are ugly but good.
"Remember," says my waiter, "how I told you that the other have no cholesterol?"
"Well, these have a lot."
Flamenco (Madrid) vs. Fado (Lisbon)
One of the guys in my tennis group grew up in Lisbon. Since his city is the capital of a bluesy Portuguese music known as "fado," I ask him to describe it before I go on my trip. "Well," he says after a minute, "it's a very sad song."
When I arrive, it isn't long before I hear the notes. They're plaintive and they come from radios and loudspeakers attached to stores and even from a downtown van. It's a "Fadomobile" according to the sign. It drives around. It parks. It blasts amplified guitar. And it sells Amalia Rodrigues CDs.
The word fado can be translated as "fate," and it's my fate to hear it performed at a club called Senhor Vinho on Rua do Meio a Lapa. Senhor Vinho means "Mr. Wine," and that's exactly who I think I am as I tip back in my chair and sip a glass of watery red. I begin to get slightly teary, thanks to the singer (she's entirely in black) and some chiming chords from an acoustic guitar.
My tennis friend was right; it's a very sad song.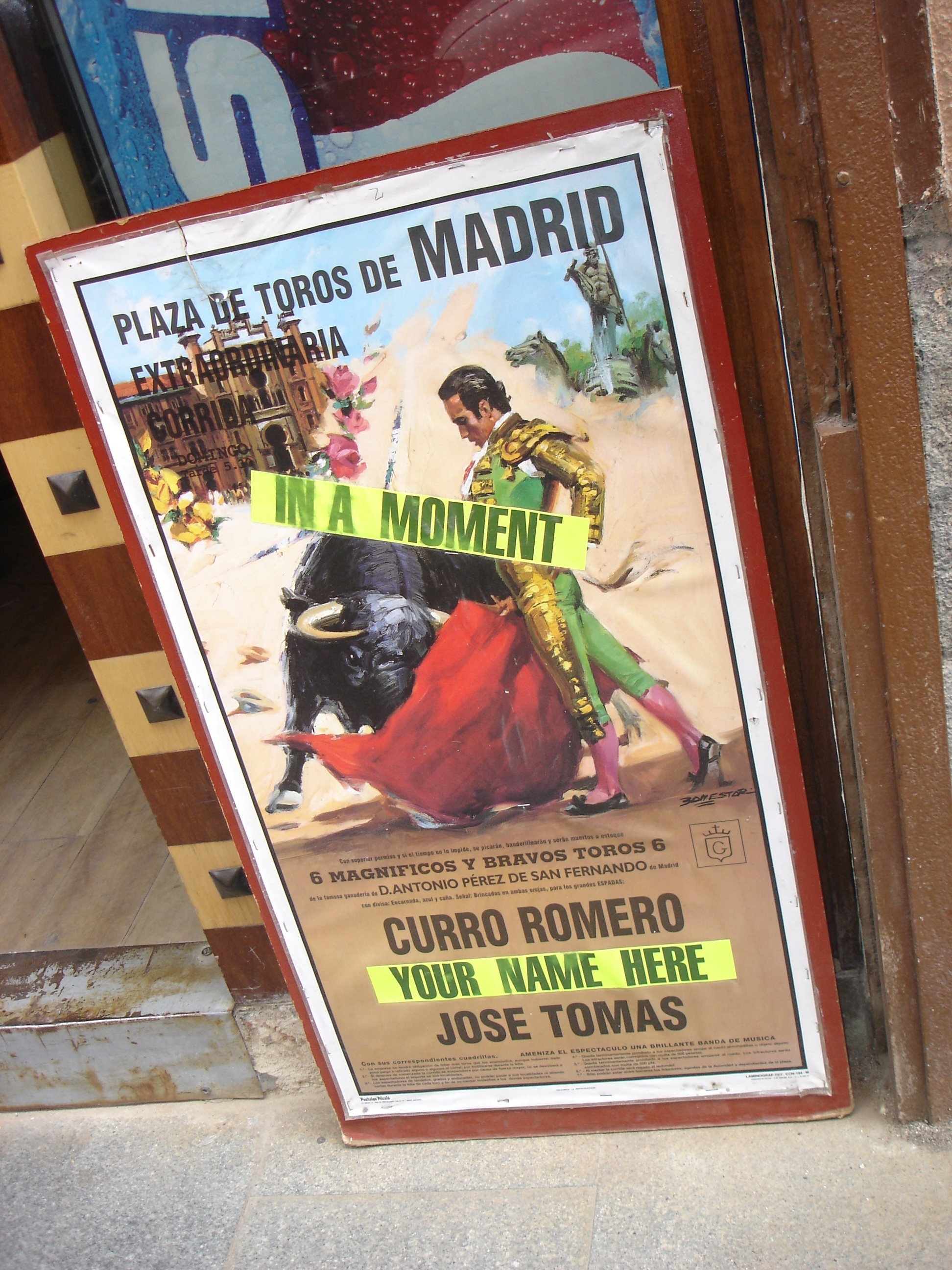 According to Frank Sinatra, the City that Never Sleeps is New York. Sinatra was wrong. He should have gotten around more. That place is Madrid.
A native Manhattanite, I'm at home in a bar and sometimes close one down. But Spanish night owls put me in my place. When I head back to my Madrid hotel at 3 a.m., the streets are loudly crowded. When I'm up at 10 the next day, I pass a place where I'd drunk a beer. I glance at the window--then stop and look again. A bunch of locals I'd talked to are still at their stools. Different drinks. Same spot. Sun beginning to get hot.
Though flamenco isn't native to Madrid (it has its roots in Andalusia), I want to hear the best the city has to try and compare it with fado. That night I'm steered to a restaurant, Casa Patas on Calle Canizares, and, at first, I'm leery. It's a flamenco factory.
But once the performance begins, the flamenco is quick and electric, with hammering palms on the guitar and bursts of boot heels. It is mad, not sad. The only part that makes me as fiery as the dance is the fact that I cannot see it.
I tap on the shoulders of the British tourists who rise from their chairs to block my view. The music swells. I stamp my foot.
It doesn't work, but after all, I do not particularly care.
It is nighttime. This is Madrid.
And I am part of the show.

* * *
Post a comment to this blog and tell us whether you like Madrid or Lisbon better--and why.
* * *
Peter Mandel is an author of picture books for kids, including his read-aloud bestseller: Jackhammer Sam (Macmillan/Roaring Brook), and his newest about zoo animals passing on a very noisy sneeze: Zoo Ah-Choooo (Holiday House).