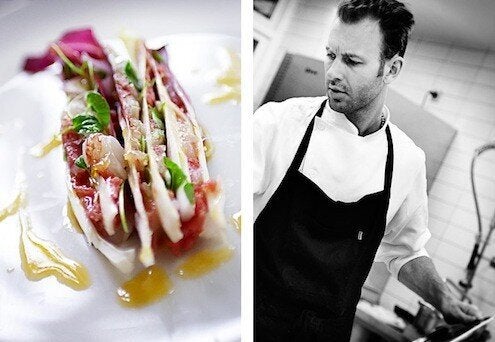 Mads Refslund, co-founder of Noma and one of the creators of the New Nordic Cuisine is in New York to head up the kitchen at the new ACME restaurant in SOHO.
Mads Refslund sips calmly on his glass of Chardonnay. He doesn't look like a man under a lot of stress. But under the surface, I'm sure his mind is torn between his many projects. From traveling the world as a representative of the New Nordic Cuisine or cultivating vegetables at his mini farm outside of Copenhagen, to help setting up a new restaurant in New York City and recording a tv-show for Danish television where he teaches prisoners how to cook gourmet food, Mads is a fast paced traveling gastronomer with mileage points from here to the moon.
I guess your mind must be in more than one place right now?
- Yeah. I'm a little all over the place, and from time to time I feel a like a juggler. My head is mostly in NYC, but with the tv show and all it's also with the prisoners. I'm really happy to be able to help out, and I feel privileged that I'm a person they can be bothered listening to and learning from. But it does take a lot of time from the opening in New York, so now I have one foot in prison and one in Soho, which is kind of strange.
Some 15 years ago, a young Mads Refslund was in training as a cook at the Gentofte Hotel outside of Copenhagen. He already knew he had found his calling in the restaurant kitchen, but he was yet to find the path within the culinary field that was right for him. Then, on his first day attending the Copenhagen Hotel and Restaurant school, he met another young aspiring chef by the name of René Redzepi. He was an apprentice at the one starred restaurant Pierre André in Copenhagen, and the food they were cooking there was just what Mads Refslund was looking for. Exciting, creative, elegant. He knew he needed to find a place like that for the rest of his apprenticeship.
- At that time Formel B was the hottest Michelin venue in Copenhagen, and Henrik Boserup was the hottest chef in Denmark. They'd just opened, and I just knew I wanted to be a part of it. I knew it was the right place.
With a little persuasion and some luck, Mads managed to get an apprentice spot at Formel B. The following two years, he had only one weekend off, working besides not only Henrik Boserup, but also Paul Cunningham who later on went on to become the head chef behind the now closed Michelin starred The Paul restaurant in Tivoli in Copenhagen. Formel B was exactly the creative, rock n' roll kind place Mads had dreamt of, and he flourished in the energetic environment.
After his training years were over, Mads did a tour of most of the hip upscale places in Scandinavia. The Plaza, Coquus, Restaurationen, Le Sommelier and The Paul in Copenhagen and Bon Lloc in Stockholm all passed by. He did short stints, six to nine months, sometimes up to a year - looking for the same kind of kick that he had gotten at Formel B.
But then came the phone call that would change everything. Culinary entrepreneur Claus Meyer was about to open what was at first supposed to be a "Nordic Bistro", and he had commissioned Mads' best friend from culinary school - his then room mate René Redzepi - to be the Head Chef. René wanted Mads to head up the kitchen together with him, and it was settled that they were the duo that would launch the restaurant now known across the globe as Noma.
Together, they went on a month long trip around the Nordic region to find what was truly unique about the local terroir. They immersed themselves in traditional, untraditional, historical and artisanal products from all over the Scandinavian peninsula and created the foundation for what was going to be one of the most influential culinary trends of the last five years.
There was only one problem. They had never actually worked together before. And now, they were supposed to co-head the kitchen at Noma.
- It quickly turned out that we were two different people in the kitchen. Completely different. It didn't work. After six months, we separated with a big hug. Let's just stop, you know. We weren't angry with each other. We were just too different in the kitchen.
When you look back, how do you feel? I mean, Noma is "The Best Restaurant in the World" and René has become almost the second coming of culinary Messiah. Any bitterness?
- Absolutely not. No. I made a decision, and I stand by it. My friendship with René is really important to me, and that's what we still have to day. So it was a good thing. Plus, my life is really exciting at the moment as well, and I'm proud that I was part of the creation of Noma. I had an amazing time there.
After Noma, Mads was the hottest kid in town, and investors where throwing money at him. Here was Mads' chance to open up his own place. A place where he could be himself completely and do things just the way he wanted to. A year later, backed by a billionaire in the roadside assistance business, he opened up the 4.000 sq ft MR Restaurant in Copenhagen to rave reviews. It was an instant smash hit. They got their first Michelin star within their first year, was awarded 6 stars out of 6 from the influential Danish daily Politiken and received the Dish Of The Year award twice.
But then came the financial downturn, and the roadside assistance billionaire went bust. Despite being loved by both critics and guests, MR didn't have the resources to cope with the downturn without financial backing, and was forced to close the doors in 2010.
Fast forward to today. Since closing MR, Mads has taken a step back from the restaurant scene and focused on spreading the gospel of the New Nordic Cuisine - something he has done with huge success. He has spent a year traveling the world, cooking, talking, preaching and networking. His bag of knives has basically been his home, and the constant touring and showcooking has actually managed to not only keep his "Chef Brand" alive - but strengthen it. As one of the founders of the New Nordic Cuisine, Mads is perhaps more in vogue now than he has ever been before.
And now, Mads Refslund is back in the restaurant kitchen. This time as a consulting Head Chef of ACME, the SOHO restaurant opening up in the beginning of December. The man behind the restaurant is Jean-Marc Houmard of Kittichai and Indochine glory, and ACME will be a local New York upscale bistro. Mads is anxious to get back behind the stove, and it is clear that he wants to prove that his talent is still as intact as ever.
The New York restaurant won't be a Nordic restaurant. But it will use the spirit of Mads, and his philosophy of using what is close, what is good and what is in season.
- You know how Italian food always tastes better in Italy? It's the same thing with Nordic food. I won't fly in rape oil from Bornholm or Vendace Roe from Kalix and try to make something that tastes New Nordic in Soho. It won't be the same. But if I can use the philosophy that I had at Noma and MR, and apply that same kind of thinking to New York, I'm happy.
Foraging, which is all the rage at the moment, has been a part of Mads' everyday for many years, something he hopes to be able to continue in New York. He is looking to team up with a handful of other restaurants to take turns going out of the city to bring back interesting herbs and plants to his downtown kitchen.
- We started foraging at Noma, and I've carried it with me ever since. I went to the forest and beach two times a week, and it really is one of the most important aspects of the New Nordic Cuisine. Pride over what we are, where we are and what's around us.
Your style of cooking has sometimes been referred to as feminine. Delicate flavors, artistic platings and often raw or semi cooked ingredients.
- I try not to pollute my food. I'd rather undercook than overcook. I love it when rawness of an ingredient cuts through in the dish, and when different flavors are allowed to mix without manipulating them. Maybe some people find that provocative, but that's not my intention. To me, it's more about challenging myself in the kitchen and I've been like that ever since I was in culinary school.
In the ACME kitchen, Mad's focus will be to create an inspiring bistro cuisine based on freshness, lightness and interesting twists on traditions and history. It won't be the Michelin style fine dining cooking Mads is used to, but he is approaching that as an energizing and fun challenge.
- I've done fine dining all my adult life, I love it and will probably do it again in the future. But it's going to be an energizing and fun challenge to apply my philosophy to ACME's menu. And I love New York, so it's a great experience just to try and figure out how the industry works here.
ACME
9 Great Jones Street
NYC
Related
Popular in the Community