 By Andrew Cawthorne and Deisy Buitrago
CARACAS, April 6 (Reuters) - Venezuelan acting President Nicolas Maduro said on Saturday a centuries-old curse would fall on the heads of those who do not vote for him in next week's election to pick a successor to late leader Hugo Chavez.
Maduro's invocation of the "curse of Macarapana" was the latest twist in an increasingly surreal fight between him and opposition leader Henrique Capriles for control of the South American OPEC nation of 29 million people.
"If anyone among the people votes against Nicolas Maduro, he is voting against himself, and the curse of Macarapana is falling on him," said Maduro, referring to the 16th-century Battle of Macarapana when Spanish colonial fighters massacred local Indian forces.

Wearing a local indigenous hat at a rally in Amazonas state, a largely jungle territory on the borders of Brazil and Colombia, Maduro compared Capriles and the opposition coalition to the enslaving Spanish occupiers.
"If the bourgeoisie win, they are going to privatize health and education, they are going to take land from the Indians, the curse of Macarapana would come on you," he added.

CAPRILES: REAL CURSE IS GOVERNMENT
Calling himself the "son" of Chavez, Maduro has more than a 10-point lead in most polls, although Capriles supporters are predicting a late pro-opposition surge as sympathy wears off from the former president's death a month ago.
Capriles, 40, a state governor, says Venezuela needs a fresh start after 14 years of Chavez's hardline socialism, and is vowing to install a Brazilian-style administration of free-market economics with strong social policies.
He ridiculed Maduro's latest speech.
"Anyone who threatens the people, who tells the people a curse can fall on them, has no right to govern this country," he said at a rally in western Tachira state.
"I tell you here, all Venezuelans, the real curse is that little group that we are going to get rid of on April 14."
The opposition leader also continued to mock Maduro's twice-told story of having seen the spirit of Chavez in a bird that flew over his head and sang to him last week.
While to some outsiders, talk of spirits and curses may seem absurd in an election campaign, Venezuela's mix of Catholic and animist beliefs, especially in the south-central plains and jungles, is fertile ground for such references.
Maduro also revived accusations of a plot to kill him, saying foreign mercenaries had entered from Central America with plans to spread violence and sabotage the electricity grid.
"The third aim is to kill me. They want to kill me because they know I can't be beaten in free elections," he said at a later rally, again alleging the complicity of current and former U.S. officials along with right-wing politicians in El Salvador.
"They sent paid hitmen to kill me. ... But I won't let myself be killed. I will remain on the streets with the people."
The U.S. government, and two former Bush administration officials named by Maduro, have denied and ridiculed the claims that echoed Chavez's frequent denunciations of assassination plots against him during his 14-year rule.
Maduro, 50, was a bus driver and union leader who rose to become Chavez's foreign minister and then vice president.
In his daily campaign rallies, Maduro has been referring constantly to Chavez and playing a video where the former president endorses his protege last year as his successor.
Puncturing Capriles' public admiration of Luiz Inacio Lula da Silva, Maduro has also been playing a video of the former Brazilian president endorsing him too.
At his rallies, Capriles mocks Maduro as a cheap imitation of Chavez. He says Maduro's track record during the president's sickness from cancer and after his death has wrought disaster on Venezuelans in terms of a currency devaluation and price rises.
Venezuela's vote will decide not only the future of "Chavismo" socialism but also control of the world's biggest oil reserves and economic aid to left-leaning nations in Latin America and the Caribbean from Cuba to Ecuador. (Editing by Peter Cooney and Xavier Briand)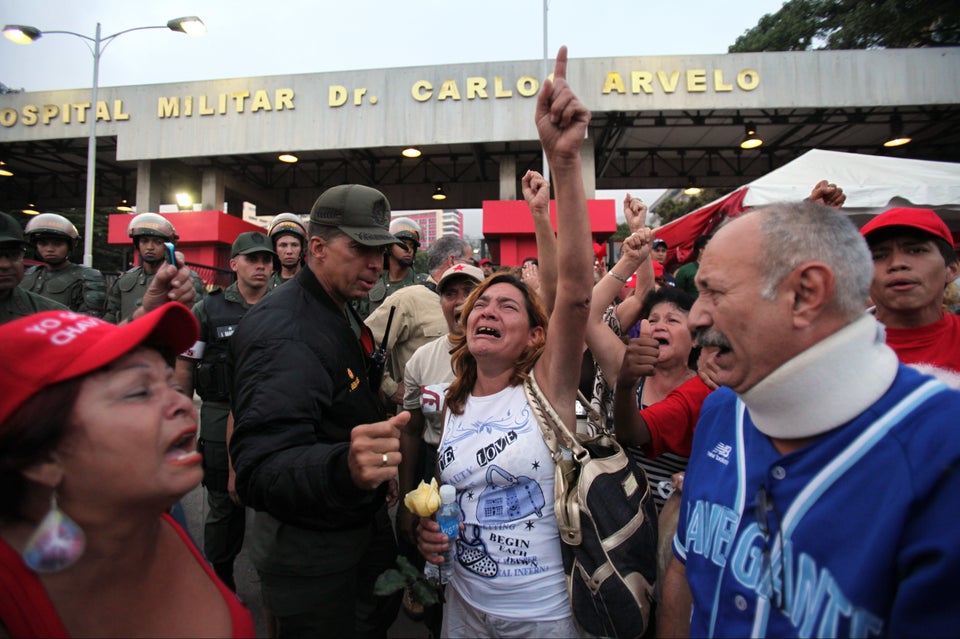 Venezuelans React To Chavez's Death