It was early 2008 when Mae Whitman got this mysterious call from her voiceover agent, Melissa.
"She was telling me that Disney had this very important project but that they wouldn't tell Melissa what it actually was. All she knew that that they were eager for me to come in and audition for this part," Whitman recalled during a 2012 interview.
So Mae went in for this audition. Where -- once she got in front of that mic-- Whitman discovered that she was just supposed to read a couple of very vaguely-written lines. There were nothing on these pages that gave Mae any information about the character that she was supposed to be voicing. Even stranger, the guys behind the glass in the recording booth were being very tight-lipped as well.
"I got none of the guidance that you typically get in a voiceover recording session. 'Could you please say that line again only faster?,' 'Could you make your character sound more excited or happier?' They just sat back and listened," Whitman continued. "And since I've been doing voiceover work since I was five, which is why I'm very comfortable in a recording booth ... Well, I just decided to be myself. Read those lines in my normal speaking voice."
Ah, but what Mae didn't know was that this wasn't just any audition. After announcing back in June of 2006 that Brittany Murphy was going to be the official voice of Tinker Bell for a new series of Disney Fairies home premieres, Disneytoon Studios had now decided to go another way with this character. And the reason that they'd called Whitman in was that they were now considering her as someone who could possibly voice Peter Pan's pixie pal.
"From what we've already seen of Tinker Bell in Disney's 1953 animated feature, we knew that this character was curious. That she's fun. She's feisty. She's super-loyal to Peter. Not to mention able to get angry. So we really needed to find a voice that could capture all of those emotions that we already knew about Tinker Bell without her even speaking," explained Peggy Holmes, the director of Secret of the Wings & the soon-to-be-released The Pirate Fairy. "So we needed to find an actress that could portray that range of emotions. And Mae Whitman -- thankfully -- had that range. She can work onstage. She can work on film. She can work on television. And she can work in voiceover. And it's all that experience that gave her the depth that we need for this iconic character."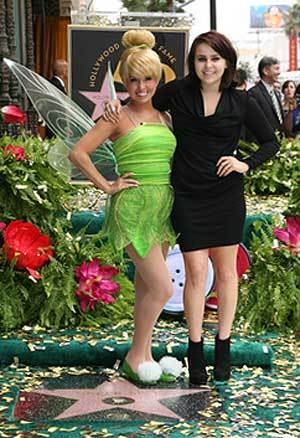 And when Whitman found out that she was being offered the opportunity to voice Tinker Bell, she freaked.
"Now you have to understand that -- when I was growing up -- Peter Pan was my favorite Disney movie. So to now be part of the team that gets to go back to Never Land and have all these new adventures with characters that I've loved since childhood ... Well, it's honestly like a dream come true," Mae enthused. "So for me, this job is definitely filled with love."
"To be honestly, no," Mae stated. "What's great about the people at Disneytoon Studios is that -- with each of these projects -- they've then built out the world of Pixie Hollow bit by bit. With each film, they've brought in new characters. Better yet, they've allowed Tinker Bell and her friends to change and grow."
"I mean, in the first Disney Fairies film, Tinker Bell didn't even want to be a tinker. She wanted to change her talent. But at this point in the Disney Fairies film series, Tink is hugely proud of being a tinker fairy. She wouldn't change her talent for anything in the world," Whitman said. "That's what I love about working on this series. The lessons carry over from movie to movie. More to the point, Tinker Bell herself changes from film & film. She's always changing and growing."
And speaking of growing ... After spending the past five projects exploring this one teeny tiny corner of Never Land, the folks at Disneytoon Studios have decided to use The Pirate Fairy as an excuse to finally leave Pixie Hollow and go off & explore more of the island.
"The initial idea was to do a road trip adventure with Tinker Bell and her friends and this adventure dealt with a rogue fairy who was experimenting with pixie dust," explained Jeffrey M. Howard, the screenwriter on "The Pirate Fairy." "But once we had the idea of putting pirates into this 'Disney Fairies' film ... Well, it only seemed natural to include the most famous Never Land pirate of all, Captain Hook."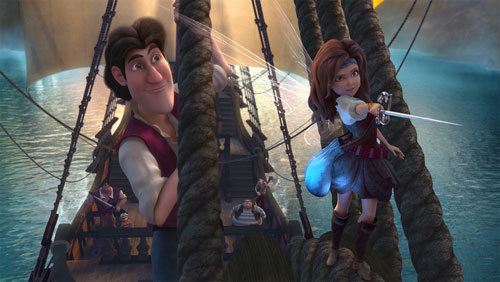 Now do keep in mind that this is a far younger version of James Bartholomew Hook than we saw in Disney's 1953 version of Peter Pan. But the story team at Disneytoon Studios actually turned this to their advantage by making The Pirate Fairy the very first time this Disney Villain fought using a hook or got chomped in the butt by Tic Toc the crocodile. And if you sit through the credits of this Disney Fairies film, you actually get to see that fateful moment where Hook first meets Mr. Smee.
And for someone like Mae Witman, who's been a Peter Pan fan for as long as she can remember, doing voicework on a film where Tink and her friends actually visit Skull Rock and then do battle on a flying pirate ship that's being powered by pixie dust ... Well, you just know that this has to be a thrill.
"I just love that I get to be a part of this legacy at Disney," Whitman admitted. "I mean, back in September of 2012, I got to be part of this D23 event which honored 75 years of Feature Animation. Which was where I was supposed to be paneling with Margaret Kerry -- who was the live-action model for this character back in the early 1950s -- and Ginny Mack -- who Walt personally chose as the face model for Tinker Bell."
"Now I'm backstage with Peggy Holmes, waiting to go. And just then it hits me that I'm now actually part of this Disney legacy. That I'm now one of the women who's been entrusted with keeping the character of Tinker Bell alive & magical," Mae remembered. "And I got so emotionally overwhelmed at that moment that Peggy actually had to walk me around for a little while and calm me down a little."
"I just hope that -- 60 years from now -- when Disney's putting together panels to promote the new holographic Tinker Bell movies that they'll be making then that I'll look as good as Margaret & Ginny did at that D23 presentation," Whitman laughed.
REAL LIFE. REAL NEWS. REAL VOICES.
Help us tell more of the stories that matter from voices that too often remain unheard.