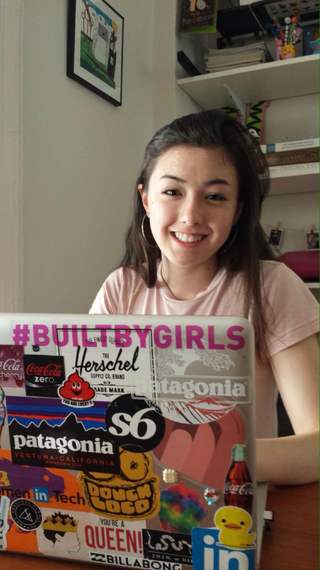 "Lots of people assume that I'm one-dimensional and don't have many other interests aside from coding. Or they think I'm "not as girly" as other girls my age. Excuse you, but I am perfectly capable of typing an HTML tag while my brows are on point." - Maeve Miller
Meet Maeve Miller, a 16 year-old from New York City, who loves Broadway, coding and alliteration (see blog title). Maeve joined the Girls Who Code movement to pursue her passions, while debugging the gender gap and challenging stereotypes.
Read more about Maeve in our Q&A!
Q&A with Maeve Miller:

Why did you join the Girls Who Code movement?
I had always been interested in computer science and engineering, but I never found the right opportunity to learn more. I had already found my "place" in school as the resident "theater kid" so I didn't go out of my way to learn to code.
I thought about joining my school's robotics team for a few years in a row, but every time I asked my friends whether or not I should join, they responded by saying that it was "really nerdy." It wasn't until I found out about Girls Who Code that I realized that I should pursue my interest regardless of what other people think.
What was your Girls Who Code experience like?
Participating in the program was one of the most rewarding choices I've made. Not only did it teach me to code, but it gave me a new perspective on my interests and made me realize the stereotypes I was subconsciously conforming to prior to the program.
What was your final project?
My final project was a choose your own adventure game called "My Choice." In the game, players go through a day in the life of a teenage American girl. The goal is to show that feminism isn't an unapproachable or abrasive thing.
Have you experienced people stereotyping you because you're a girl who codes?
Lots of people assume that I'm one-dimensional and don't have many other interests aside from coding. Or they think I'm "not as girly" as other girls my age. Excuse you, but I am perfectly capable of typing an HTML tag while my brows are on point.

Well put! Why do you think it's important to encourage girls to learn computer science?
The fact that you're asking this question in the first place shows the reality of the tech industry and the evident gender gap. Ideally, this wouldn't even be a question if women had fair representation in tech companies and businesses. It's not like girls aren't interested in Computer Science, it's just that stereotypically, society has viewed men as being the ones involved in engineering and science, among other things. By teaching girls the basics of Computer Science at a young age, they can build upon their natural interest and make something bigger out of it.
Aside from handling stereotypes of girls who code, do you think coding is hard?
Recognizing that everyone goes at their own pace and that some people may understand a concept faster than you can is hard. Once you overcome the initial hurdles, though, things become easier as you continue working at it. I'm also lucky enough to attend a school where being a girl who's interested in Computer Science isn't a strange thing.
Did you always like computers?
I have the mindset of a computer scientist, but was always so committed to theater growing up that I didn't think I could do both. However, in elementary school I went to Legoland. There was a game where you could program a robot to do things and I thought it was the coolest thing! So, yes, I've always liked computers.
What was your dream job growing up? What is your dream job now?
I was set on being a Broadway star when I was growing up. I made choreographed dances and filled my MP3 player with show tunes.
Now, I don't have a definitive answer as to what I aspire to be and I'm not sure if I ever will. I don't think I could say that I want to be a computer scientist OR an actress OR a musician OR an engineer OR an entrepreneur because I don't want to conform to a particular role. I aspire to be the best version of myself that I can be.
How does coding tie to your passion for performing?
With the world evolving into such a tech heavy space, it's evident that the tech industry will evolve into something that is prevalent in every industry. When I was younger, I thought Broadway was such an amazing thing. Now, media on the internet has become so big that it's constantly evolving. People don't just think of TV, they also think of Netflix or YouTube.
Has coding made you feel more confident?
It's extremely rewarding when you code something and it runs successfully. Just being able to create something entirely from scratch is awesome and there's definitely a little ego boost that goes along with it, too!
Tell us about a time you overcame failure.
Once, while my neighbors were on vacation, they asked me to care for their pet jellyfish. And the jellyfish, uh.. died. Disintegrated! I literally had no idea why. I thought I had done everything right: checked the tank, fed them, added water. I was up until 1 or 2 AM that night furiously searching for stuff like "jellyfish revival" and "cost of jellyfish" on Google. I was incredibly upset.
They were going to be back home within a few days. Long story short, sometimes jellyfish just die. Although I felt guilty for them dying while "under my care," I realized that I shouldn't have beaten myself up over my mistakes. Obviously, not all failures end up with a "happily ever after" ending, but what's important is that you don't torture yourself over what you did. Stay calm, look forward and try to think of the most positive outcome. Good things come when you keep a positive attitude!
What advice would you give to a girl to inspire her to code?
Don't be afraid of doing what you want to do.
Calling all HuffPost superfans!
Sign up for membership to become a founding member and help shape HuffPost's next chapter