A sea of supporters for President Donald Trump flooded Washington, D.C., and staged a riot on Wednesday in a last-gasp attempt to subvert democracy and reinstall an authoritarian who lost the 2020 presidential election by more than 7 million votes.
Thousands of pro-Trump activists ― including QAnon conspiracy theorists, white supremacists and violent extremist groups including the Proud Boys ― descended on D.C. the same day elected officials were set to certify the Electoral College votes from the November presidential election and declare President-elect Joe Biden the winner.
Hundreds of supporters-turned-rioters later clashed with police and stormed the Capitol, breaching the building as lawmakers sheltered in place. Trump supporters took over the building, and at least one person appeared to fire into the House chamber, HuffPost's Matt Fuller reported from inside the Capitol, before he and others had been safely evacuated. Five people, including a Capitol police officer, died in the ensuing violence.
One woman was shot during the unrest in the Capitol and died later Wednesday, Washington's Metropolitan Police Department confirmed to HuffPost.
D.C. Mayor Muriel Bowser instituted a 6 p.m. curfew after the riots. Trump also mobilized the National Guard, according to the White House.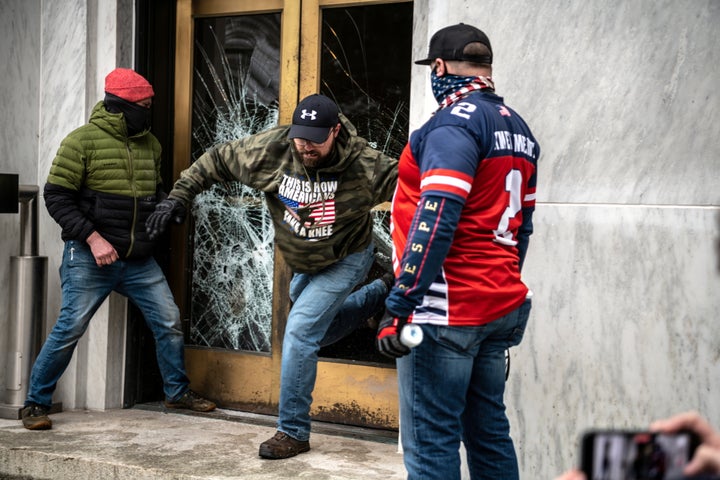 President-elect Joe Biden addressed the riots in a televised speech.
"At this hour, our democracy is under unprecedented assault, unlike anything we've seen in modern times," Biden said. An assault on the citadel of liberty, the Capitol itself. An assault on people's representatives and Capitol Hill police sworn to protect them."
Biden called for the "mob to pull back."
"This is not dissent, it's disorder," Biden said. "It's chaos. Borders on sedition. And it must end now. I call on this mob to pull back and allow the work of democracy to go forward."
Biden called on Trump to go on television and "fulfill his oath and defend the Constitution and demand an end to this siege."
Hours before, Trump took the stage at 11 a.m. to reiterate the conspiracy theories and whine about his loss.
"Does anybody believe that Joe had 80 million votes?" Trump told the crowd. "Does anyone believe it? He had 80 million computer votes. It's a disgrace, there's never been anything like that."
Biden had more than 81 million votes. Trump received just over 74 million.
Shortly after his speech, many Trump supporters headed toward the Capitol, where they breached the building despite the police who were present.
In one video, there appeared to be blood on the ground where protesters were pushing up against police:
Many in attendance had hoped for a Hail Mary victory in which Vice President Mike Pence would choose Trump as the electoral winner on Wednesday, despite being an impossible avenue to take in an election that has already been decided and during a process that is mostly ceremonial.
Scroll down or click here for the latest updates from HuffPost's election live blog. For the latest results, click here.
In his speech, Trump put a target on Vice President Mike Pence by falsely claiming it was now Pence's responsibility to reject Biden as the electoral college winner.
"If Mike Pence does the right thing, we win the election," Trump said to cheers just hours before Pence was scheduled to certify the electoral college votes in favor of Biden. "All Vice President Pence has to do is send it back to the states to re-certify, then I become president and you are the happiest people."
But Trump's fantasy to remain in power is just that ― a fantasy.
The specter of violence hung in the air in the days before Wednesday's planned rally. The leader of the violent right-wing group Proud Boys, Henry "Enrique" Tarrio, was arrested in D.C. on Monday for allegedly burning a Black Lives Matter flag during a previous pro-Trump rally last month. He was also charged with possession of firearm magazines.
What was meant to be a routine certification for Biden's victory was muddied by weeks of outrage from conspiracy theorists who slung baseless accusations claiming that Trump had actually won by hundreds of thousands of votes in key battleground states that he had in fact lost.
Those conspiracies culminated in multiple desperate attempts by Trump to overturn the results of the election, including working with QAnon-linked lawyers to file dozens of failed lawsuits riddled with lies claiming election fraud.
As Trump's own allies ― including Fox News ― began to face the reality that Biden won, Trump dug his heels in deeper. He told his supporters to watch Newsmax and OAN, two far-right conspiracy outlets that have refused to accept the results of the election. Trump also managed to get more than a dozen Republican senators to formally object to Biden's Electoral College victory, despite their objections having no effect on Wednesday's outcome. And last Sunday, Trump was still retweeting baseless conspiracies, including tweets from Ron Watkins, the former administrator of extremist haven 8kun, a message board popular for peddling QAnon lies.
Trump's increasing desperation to foment a coup was also revealed on Sunday when The Washington Post published an explosive recording of Trump demanding that Georgia Secretary of State and fellow Republican Brad Raffensperger recalculate votes in Trump's favor.
"I just want to find 11,780 votes, which is one more than we have," Trump said on the call. "Because we won the state." (Trump did not win the state.)
"The vice president has the power to reject fraudulently chosen electors," Trump falsely claimed.
By early evening, law enforcement had secured the Capitol. At least 13 arrests were made and five weapons recovered, including two long guns and a handgun, MPD Chief Robert J. Contee III said on a conference call with reporters about 5 p.m.
Well after Trump's supporters had stormed the building, the president issued a tepid response to the violence that left one woman dead after she was shot inside the Capitol.
"We have to have peace, so go home," Trump told his followers in a video that he tweeted out and that was later removed by Twitter. "We love you. You're very special."
Read live updates on election news below. (Note: An ad blocker may prevent you from seeing the blog, so if you're using one, please pause or turn it off.)
Support HuffPost
The Stakes Have Never Been Higher
Popular in the Community