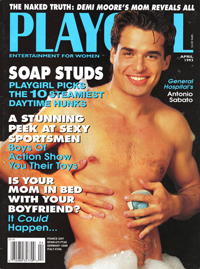 First Playgirl, published since 1973 (c'mon ladies, support a good cause!), got the ax. Then CosmoGirl, Men's Vogue, Domino, Hallmark Magazine, Portfolio, Vibe, Southern Accents, Cookie, Gourmet, and, most recently, Metropolitan Home. No naked men, no southern chintz, and no minimalist interiors so white and clean that you never dare drink red wine again? What happened to my tomes of aspirational living? These 100+ glossy pages that appeared magically in my mailbox bearing gifts of oiled-up men wearing nothing but a smile, must-know stock tips, and recipes for "so simple even a child could make it!" pumpkin pie, have been ripped from my hands by a lack of readership and advertising dollars.
It's a tough time to be working in the magazine industry. As managing editor of a luxury lifestyle rag, I've felt the burn too. Everyone loves the internet! Including me, of course. I don't need Playgirl to satiate my desires -- there is enough porn online to fulfill the needs of a battalion of perverts. There are also enough decorating blogs to inspire you to redo your interiors every minute, and finance tips for the mathematically-challenged galore. But sometimes don't you want to dog-ear a page or have a seasoned editor weed through oodles of information for you?
At the rate we're going in the magazine industry, I wonder if the glossies will follow the way of newspapers -- killing off the fluff like travel and book reviews, sharing content across titles, and small magazines going under while the mighty stay afloat. For those of us who love to throw an industry-specific magazine about golfing through Greenland in our suitcase, it's been a tough year.
Yes, the web is an exciting platform for magazines, as are iPhones, Kindles, and all the other whirling electronic devices we tape to our hands. But Vogue on a Blackberry is not Vogue the magazine. Advertising dollars and subscription and newsstand profits don't fuel an online publication. Lumped together, major magazines take in a total of around $20 billion a year, but a very small slice of those profits come from the web. Publishers need the magazine to be lucrative to keep the website afloat.
The New Yorker, Bazaar, Lucky, Elle Décor and a slew of other magazines still make it into my hands week after week and month after month. But I'm worried that even the popular kids are getting depressed, looking rather anorexic and desperately in need of a holiday binge.
Will 2010 bring even less titles and shrinking piles of pages for me to flip through? Oh, probably. So I'll just take a moment to pay my respects to the ones we lost this year.
Metropolitan Home/Hachette Filipacchi
1981 - December 2009
Gourmet/Conde Nast
1941 - November 2009
Cookie/Conde Nast
2005 - November 2009
Southern Accents/Time Inc.
1977 - September/October 2009
Vibe/Wicks Group
1992 - June 2009
Best Life/Rodale
2004 - May 2009
Portfolio/Conde Nast Publications
May, 2007 - April 2009
Blender/Alpha Media
2001 - April 2009
Travel & Leisure Golf/American Express Publishing
March 1998 - March/April 2009
Domino/Conde Nast
April 2005 - March 2009
Wondertime/Walt Disney Publishing
2006 - March 2009
Country Home/Meredith Corp.
1986 - March 2009
Hallmark Magazine/Hallmark Cards
September/October 2006 - February/March 2009
PC Magazine/ Ziff Davis
1982 - January 2009
Electronic Gaming Monthly/Ziff Davis Media
1989 - January 2009
Men's Vogue / Conde Nast
2005 - December 2008/January 2009
02138/ Manhattan Media
2006 - December 2008/January 2009
Plenty
2004 - December/January 2009
Teen/Hearst Magazines
1954 - Winter 2008/9