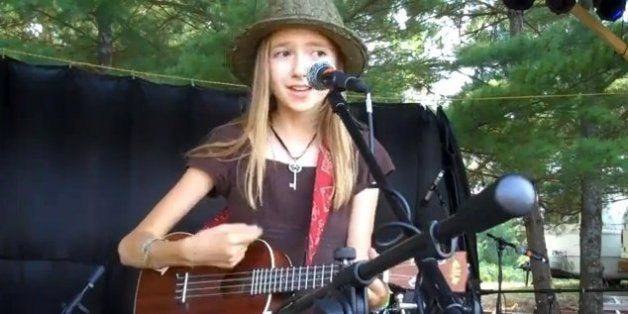 Today is the International Day of Peace -- unofficially known as World Peace Day. And we can't think of a better song to listen than John Lennon's "Imagine."
Just 12-years-old, she has star quality and an old soul -- the perfect combination. This is a girl who emulates Woody Guthrie, not Miley Cyrus, with the voice and ukulele chops to turn old standards into infectious, contemporary songs.
The Ann Arbor, Mich., singer already has five years of performing experience under her belt (and a musical family to back her up: she started on stage at her parents' venue).
"She began singing at two, making up songs at four, playing piano informally at five, and by the time she picked up the ukulele and fiddle at age seven, she had begun to perform in cafes and open mics in the greater Lansing area," according to her Facebook page.
While we're loving that she looks back to the 1930s and '20s for musical inspiration, we're really floored by her cover of John Lennon's "Imagine."
She really has a flair for the older stuff, though. She's perfected this cover of the Boswell Sisters' "Heebie Jeebies," which she says in another video is one of her favorite songs:
"I like how they sound and the harmonies in them," she said in an interview about the older songs she's drawn to.

Fossum doesn't just rely on covers. She also composes her own tunes:
But one of our favorite things about the young crooner is that she's already showing she has a big heart. Magdalen is already scoring gigs at local folk festivals like Blissfest, Dunegrass Music Festival and Ann Arbor Summer Fest, but she also performed at the state Capitol Thursday to raise money for a Lansing homeless shelter, the Detroit Free Press reports. Though the crowd for her set at "Music with a Mission" was light, we're positively loving her spirit.
For even more Magdalen, check out this catchy rendition of old standard "Dinah," performed with The Appleseed Collective:
Click through the slideshow for more extremely talented kids:
PHOTO GALLERY
Child Prodigies
CORRECTION: In an earlier version of this article, the band accompanying Magdalen Fossum for a performance of "Dinah" was incorrectly identified as The Appleseed Cast. The band is The Appleseed Collective.
Calling all HuffPost superfans!
Sign up for membership to become a founding member and help shape HuffPost's next chapter