Maggie Daniels' family said in a written statement that the popular North Carolina school counselor's slaying has left them devastated.
"Our lives have been forever changed, and we will never get over the loss of our sweet Maggie," her family said in statement posted to Facebook on Monday.
Odom, who lived in the same apartment complex as Daniels, was arrested in Winston-Salem on Saturday, and charged with first-degree murder.
"Autopsy results ... confirm she died of strangulation," Newton Police Chief Donald Brown II said at a Monday press conference. "It does appear that there was a struggle in her apartment."
Brown credited Odom's arrest to "physical evidence" recovered by detectives. The police chief declined to discuss what was found, but a search warrant unsealed in court on Monday revealed authorities confiscated several items from Odom's apartment, including hair and his iPhone.
Sharman Odom
Authorities say they found "selfie" pictures of Odom on his cellphone, taken the day after Daniels' body was found, which allegedly show scratches on his face. The scratches "appeared pink, suggesting they were new," the search warrant said.
Investigators also found a patch of hair missing from Odom's scalp in a shoe box in his closet, according to the warrants. The documents do not specify how the hair is connected to the case.
Brown said investigators are waiting for lab results to determine if Daniels was sexually assaulted.
According to Cleveland.com, Daniels grew up in a suburb of Cleveland, Ohio, and attended Notre Dame College, before moving to North Carolina in 2005. Following her move, Daniels taught for the Newton-Conover School District, where she was named "Teacher of the Year" in 2011 and 2013. Most recently, she served as a guidance counselor for Discovery High School.
In August 2012, Charlotte police charged him with second-degree rape, assault by strangulation and robbery, but the charges were ultimately dismissed because the prosecution questioned the credibility of Odom and his accuser, the newspaper reported.
Two years earlier, in 2010, Odom was charged with assault by strangulation, first-degree rape, second-degree kidnapping and first-degree burglary. Again, the charges were dropped, but in that case the reason remains unclear, as the court records have reportedly been destroyed.
The Charlotte Observer also reported an ex-girlfriend of Odom filed a restraining order against him in April 2012, claiming she feared for the safety of herself and her daughter.
"Defendant repeatedly sends messages and calls the Plaintiff, tried to push his way into her home; and has been observed peering into her home and appeared uninvited," court documents state. "He also went to her daughter's school and had been told not to as he is not the child's father."
The woman ultimately declined to pursue charges.
In regards to the slaying of Daniels, Brown said it is too soon to comment on a possible motive.
"The motive for her murder has not yet been determined for certain, although we have several solid theories that I cannot discuss at this time," he said.
Odom made a brief court appearance on Monday. He did not enter a plea and was appointed an attorney by the court.
After the hearing, Odom ignored questions from reporters as he was led away, but did have "a smile on his face the whole time" WBTV reported.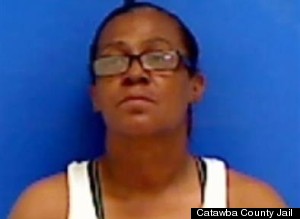 Darlene Odom
Odom's mother, Darlene Odom, found herself behind bars after her son's court appearance.
According to WBTV, she was charged with misdemeanor assault after she allegedly shoved a television reporter's camera into his face outside the courthouse, giving him a bruised eye. She is being held in the Catawba County Jail on a $4,500 bond.
Darlene Odom's son is being held in the same jail without bond. He is scheduled to appear in court again on August 28, for a probable cause hearing in Daniels' homicide.
Daniels' family said they are relieved by the latest developments in the case.
"We are so relieved to have the horrible person responsible for this loss, in custody, never able to hurt another human being again," they said in a Facebook statement. "Continue your prayers for all of us, and pray for justice for Maggie."
Calling all HuffPost superfans!
Sign up for membership to become a founding member and help shape HuffPost's next chapter
BEFORE YOU GO