 Democrat Maggie Hassan was sworn in on Thursday as New Hampshire's third woman governor. Hassan said she plans to work closely with state lawmakers, including the Democratic-controlled House and Republican-controlled Senate.
Voters want the leaders of New Hampshire's divided state government to work together, Hassan said on Thursday. The state's new governor succeeds Democrat John Lynch, following a tumultuous two-year period marked by frequent battles between Lynch and Republican legislative leaders. Hassan focused much of her inaugural address on economic issues, including signaling a move for state government to focus on creating a innovation economy in the Granite State.
While she did not specifically single out the Tea Party-controlled Republican majority that has dominated the state House of Representatives for the last two years -- helping to spark fierce fights over issues ranging from right-to-work legislation to United Nations Agenda 21 -- Hassan did address the bitter divide between legislators and Lynch on Thursday. During his final two years in office, Lynch routinely saw vetoes of Tea Party-backed legislation overturned by lawmakers.
"We will end the era of hasty, reactive government," Hassan said in her speech. "I will work with you and foster dialogue. In return, I urge members of both parties to share your ideas and concerns with me. My door will be open."
Democrats in New Hampshire regained control of the 400-member state House in the 2012 elections, in addition to gaining a majority in the state Executive Council and narrowing the GOP majority in the state Senate. The Executive Council, which will also contain it's first ever under-40 majority, approves state contracts and appointments, along with accepting federal funds. In the last two years, the panel defeated Lynch's move to award state funding to Planned Parenthood and rejected federal money for health care reform and a new train line.
Hassan's election is part of a larger movement of women gaining more influence in New Hampshire politics, including the state's election of the country's first ever all-female federal delegation. Hassan was sworn in by New Hampshire Chief Justice Linda Stewart Dalianis in a ceremony presided over by state House Speaker Terie Norelli (D-Portsmouth). After Washington Gov. Christine Gregoire (D) and North Carolina Gov. Bev Perdue (D) leave office this month, Hassan will be the nation's only Democratic woman governor.
Hassan is the state's second elected female governor, following Democrat Jeanne Shaheen, who is now a U.S. senator. Republican Vesta Roy became the state's first woman governor when she held the office for a week in the early 1980s following the death of Gov. Hugh Gallen (D).
In her speech on Thursday, Hassan also focused on education issues and innovation. She called on the state's university system to increase the recruitment of New Hampshire students and to keep in-state tuition rates flat. Hassan also called state schools to increase the development of classes focused on science, technology, engineering and math, noting the subjects' importance to the state's economy. More young professionals should stay in New Hampshire, she said.
Hassan also called out lawmakers for cuts to the state's education budget.
"Cutting state support for public education in half while lowering taxes two years ago was short-sighted," she said. "It hurt our young people. If not quickly addressed, it will hurt our economic prosperity."
Hassan also cited the state's 2009 approval of same-sex marriage as an economic benefit for the state. Hassan's remarks on marriage equality come after she swore in new Executive Councilor Chris Pappas (D-Manchester), the highest-ranked openly gay elected official in state history. In speaking on same-sex marriage, Hassan recounted a conversation she had with a business recruiter who focuses on New Hampshire.
"He said to me that marriage equality is one of the best recruitment tools he has," she said. "It was because passing marriage equality in New Hampshire signaled to everyone the kind of welcoming state that we are."
CORRECTION: A previous version of this article mistakenly identified Hugh Gallen as a Republican. He was a Democrat.
Support HuffPost
The Stakes Have Never Been Higher
Before You Go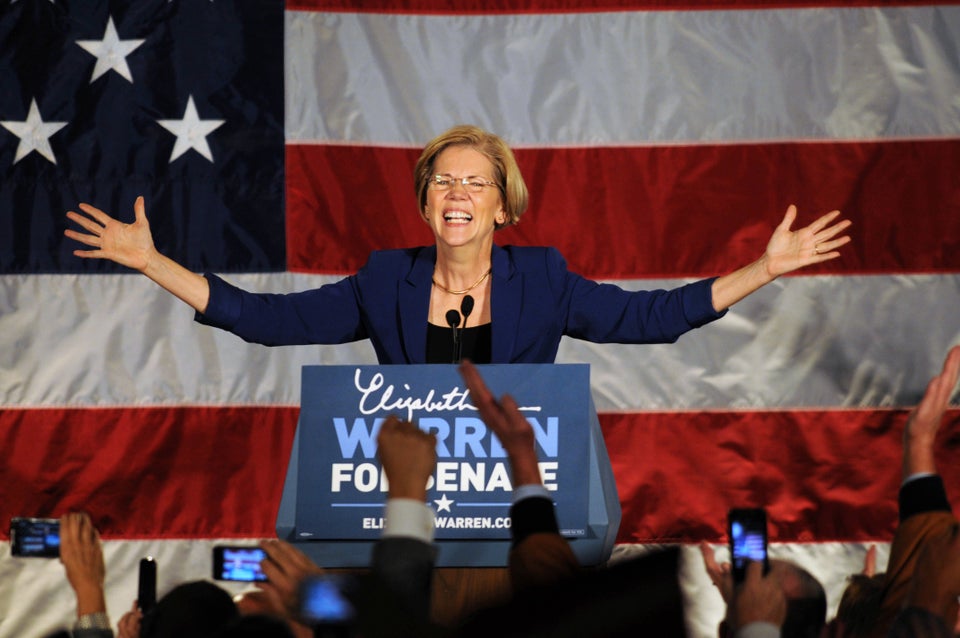 Women In The U.S. Senate
Popular in the Community