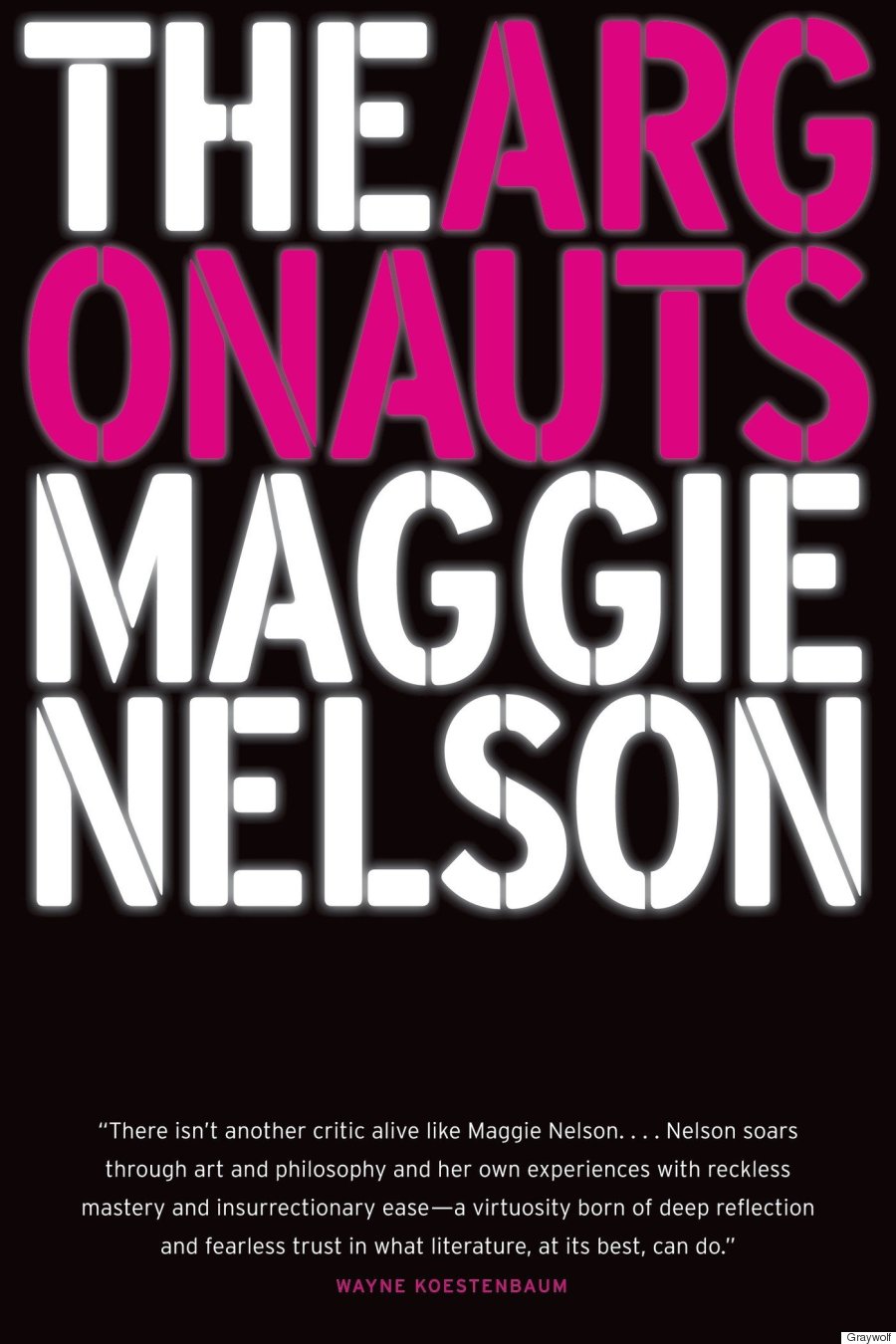 As a poet, Maggie Nelson is concerned with the sufficiency of words -- their ability to accurately convey how we feel, and who we are. As a visual artist, her partner Harry Dodge is less convinced. So when the two met and fell in love, a life event that her new memoir, The Argonauts, centers on, Nelson began to question her allegiance to language. "Words," she notes, "change depending on who speaks them; there is no cure."
Most of the words she examines, positing their inadequacy along the way, are used to describe sex or gender, directly or indirectly. She's saddened by Harry's inability to publicly convey a gender-fluid identity -- born Wendy Malone, the artist has undergone a handful of name changes. When The New York Times ran a profile of Harry's work, the publication asked that a choice be made between "Ms." and "Mr." "Ms." was settled on, but begrudgingly. Though our current set of pronouns doesn't come close to representing the spectrum that is gender, Nelson says, "The answer isn't just to introduce new words and then set out to reify their meanings [...] One must also become alert to the possible uses, possible contexts, the wings with which each word can fly."
The strictures of written thought have never come naturally to Nelson, who says that as a woman, her language is riddled with "tics of uncertainty." Adverbs are peppers throughout her sentences, verbal hedges are tacked onto her proclamations, and unnecessary apologies are affixed to her emails, before she edits them into bolder versions. Tackling writing this way is tiresome, she says, as are the rest of the gendered habits she's been working to unlearn.
One such norm, which she confronts with grace, is our collective tendency to view the child-rearing choice as the gap in an impassable rift between the intellectually ambitious and the painfully dull, guided only by their boring biological wants.
Using her own transition from baby-phobic naysayer to proud mother to frame her argument, Nelson is indignant about how polar the choice has become. She examines both journalists' and historians' tendency to call art about motherhood banal, arriving at the conclusion that everyday actions get a bad rap in the creative community -- so, she claims, does plain-old happiness. Pages of her slim, undulating memoir are devoted to an exhibit called "Puppies and Babies," offhand snapshots of artist A.L. Steiner's friends interacting playfully and intimately with said subjects. The exhibit, as Nelson tells it, celebrates the sometimes purely pleasurable experience of raising a child.
The joy and pleasure Nelson takes in raising her son Iggy is shown throughout the book, too, as she vividly brings to life the small games they play as a family. These scenes are punctuated with theory -- she enjoys 20th century psychoanalyst Donald Winnicott in particular -- demonstrating her belief that ambition and a joyful home life shouldn't be characterized as at-odds. According to Nelson -- who, it's worth noting, is upfront about her privilege -- you can have it all.
Although her story drifts pleasantly between ideas, implying that concrete boundaries have little value to her, she occasionally slips up, revealing a stubbornness that seems counter to her claims to openness. When discussing a photo exhibit, she cringes that the artist's husband's name is Dick -- "heterosexuality always embarrasses me," she writes. Still, she doesn't ever claim to be consistent, so if an argument seems half-baked, it may be that a firm commitment to a viewpoint just isn't Nelson's style.
"I am interested in offering up my experience and performing my particular manner of thinking," she writes, "for whatever they are worth."
The Bottom Line:Nelson's writing is fluid -- to read her story is to drift dreamily among her thoughts. And, although some of her assertions are problematic, she masterfully analyzes the way we talk about sex and gender.
Who wrote it?:Maggie Nelson is a poet and nonfiction writer. Her 2005 book Jane: A Murder chronicled her aunt's untimely death, and her personal response to it. She lives in Los Angeles.
Who will read it?:Those interested in narratives that combine the personal and the theoretical, and thoughtful memoirs about gender, feminism, and sexuality.
Opening lines:"October, 2007. The Santa Ana winds are shredding the bark of the eucalyptus trees in long white stripes."
Notable passage:"But whatever I am, or have since become, I know now that slipperiness isn't all of it. I know now that a studied evasiveness has its own limitations, its own ways of inhibiting certain forms of happiness and pleasure. The pleasure of abiding. The pleasure of insistence, persistence. The pleasure of obligation, the pleasure of dependancy."
The Argonautsby Maggie NelsonGraywolf Press, $23.00Published May 5, 2015
The Bottom Line is a weekly review combining plot description and analysis with fun tidbits about the book.
CORRECTION: An earlier version of this article states that Harry Dodge opted to identify as "Mr." in a New York Times article; "Ms." was actually the title of choice.
Related
Popular in the Community