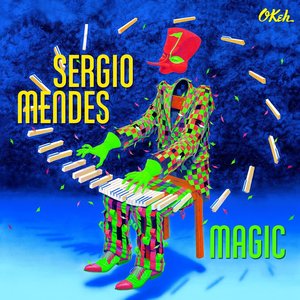 A Conversation with Sérgio Mendes
Mike Ragogna: Sérgio, your new album is titled Magic. What kind of magic went into creating and choosing the material as well as recording it?
Sérgio Mendes: Well, the whole process for me was very magical. I call this project The Magic of Encounters. I think it has to do with our lives as well, because when I think about my life, my whole journey, to still be making music with incredible people and to be performing, that's kind of magical. So this album was like that. To write songs with people like John Legend and Maria Gadú and Janelle Monae and will.i.am again... It's really the beautiful encounters that I've had all my life, going back to 1962 when I came to Carnegie Hall for the bossa nova concert, meeting Antônio Carlos Jobim, doing an album with Cannonball Adderley, touring with Frank Sinatra, doing specials with Fred Astaire, all of those things have been for me the magic of the encounter. I think it's a beautiful way to describe my life. This album is about that.
MR: You've released quite a few albums over the last decade.
SM: I think maybe as you get older, your passion increases.
MR: Do you feel that your passion for making music has grown over the years?
SM: I hope so, because making this album was such a wonderful project in my life, to be able to do that, to work with all these people, to collaborate, to travel to Bahia, to Rio De Janaeiro, here in LA, to be able to have these encounters with so many great people that I admire and I love, of course the passion is there on every song and every thing that's on this album.
MR: Yeah, and I believe you brought it out of the artists, too, especially John Legend and Janelle Monae. It sure seems like you brought the "Brazilian" out in them.
SM: Well, you're talking about two great international musicians and singers. When I wrote the melody here on my piano and sent it to John Legend, he immediately replied, "Oh, I love this melody, I want to write lyrics and sing it." So the magic was also there, in the whole process. He came here to L.A, went to the studio and wrote this lyric in an hour and a half. I was watching and I said, "Oh my God, that's so beautiful," and we got into the booth and performed the song. Same thing with Janelle Monae. It was just one of those wonderful encounters. It feels very Brazilian. They love that kind of music, that kind of mood. For me, they represent the young generation. John Legend is an incredible singer, so is Janelle, and it's fresh and it's different. I'm in love with it.
MR: The album also features many Brazilian artists as well, including Maria Gadú.
SM: Maria Gadú is young, she's twenty-seven years old, she's an upcoming Brazilian singer, and she plays the guitar. We got together in the studio and said, "Let's write a song," and we wrote this song ["Meu Rio"], which was great. Same thing with Milton Nascimento, my old friend, and Gracinha, my wife, sings a couple of songs. And Seu Jorge who's another great Brazilian artist. It's a wonderful party, getting together with all of those people and coming up with something that's happy and sunny and celebratory and hopefully has great melodies. That's what I love. That's the most important thing for me.
MR: When you look at your last few albums, you're mixing contemporary sounds with Brazilian music. How are you relating to recording with modern approaches versus when you first started recording?
SM: It's interesting that you asked me that. My first band was in the bossa nova period in Brazil. Bossa nova, which was a wonderful period of Brazilian music, was very minimalist. It was something very simple--guitar and vocals. If you hear the João Gilberto albums, it's something very minimalist. I had this idea of coming out with an instrumental album. I had two trombones and a tenor saxophone. That was a very bold thing to come up with. It was a spicy version of a bossa nova. I'm very curious and I like to do things that are different. That, for me, was my first experience saying, "Okay, this is bossa nova time, but instead of acoustic guitar, I want to bring some drums and bass. Of course, I was listening to a lot of jazz--a lot of Horace Silver--so that was a big influence in my time. That was then. We were like the exception during the bossa nova period, doing something that was very bold and different. That gave me a lot of pleasure. Same thing now. When I sit down with will.i.am, he's a master of coming up with grooves and great ideas. Working with a young musician from another generation, another culture, we get together, and I write a melody or play a chord and we just get along fantastically. I think it's the mutual curiosity that brings us together.
MR: Are you keeping an eye on what's happening in Brazilian music these days?
SM: I'm constantly getting records from Brazil. Once a year I go down there, I usually spend time down there in December and January for Christmas time. That's when I saw Maria Gadú two years ago, that's when I heard Sea Jorge and said, "Wow, this would be amazing. Maybe when I make my next record, I'll invite them to be a part of it." Not to be contemporary or this or that. A good example on this album, Milton Nascimento is from my generation. It's just to have exciting things that we can share, that will bring some great melodies. For me, that's the joy of this whole process.
MR: I bet part of the joy might also be having your wife sing on the album. How is still making music with Gracinha after all these years?
SM: The first time she sang on my record was in 1968, it was Brasil '66. She's been singing on every album. She has a very unique voice. We travel together, she's in my band, she teaches all my singers to sing in Portuguese. It's a great collaboration.
MR: Do you see yourself working with these guest artists again in the future?
SM: Well, I hope so. My ears and my heart are always open for that kind of musical experience. It's a pleasure for me to collaborate with them. I absolutely hope so. I don't have any plans with them, I just finished the album, so I'm now in the process of performing and promoting the record, but it was really an incredible experience for me to be able to have all those people that I adore and write songs with them and be on this album. That's what the magic is about.
MR: What advice do you have for new artists?
SM: I take one thing at a time. I don't make any future plans. I've been very blessed and lucky to have a long career and to be still playing music that I love. That's what I love to do, performing and travelling and to make an album like this is wonderful for me. I'm lucky and blessed.
MR: Is that something you wish for new artists?
SM: Yes. I think those two components are very important. I think I always was very curious from a very young age. I think the curiosity will bring you through the learning process. I love to learn new things. I didn't speak English before I left Brazil. Now I speak English, I speak a little French, a little Italian, and Spanish. I think the curiosity took me places that I think I wouldn't have been if I wasn't that curious. I would say to a young musician, "Be curious, learn, practice, try different things and enjoy life," which I do.
MR: Beautiful. When you look at music right now, what are your thoughts?
SM: I think when you look at the internet today, you can hear music from all over the world, especially if you turn to YouTube or something like that. You can connect with people in India, Africa, Brazil... That kind of information, we didn't have it before. I remember when I heard my first jazz records in Brazil, it was very hard to get them down there. An American jazz record was a precious thing to have. Now you turn on your computer and you know what's happening in Tokyo and Rio. I think that's an amazing thing and I think that's why people are much more tuned in to what's happening in the world today. Not only music, but literature, art, cinema and everything else. I think it's wonderful. It's no longer something too precious that you can't have. Right now, the information is there and it's up to you and your curiosity and your courage to go ahead and do your thing.
MR: What's the future beyond this album? What do you still need to accomplish?
SM: I like writing songs, which I did on this album much more than on my previous albums. I'd like to continue to do that, and to collaborate with the other artists who would like to write songs with me. That's one thing I want to do. I worked on the music for Rio and Rio 2, which was another fantastic experience--working on the movie with Carlos Saldanha, the Brazilian director. The movie was a big success, so that's something else. The movies is something else I'd like to do. I'm open for new ideas, just call me, I'll be there.
MR: You know what my fantasy project would be for you? You recording an album with Herb Alpert.
SM: Why not? He's a dear friend. We see each other in L.A, we both live here and he was responsible for beginning my career. He married one of my singers from Brasil '66, Lani Hall. If he has an idea, I'm ready.
MR: Hopefully, this gets the word out to him! One last question about Magic. Is there a particular song on this album that resonates with you the most?
SM: You know, for each song, there's a different story. The one with John Legend, of course, I love that song very much. The Maria Gadú, the Janelle Monae... There's one song on the album, it's called "Sou Eu," which means, "It's Me." I learned that song fifty-five years ago with my music teacher in Brazil. His name was Marcelo Santos. That's one of the first songs I learned. He was a very, very big influence in my life. He passed away. To do that song fifty-five years later with a young singer like Seu Jorge in a contemporary way is a very adventurous thing for me. I love that song very much and it has a very special place in my heart.
Transcribed by Galen Hawthorne
SUGAR RAY & THE BLUETONES' 35TH ANNIVERSARY
According to Sugar Ray Norcia...
"People have been asking me why I haven't written a song about my wife instead of always writing about drinking, lying, and cheating. We've been together happily for almost forty years so I decided that it was time to write about our story."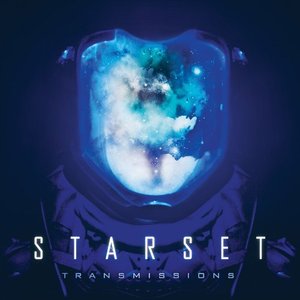 A Conversation with Starset's Dustin Bates

Mike Ragogna: Dustin, your band's debut album Transmissions includes the hit "My Demons" as well as other potential rock radio favorites. Were you surprised by its success right out of the box?
Dustin Bates: To be entirely honest, I actually wasn't surprised. Don't take that as arrogance, though. I was just confident in the record and thought it had a real shot. So much that I spent a considerable amount of money recording and marketing the project independently before we had a label. I wouldn't have done that if I didn't think it had the potential for some decent success. That being said, I am incredibly grateful for the success that has happened. Nothing in life is guaranteed, and that goes 10,000% for music. On the other hand, the level of success we are seeing now, and the potential on the horizon is surprising and can be greatly attributed to our fantastic label, Razor & Tie.

MR: How was the album's material created and during the recording process, how did working with Rob Graves affect the project?
DB: I wrote the record--along with a few great friends--using inspiration from the Message, which we are helping to promote in conjunction with The Starset Society. I also incorporated the story of Thomas, the person who provided the Message. Rob is an amazing friend and producer. He took it and helped me realize the full cinematic scope of the vision. There are many layers to the record, including symphonic and electronic elements, all of which Rob was a maestro at incorporating effectively.

MR: Did this album turn out as Starset pictured it or did it change significantly during the process?
DB: We allowed it to evolve and morph as we went along, but I would say it turned out roughly as it was envisioned. It was certainly enough to wet my appetite for the cinematic rock sound, but I intend to push the limits and dig even further into our niche corner of the music spectrum on the next record.

MR: What's the story behind the band's name?
DB: It is a derivation of The Starset Society, the group that spearheaded our formation. STARSET alludes to the planet PROX, which does not rotate and is thus in eternal sunset, or starset, in the temperate regions where future colonization will occur.
MR: How deep does your interest in astronomy or maybe even science and sci-fi run?
DB: I love most things science and space. I love it so much that I attended the International Space University and then went back as a teaching associate. I also have a master's degree in electrical engineering and was actually working on a PhD and doing research for the Air Force when I got a record deal and decided to pursue music. My interest in sci-fi is a bit more pedestrian, but I still enjoy it.

MR: How much of an effect on your musical perspective and creativity did Columbus, Ohio, have on you personally?
DB: Though the band is based out of Columbus, I grew up near Youngstown, Ohio, which is a dying industrial city in the heart of the rust belt. I think the vibe of that area instilled some of the darkness that pervades much of my music. But it is also a strong place with strong people, which may have helped to inspire the positive themes of overcoming.
MR: If you were a tour guide for the album, how would you describe its tracks, etc.?
DB: Well, first, I really do hope the album is a journey. I set out for it to be much more than a mere collection of songs. But I don't think it needs a tour guide. The numerous hills and valleys, light and dark places, tensions and releases are best experienced without my input. That being said, the novelized account of the Message which will be released soon by The Starset Society will provide further guiding for those who want to be more than a passive listener.

MR: What is your advice to new artists?
DB: Focus on songwriting. The song is the most important piece of the equation. This advice likely sounds obvious to non-artists, but I constantly see artists focusing too much energy on the wrong things. Getting big gigs and selling tickets, for instance, does not matter very much in the long run. Finding a "manager" will not do as much for you as writing a great song. Besides, the managers will come if you have the songs. Getting things like the performance, sound, look, and stage presence down are fantastic, but they all exist so that you can most effectively convey your songs. If your songs suck, nobody cares. Oh, and have fun and don't quit your day job prematurely.

MR: What's the best advice ever given to you?
DB: I think the most effective advice I've ever received has boiled down to "you can do it" and "don't give up" from those whom I respected and trusted. As simple as it is, coming from the right people, it can provide a considerable amount of confidence when in the trenches working hard towards achieving difficult things.
MR: Where does the band go from here?
DB: We are about to head out on a Canadian tour with Lacuna Coil. After that we plan to continue touring, writing, and spreading the Message to the best of our ability.

JUNIPER RISING'S "ALL APART"
According to band pal Cody Conrad...
"Recorded over a period of three days in the Long Island basement recording studio of Chuck Betz, the band's debut full-length album Day of Days sounds like the product of a group of musicians camped out with the singular goal of creating something special and succeeding. From the playful stomping of "Follow Your Dreams" to the tribal, canyon solitude of "Descend", the chemistry shared between the players on Day of Days can't be faked. Among the most special of moments are haunting and energetic appearances by Brian Chillemi of Organs on harmonica and Mark Perro and Nick Chiericozzi of The Men on electric piano and mandolin.
"Whether you live amongst the fields and trees of the great wide open or find yourself hidden by the towering skyscrapers of the city, there's a home for you on Juniper Rising's Day of Days. To be released Oct. 7."
Tour Dates
9/18 - Norfolk, VA @ The Parlor
9/19 - Wilmington, NC @ 42nd Street Tavern
9/20 - Atlanta, NC @ 97 Estoria
9/21 - Athens, GA @ Dos Equis House Show
9/22 - Athens, GA @ Georgia Theatre
9/23 - Birmingham, AL @ Trim Tab
9/24 - Chattanooga, TN @ JJ's Bohemia
9/25 - Asheville, NC @ New Mountain
9/26 - Nashville, TN @ Mad Donna's
9/27 - Cincinnati OH @ Midpoint Music Festival
9/28 - Philadelphia PA @ Ortlieb's
FUN HAVING TEAM BRINGS MIDDLE OCEAN'S "WE'VE GOT A REASON"
According to Andrew Hamlet...
"Fighting the FUN deficit since 2014, Fun Having Team is a social movement encouraging all to have fun as a team, as we believe this to be a revolutionary idea. As the rooster crows at dawn, Fun Having Team is an awakening to FUN--COCKADOODLEDOO! And we can't start a movement without music, so let us come together in the name of FUN. Yes, 'We've Got a Reason,' and it's called Fun Having Team."
REAL LIFE. REAL NEWS. REAL VOICES.
Help us tell more of the stories that matter from voices that too often remain unheard.