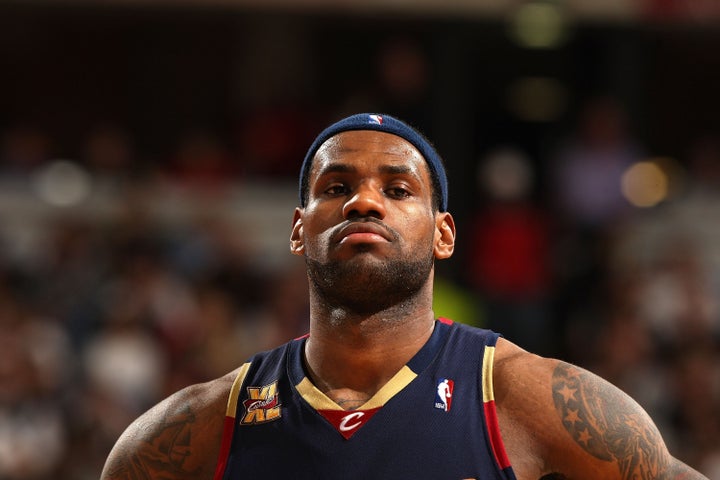 We can now include Magic Johnson's name on the list of NBA legends officially holier-than-LeBron.
Asked by the New York Daily News whether he would have sought out a partnership with Larry Bird and Michael Jordan, Magic undertook no effort to veil his disdain: ""We didn't think about it cause that's not what we were about. From college, I was trying to figure out how to beat Larry Bird."
Add Magic's demurs to Michael Jordan's contention that "There's no way, with hindsight, I would've ever called up Larry, called up Magic and said, 'Hey, look, let's get together and play on one team.'" All that's left is the inevitable statement from Larry Bird, and then the triumvirate of Very Disappointed Hoops Elders™ will be complete.
Easy for them to say, though -- they already played on SuperFriends-equivalent teams, regardless of whether we knew to call them that at the time.
Magic Johnson played and won championships with two teammates -- Kareem Abdul-Jabbar and James Worthy -- who were named among the 50 greatest players in NBA history. Another championship teammate, sixth man Bob McAdoo, was enshrined in the Pro Basketball Hall of Fame in 2000.
Meanwhile, Jordan sidekick Scottie Pippen was an immortal in his own right, also being named among the aforementioned 50 greatest players and holding the all time records for assists and steals by a forward. Playing largely without Jordan in 1994-95, Pippen became one of four NBA players to lead his team in all five major statistical categories (points, rebounds, assists, blocks, and steals) in a season. And pride hardly prevented Jordan and Pippen from urging on the Bulls' 1995 trade for Dennis Rodman, who by then was already a two-time defensive player of the year, a six time NBA all-defensive selection, the holder of the top four rebounding seasons since 1979 and a two time all star.
How many Eastern Conference All Star teams does everyone think Chris Bosh would have cracked in the mid-1990s?
What Jordan, Magic and assorted jeering critics are judging LeBron for is having the bad luck to be drafted by the Cleveland Cavaliers. In 2003, James joined a last place team whose best player, Carlos Boozer, was eagerly anticipating the first opportunity to bail and relied on the best efforts of headcases Ricky Davis and Darius Miles to eke out their 17 wins.
In 1979, Magic Johnson was drafted by a playoff team already boasting Kareem Abdul-Jabbar. Jordan's Bulls would add Scottie Pippen within three years of his arrival. LeBron James had to wait five years for the privilege of playing alongside Mo Williams.
Maybe Magic and Michael wouldn't have made the same decision as LeBron. Certainly the image-conscious Jordan -- who shied away from political stands because "Republicans wear sneakers too" -- would have had the savvy the avoid the spectacle that was LeBron's televised hour-long stomach punch to the city of Cleveland. But it's a touch too facile for them -- who owned Los Angeles and Chicago, respectively -- to begrudge James for wanting out of claustrophobic Cleveland and striving for what they happened to luck into as a birthright.
Calling all HuffPost superfans!
Sign up for membership to become a founding member and help shape HuffPost's next chapter