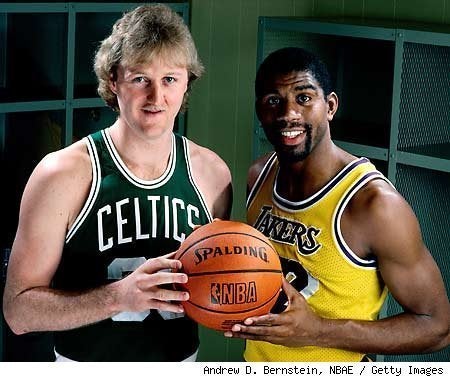 Last year it was announced that two of the NBA's all-time greats, Larry Bird and Earvin "Magic" Johnson will be the subject of the upcoming play aptly titled, "Magic/Bird."
Based on the parallel careers of sport's most memorable rivalries, the Fran Kirmser, Tony Ponturo, and Eric Simonson-produced theater piece is set to begin rehearsals on February 20 followed by preview performances on March 21.
For Johnson, recreating his on court competitiveness for the Broadway stage was a no-brainer after viewing the production trio's previous stage production, "Lombardi," which chronicled Hall of Fame football coach, Vince Lombardi. "They did a wonderful job," Johnson said during a recent interview with Playbill. "They portrayed him in an incredible light, but also [showed us] the things that were going on in his life that we didn't know were going on."
"That's when I decided, 'Okay. Go ahead. Let's do it.' And, Larry [Bird], as well. So, two boys from the Midwest playing basketball, who would have ever dreamt that we would be on Broadway with a play about our lives? And then it's great to have the NBA as one of our partners, as well, so everybody is working together to make sure it comes off right."
As for any concerns about what may appear in the play, the former Los Angeles Lakers guard has no qualms about his life being portrayed on stage.
"If you looked at the HBO documentary ['Magic & Bird: A Courtship of Rivals'], you know, they touched on everything. My life is already out there, so whatever they wanted to cover and it made sense...I was fine with it."
'Magic/Bird' is scheduled to debut on April 11 at Broadway's Longacre Theatre.
Popular in the Community