 How do you teach your kids about rivalry and friendship? Can it be taught? What if you haven't mastered it yet yourself? Imagine your biggest competitor. Think about your greatest nemesis. Who stands in the way of everything you do? Who invades your dreams and halts your hard work? And how do you deal with this?
Throughout the history of their rivalry, Magic Johnson endlessly tried to kill his foe, Larry Bird, with kindness; to no avail.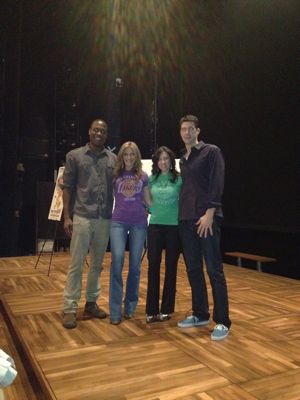 Credit: Steven Katz
L-R: Kevin Daniels (Magic Johnson), Denise Albert, Melissa Gerstein,Tug Coker (Larry Bird)
It was the power of one woman and mom who made the rivalry turn into a relationship worth watching. Georgia Bird is the pivotal person we all have to thank for uniting two of the greatest basketball players of all time. This mother united these two players and took them from being fierce competitors to being dear friends.
Imagine, two men, two rivals with eight NBA championship rings between them, MVP awards, all-star games and members of the USA Olympic dream team, who became friends because of their moms. Larry's mom made it happen, while also reminding Magic of his own mom.
And it is another woman and mom, Producer Fran Kirmser, who had the vision to bring these great stories and lessons to Broadway.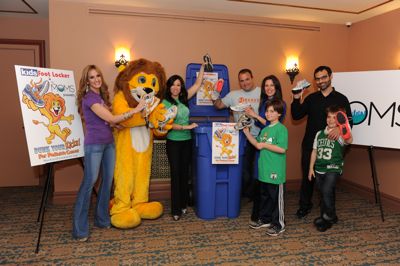 Credit: Steven Katz
L-R: Denise Albert, Mascot: Max Cure Foundation, Melissa Gerstein, David Plotkin, Fran Kirmser
Jed Berger and son
We were fortunate to have the opportunity to share the Bird/Magic messages on one special night on Broadway. We teamed up with Kids Footlocker and a very special dad, David Plotkin, the founder of The Max Cure Foundation for Pediatric Cancer, to help spread the word of mom about these moms, about the play, about Dunk Your Kicks and helping others. All of these powerful messages in one place bring to light the fact we all can make a difference easily.
And the mom love was on everyone's minds. At the talkback on stage after the performance, actor Tug "Larry Bird" Coker thanked his mom and all moms for being present and for tirelessly helping our kid's dreams come true.
Although they were on opposite teams with completely different personalities, their eventual friendship is magic we can all learn from and use to guide our kids throughout life.