It's hard to mistake the Magic Bus for any other vehicle that departs from San Francisco's touristy Union Square. The psychedelic colors that wind around the former school bus -- as well as the bubbles blowing out of the back -- make it perfectly clear that this is a ride back in time. To the 1960s, to be exact.
"There are no bad seats, only bad attitudes," advised Gaia, the enthusiastic young tour guide as she distributed daisies to passengers and welcomed us as guests on the 90-minute excursion through some of the city's most popular neighborhoods.
On board, we were treated to a multimedia experience devoted to the city by the bay, with a decidedly progressive, free-love point of view. One of the most interesting aspects of the tour is that it includes video -- presented on large screens that slide down to cover the windows. Among the most striking uses of the video component was the presentation about San Francisco's legendary 1960s music scene, much of which revolved around the Fillmore Ballroom. "And now, here is what the Fillmore looks like today," Gaia said, as the screens raised to reveal a rather generic Honda dealership.
Gaia and the videos touched on a variety of social elements that helped shape U.S. culture in the 1960s -- including hippies, flower power, rock music and the civil rights movements for African Americans and gays, as we rumbled our way through downtown San Francisco, Market Street and the legendary Haight-Ashbury district. She passed around blank name tags and encouraged us all to choose a moniker to help us fit in with our new "tribe," and also shared a basket lined with Christmas tree lights and filled with what our imaginations should interpret as "LSD" (though they were actually mints). A stop in Golden Gate Park offered the chance to walk around and take more photographs.
I felt fully enveloped by the 1960s San Francisco ambiance by the time this lively tour came to a close. "Goodbye my brothers," Gaia said as we disembarked back at Union Square. "Peace."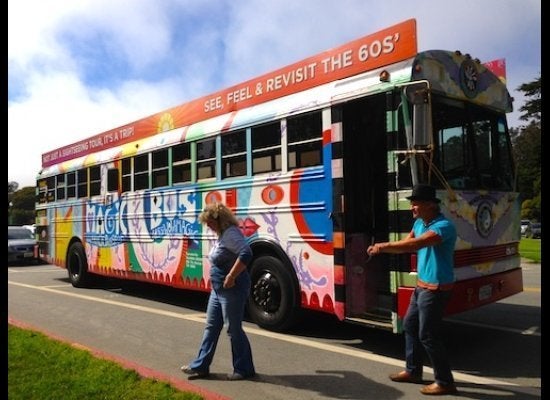 On Board the Magic Bus in San Francisco
For more information: www.magicbussf.com