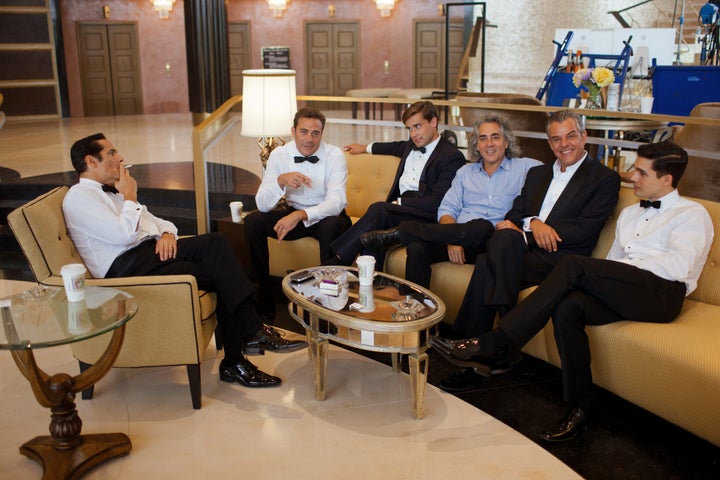 "It really wasn't a network show. It never was," admitted Glazer, who said he's "beyond appreciative" of the network's "rare generosity" in allowing him to move the series to Starz.
The story of how the show landed at Chris Albrecht's pay channel, meanwhile, sounds like a story line from an as-yet-unwritten episode. It all began four or five years ago, when Albrecht, who had been fired from HBO in 2007, joined Glazer and a few of his all-star pals for a research expedition to Havana.
"It was an insane group," Glazer remembered. "Jimmy Caan and Robert Duvall and Benicio Del Toro." They were visiting a Havana hotel designed by the architect Morris Lapidus when Glazer remarked to Albrecht, "You know, I grew up in this kind of hotel. My father worked with Morris Lapidus on the Fontainebleu and Eden Roc as an electrical engineer."
In 2009, after Albrecht took the job as president and C.E.O. of Starz, Glazer recalled, "I sent him a script I had written years before, and he called me literally hours later and said, 'This is amazing, let's do this.'"
Over the years, Glazer, 53, has established himself as a social fixture in Los Angeles. He and his wife, actress Kelly Lynch, like to entertain at their home, a John Lautner-designed midcentury-modern beauty overlooking the Hollywood sign. But Miami, where Glazer was born and raised, will always be his hometown, and he's been savoring the opportunity to re-create the city of his childhood. "There aren't many things that I feel I know better than anyone else alive, or at least anyone else doing my job," he said. "This was one of them."
The show opens on December 31, 1958, a date with special historical significance for Miami. Just a few hours after midnight on January 1, the U.S.-friendly dictator Fulgencio Batista fled Cuba as revolutionaries led by Fidel Castro advanced on the capital. "It was one of the most novelistic moments for a regime to topple," Glazer said. The resulting influx of Cuban exiles changed the face of Miami. "It was thrilling, because they just seemed cooler," remembered Glazer, who was in elementary school at the time. "It was such an exotic explosion in what felt to me like a Jewish town."
The dashing protagonist of "Magic City," an all-seeing hotel proprietor named Ike Evans (Jeffrey Dean Morgan), maintains a precarious existence on the border between polite society and the criminal underworld governed by Jewish Mob boss Benny Diamond (Danny Huston). Glazer, whose vast circle of friends includes such powerful men as Graydon Carter, editor of Vanity Fair (where Glazer and I once worked on a project together), and film producer Steve Bing, said Evans isn't based on anybody in particular; but he did have a story about how another friend, hotelier Andre Balazs, claimed to have inspired the character. "I told him, 'Dream on,'" Glazer said with a laugh.
Glazer found both Morgan and Huston a pleasure to work with –- for different reasons. "Jeff has an innate goodness in him," Glazer observed. "He is a good man, so it's easy for me to take Ike to dark places."
Huston, meanwhile, has a certain sinister quality that makes it easier to write his villainous character. "Danny is one of the sweetest, most well-read, wonderful guys in the world," Glazer said, "but he does have that ability to convey charm and menace in the same moment."
"Magic City" has already been renewed for a second season, and Glazer hopes it will last long enough to tell the story of an era. "To me, that period between beatnik and hippie -- which ended with the Beatles coming to Miami Beach and the 'The Ed Sullivan Show' in '64 –- it was a such a brief moment when those guys like Ike Evans ruled. That iridescent suit, that skinny tie, the Lenny Bruce look. It was like a blink."