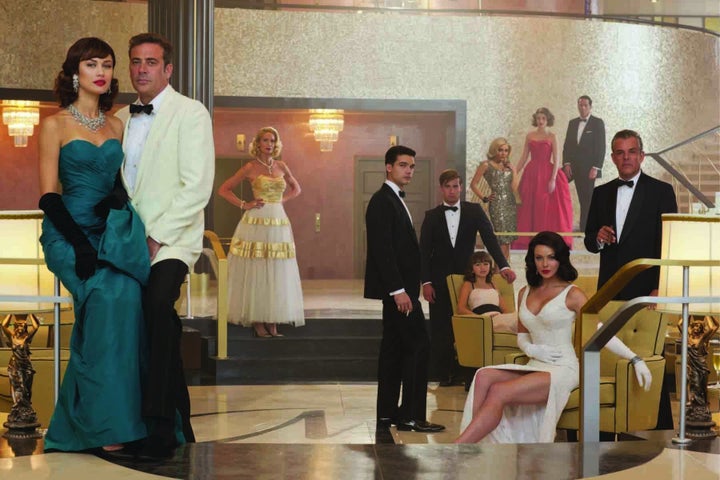 Jeffrey Dean Morgan may be one of the hottest draws on television this spring. The actor best known for playing Denny Duquette on the ABC hit Grey's Anatomy, has been generating buzz for his highly anticipated new drama series, Magic City, which debuts on Starz this week.
But when asked whether it's been tenacity or veracity that helped fuel a surprisingly robust mid-career boom, he happily admits that it's the latter.
"I'm easy to get along with -- I'm not a diva," Morgan admits with a laugh. "I'm just a happy guy."
True, but few actors pull off "happy" with such ease. Morgan's cheerful man's man/everyman persona certainly turned heads and warmed hearts when he played the ill-fated Denny (Izzie's beau) on Grey's (2006-09). But then he surprised critics by packing a studly creative punch on the big screen as a lead player in the box office hit The Watchmen. Now, Morgan ventures a step further dramatically as Ike Evans in Magic City.
Three words sum up the new drama: sizzle, sunshine and sex.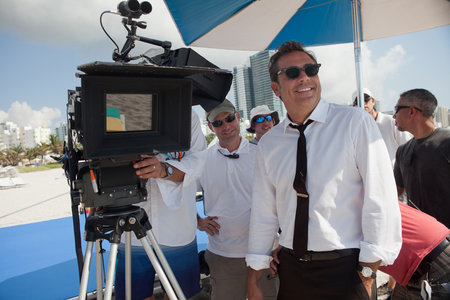 Jeffrey Dean Morgan on the set of Magic City in Miami. (Photo courtesy Starz)
The series is set in Miami 1959. (Think Kennedy, Cuba, the rise of the wealthy class.) Morgan's Ike is the beleaguered owner of the luminous Miramar Playa Hotel. Part family man, part savvy business man, he tries to manage the two but can't help but get pulled into the undertow of the mob's shady dealings. Toss in an ex-wife (Kelly Lynch), a younger new wife (Olga Kurylenko), two sons -- steamy hunk (Steven Strait) and embraceable hunk (Christian Cooke) -- a mobster (Danny Huston) and his lover (Jessica Marais), and you got the makings of a hit.
At first glance, the series is a provocative, moody period place that dazzles by how well it's underplayed. It hits a nice stride by the third episode and manages to get under your skin as Ike (and Co.) feel the ripple effects of what it takes to run one the country's newest premier hotels. Sopranos it's not. But that's good. Here, series creator/writer Mitch Glazer winningly evokes the mood of the day in a clever balancing act that is downright original if not awfully nice to look at, too.
"I had no plans of doing a show," Morgan admits during our recent interview. "I've done tons of guest spots and in parts where the character invariably dies or is dead." (Weeds, Supernatural, Grey's Anatomy.)
"And then it was six years straight going from film to film, so I hadn't thought about doing television nor had I read anything that felt warranted it," he adds. "Then I read the script, and this character in particular, and I thought -- Mitch Glazer is fantastic. He wrote every single word of our whole season. Rough job. Not many writers can do that."
Glazer created Magic City by culling from his experiences in Miami Beach -- he was born and raised there and his father, Len Glazer, was an electrical engineer who designed a great deal of the lighting for Miami Beach's hippest '50s hotels: The Fontainebleau, Eden Roc and Deauville. Glazer even worked as a cabana boy at the Deauville in the 1970s. (No doubt he shaped Strait's character around some of his own experiences?)
As an actor, Morgan says the role was a dream come true, but also an incredible challenge.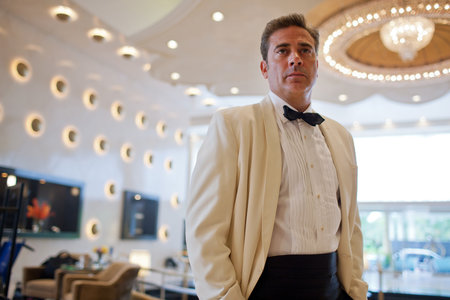 "It was not only an emotional time for Ike Evans, but for Jeff Morgan, too, trying to keep up. Ike is a family man at heart. I am a family man at heart. He wants to protect the ones that he loves and I certainly want to do that.

"But there's also the gray area, which is where we all operate in some times," he goes on. "It's really hard to just be good or bad. You know, I am very honest with what I am feeling and what is going on, but ultimately, being instilled with a difference of right and wrong at an early age, I will always side for the side of good. But that's not to say I haven't veered over into that gray area many times in my life."

About that... Morgan's life is a curious kaleidoscope.
Born and raised in Kirkland, Wash., before settling in Seattle, and then onto New York City, he calls acting his "happy accident" because he had no intention of becoming an actor -- at all. In the late-'80s, he had "dabbled" in graphic art, selling paintings for "50 bucks a pop" to coffeeshops and bars around Seattle.
"All my friends were musicians; The Pearl Jam and Jane's Addiction folks -- those guys were my friends and I just wanted to be an artist," he recalls. "I had no musical talent and my deal was that I'd paint. I loved it. For me, it's just 'getting out of my own way' because I live a lot in my head."
But after helping a friend move to Los Angeles in the early '90s, Morgan was soon auditioning, setting up what would become a curious 15-year cycle of television guest spots -- from ER to CSI to JAG and beyond. Suddenly that "big thing" most actors dreamed of attaining was beginning to feel like a nightmare.
"I spent years being depressed and morose until something 'happened,'" he shares candidly, seemingly amused by it all now. "I was in my late-thirties. I had no education. I went to college for, like, a quarter and I thought, 'You know, what are you doing with your life? It's not panning out!' And then everything sort of happened at once."
One day, about seven years ago, Morgan's manager called and basically, dumped him.
"I'll never forget the phone call," he chuckles about it. "She said, 'You're getting old. It's a young man's game.' [At the time], I was building decks and fences and whatever I could do to scrape by. But literally, the next day, my first audition with my new manager was for Supernatural. Supernatural and Grey's Anatomy all happened within three weeks of each other."
And just like that, Morgan's life took a 180.
The Grey's gig -- playing Izzie's flame, Denny Duquette -- is still one of the most talked-about recurring characters in the show's history. Movie roles followed (PS, I Love You, Taking Woodstock, Jonah Hex and, of course, Watchmen).
Still, there must have been something beyond a manager swap that helped shift things.
"A lot of it had to do with me maturing as an actor and as a person, more so as a person," Morgan says. "It's a rough game. You go into these auditions feeling desperate as all hell. Somehow I got past that. I'm extremely lucky. I'm the fist to admit that. But I don't think I'm the greatest actor in the world."
Well, he's certainly one that's in demand. Aside from Magic City, Morgan appears two big upcoming films, the Red Dawn reboot, and The Devil and The Big Blue Sea, costarring Jessica Biel. Stay tuned ...
Magic City hits Starz at 9 p.m. Friday nights on Starz (Check local listings.) Learn more at starz.com. Watch behind the scenes "style" coverage of Magic City (below).
Calling all HuffPost superfans!
Sign up for membership to become a founding member and help shape HuffPost's next chapter