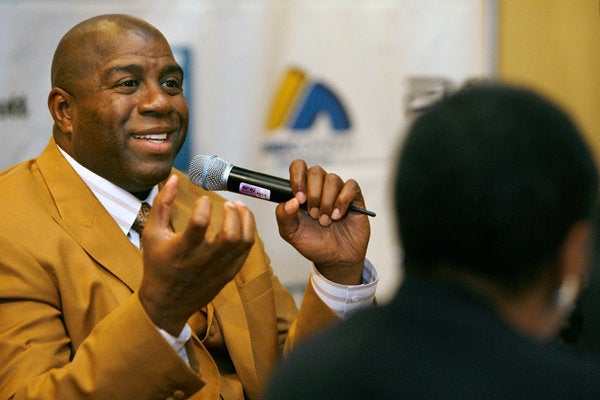 Try, try, try to understand
He's a magic man
If you watched the NCAA basketball Final Four, you couldn't miss former Michigan State star Earvin "Magic" Johnson. He was constantly being interviewed or shown on camera.
There is another place you can find Magic Johnson: doing commercials for Jackson Hewitt's "Money Now." "Money Now" is a tax refund loan operation.
Tax refund loans (also called refund anticipation loans) are in a class of financial products marketed primarily to poor people.
Someone described tax refund loans as a payday loan guaranteed by your tax return.
That hits the nail on the head.
Like payday loans, the fees and interest rates on tax refund loans are outrageous.
According to the San Francisco Chronicle, the annualized interest rate for tax loans is 40% to 500%.

According to IRS data, 8.7 million people took out a tax refund loan in 2007. Of those 8.7 million who got the loans, 67% received an Earned Income Tax Credit.
The Earned Income Tax Credit is a program aimed to help the working poor. Only 17% of all taxpayers get it.
When 2/3 of the borrowers come from less than 1/5 of the population, it doesn't take a genius to see the business model. Tax refund loan vendors must view the working poor as easy pickings.
In the modern era, with electronic transfers, it only takes a week or two to get a tax refund from the IRS.
People getting loans are those who won't wait two weeks for their money.
Tax refunds come in once a year. It is not money people are living on week to week.
There is something seriously wrong about a society where 8.7 million Americans will pay $1 billion in fees and interest rather than wait two weeks for a check.
It's a mindset of immediate gratification that companies like Jackson Hewitt are able to exploit.
And able to get Magic Johnson to be their front man.
It's hard to find a better spokesperson than Magic Johnson.
He is one of the best, and best known, basketball players of all time. He is personable and charismatic.
During a halftime interview at the NCAA championship game, an announcer noted that the basketball's popularity grew dramatically in the 1980's when the college rivalry of Johnson and Larry Bird carried into professional basketball.
When Johnson tested positive for HIV in 1991, he became an inspiration for others with the disease and an advocate for prevention and cures. He has given generously to charitable causes.
Which begs the question: Why is Johnson using his considerable fame and influence to peddle tax anticipation loans to poor people?
Several groups and other journalists have asked Johnson that question. Johnson and the Magic Johnson Foundation have all declined comment.
My guess is that he is trying to work under the radar. The commercials run heavily in urban and poorer neighborhoods. I suspect they are not running many of those commercials in the part of town where Magic lives.
Johnson is a bright guy, surrounded by advisers. If any had done their homework, they would have seen that refund loans are a sordid and ugly business.
Jackson Hewitt has been the target of several government lawsuits. The California Attorney General got a $5 million settlement from Jackson Hewitt for violating laws in the way it marketed loans to poor people.
Republic Bank of Louisville, Kentucky, had previously been in the payday lending business. It shifted business models and processed $6 billion in tax anticipation loans in 2007. Louisville's Business First publication wrote that "the lucrative RAL business accounts for half of Republic's profits in 2008." Business First said that Jackson Hewitt was Republic's biggest client.
On February 27, the Federal Deposit Insurance Corporation (FDIC) issued a cease and desist order against Republic Bank, related to its refund loan anticipation (RAL) program.
Based on the information and evidence, you would think that Magic Johnson would have ceased and desisted long before becoming the public face of the industry.
I'm sure Jackson Hewitt is shelling out big money to Johnson. But there is a point where reputation is more valuable than money.
I've seen no public evidence of Johnson having the types of financial problems that have driven Ed McMahon and M.C. Hammer to become pitchmen for unusual products.
There is no reason for tax refund anticipation loans to exist. The industry targets a poor audience, charges high fees and provides a "service" that is not really a service. People wait all year for a tax refund. They can wait another two weeks or so.
Senator Richard Durbin of Illinois has proposed a bill limiting all loans to 36% interest. It is a great idea and one that would wipe out the tax refund anticipation loan business.
It's easy to eliminate an industry with a dubious business model and a laundry list of regulatory violations.
It's harder to eliminate a business where Magic Johnson is its public face.
Because of Johnson, the tax refund business might stick around, luring in more millions of Americans.
Although I admire his place in basketball history, it's now hard for me to think of Johnson as a magic man.
Don McNay, CLU, ChFC, MSFS, CSSC is the founder of McNay Settlement Group in Richmond, Kentucky.
He is the author of Son of a Son of a Gambler: Winners, Losers and What to Do When You When The Lottery. You can write to Don at don@donmcnay.com or read his award winning, syndicated column at www.donmcnay.com.
McNay is Treasurer for the National Society of Newspaper Columnists and a lifetime member of the Million Dollar Round Table.
Television commercial for Money Now starring Magic Johnson
REAL LIFE. REAL NEWS. REAL VOICES.
Help us tell more of the stories that matter from voices that too often remain unheard.