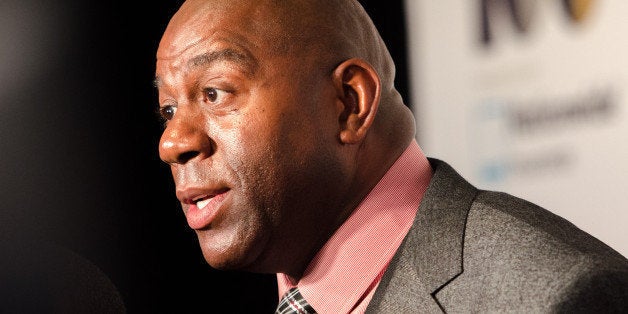 When NBA star Earvin "Magic" Johnson was diagnosed with HIV a little more than 20 years ago, he said his wife was afraid.
"Cookie was fearful about the reaction of people ... [HIV was something] you had to whisper about," the 54-year-old explained at a recent press event. "At that time, AIDS was a death sentence. And now, things have changed."
Indeed, a study released just this year in the journal AIDS showed that people infected with HIV who have their condition well-controlled with treatment aren't likely to die any earlier than their non-infected counterparts.
We got a chance to talk one-on-one with Johnson to discuss what's changed over the last 20 years when it comes to prevention, diagnosis and treatment of HIV -- for good and for bad.
On how things are different today:
"Twenty-two years ago, there was only one drug available," Johnson said. Fast-forward to today: "Now, there's more than 30 drugs, and they're really great drugs too. And that's the reason for hope: Doctors and health care providers are so much better and knowledgeable today than they were in the past."
On the changing face of HIV:
When HIV was first making its way into the public eye, it was primarily ravaging the gay, white community, he said. But that's changing.
On barriers to getting tested:
There's still a sense of fear that comes with getting tested for HIV -- fear of finding out what the results are, and fear of what people may think if they see you going in to get the test in the first place. "People won't even go to the community doctor, they will go two hours away" to a doctor who doesn't know them, he said. "They're afraid of the discrimination."
"You can do it all at home. You can get a person close to you, whether it's a girlfriend or a close friend, and say, 'Let's do it together,'" said Johnson, who is a spokesperson for OraQuick. That way, you have your support system right there with you as you take the test, instead of just a doctor.
On the biggest hurdles that still exist today for HIV prevention:
HIV used to be one of the most talked-about conditions, and we've "got to bring it to the forefront again," Johnson said. "Twenty-two years later, it's cancer, everything else. HIV has been pushed out, and it's not at the forefront anymore. People are not talking about it as much as they used to. And in the black community especially, we really need to be talking about it."