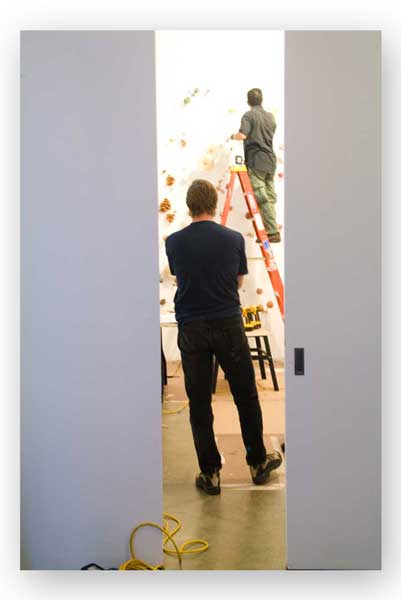 The artist directs installation of "Replicants"
Encountering the art of Roxy Paine, we always expect to be dazzled by the technical intricacy and detail of the work, while being seduced by it's beauty to closely approach despite a hint of menace. We knew that "Distillation," the latest major installation in his "Dendroid" series, which opened last week at Chelsea's James Cohan Gallery, would not disappoint.

Natural history by Roxy Paine (l) "Distillation detail, (r) Replicant of Amanita Muscaria
When we first got news of the scale of the installation, a single continuous sculpture from the gallery's front door which pierces walls, making its way through the length of the gallery all the way to the back offices, our first response was -- "Wow!"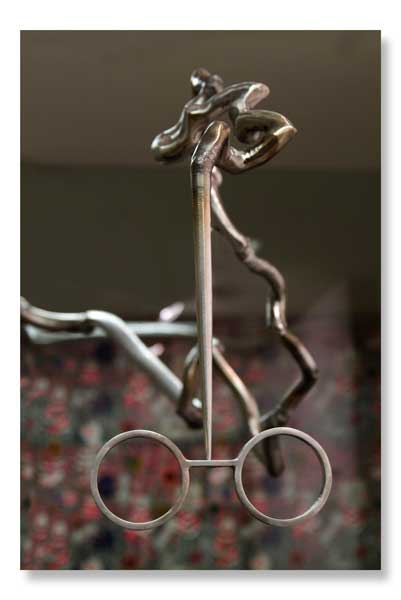 Terminus of "Distillation" in James Cohan's office.
Our second -- "How? May we please shoot some photos of the installation in process?"
Roxy Paine, his staff, and the gallery we gracious enough to reveal some of the challenging process, which began in the studio in mid-July in tandem with work on "Ferment," (to be installed in Kansas City next year).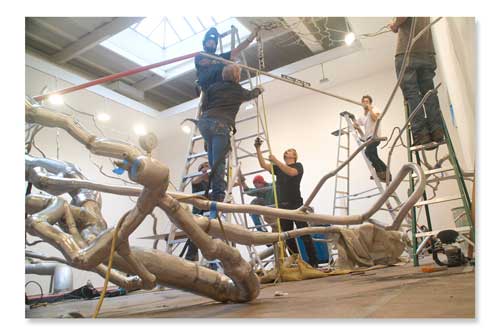 Installation in progress -- main gallery.
Sculptor Charles Orme, a member of the group of artists and metal workers who assemble the installations with the artist, told us that Paine, who is hands-on at every point in the process is, "Intensely formal, and artist's artist in that respect, with a contemporary mind, and technically savvy. We could not do this without him."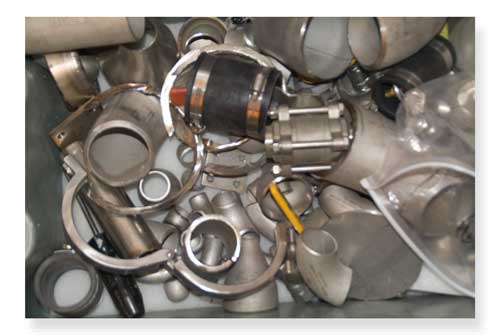 Based on Paine's studies of nature -- he uses the structural elements of trees as a language -- the "Dendroids" are never intended to represent real trees, but rather to be open to individual interpretations and pique interest in the way human action has changed how we all experience nature. In his words, "There is an oscillation between observation of natural and man-made systems and a host of other inputs, and the fermentation and distillation of that information in the relative isolation of the studio."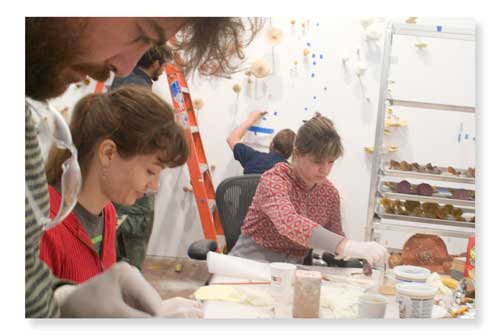 The fact that they are made of pipes and steel has always been visible at some level, but in "Distilation" Paine's organism has acquired features of the human body, as well as more recognizable mechanical components, bringing it closer to the artist's kinetic "Machines" series.
Would he consider setting them in motion as well? "They do reflect the concerns represented by the Machine pieces, passing through a different mental lens," Paine told us. "I don't set them in motion, preferring instead an implied motion, or a frozen state of potential motion."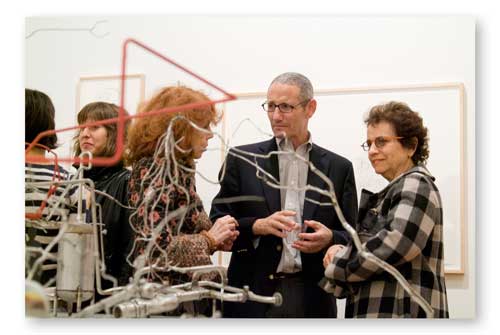 James Cohan (c) and guests with scale model of "Distillation"
Having last summer been aesthetically -- and physically -- caught up in Paine's "Maelstrom" on the roof of the Met, we wondered how the artist responds to the intersection of his environmental works with humans. "If the work is conceptually compelling, fully realized, and true to its ideas, that the rest will take care of itself," he answered. "Thus, I don't want to get too involved in how people interact with the piece."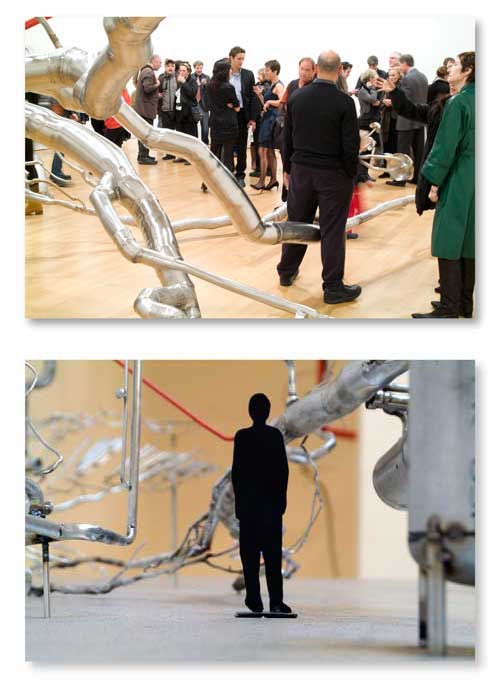 Roxy Paine "Distillation": (top) Main Gallery -- opening night, (bot) Scale model detail
The dynamic opening night scene, with some visitors taken aback and others lightly stepping over, under and through like old pros, led us to seek out a few responses.
"The wonderful part of his work was the fact that he was able to tell the very simple story of distillation ... with a lot of style and with his iconic metal work voice," commented first-nighter Cedric Suming. "The installation had a lot of lyricism to it, each organic/industrial extension carrying the viewer through a mini-story that would lead to beautiful moment/pause -- like a mushroom, glasses, branches shaped like root, kidney/maceration devices..."
Impressed with the scale at the opening, artist Randee Silv told us, "It's all at once being inside a brewery, deep within a living body and under a forest canopy."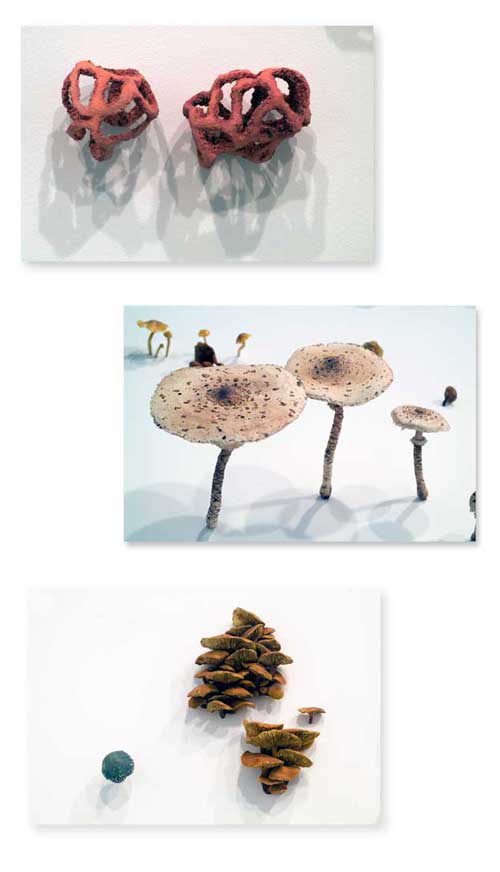 Details showing Replicants of species(from top): Clathrus Ruber; Lepiota Procera (large) & Hygrocybe Flavescens (yellow); Aeruginosa (green) & Flammulina Velutipes (cluster).
Spared for the moment from the "Dendroid" invasion is Gallery One -- where a magnetic example from Paine's "Replicant" series is on view, a wall sprouting a "butterfly's eye view" of colorful examples of many species of mushrooms, so realistic -- some are even broken -- that a friend was tempted to touch to prove they were not real mushrooms. Though many viewers tiptoed over the line on the floor, touching could be a very bad idea even if this were not a work of art -- the 25 different fungus species range from the psychoactive to the poisonous.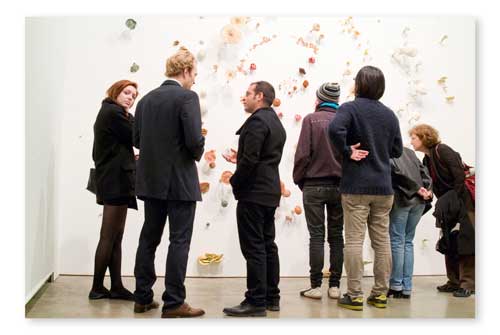 "When I began the mushroom fields, I was most interested in the idea of potential; the potential to alter mental states or the potential to maim or kill, also the fragile line between hallucinogen and poison," Paine said. "However, as the pieces have evolved other aspects also have become interesting to me: color, form, how a possible species will interact with another species in the field, growth patterns, method of spore dispersal, etc."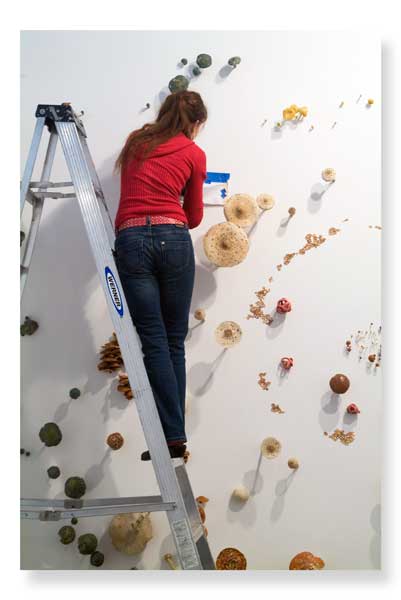 Another small gallery is reserved for the artist's drawings for this show, and a scale model. "It's amazing how delicate he can be drawing," said Charles Orme, who told us that in working with the final materials, "You have to be very tough to make that movement happen."
For Cedric Suming, "The two-dimensional ink pictures were especially interesting, connecting all the elements into intricate layered flats with different levels of opacity ... a view that was originally impossible because of the gallery walls."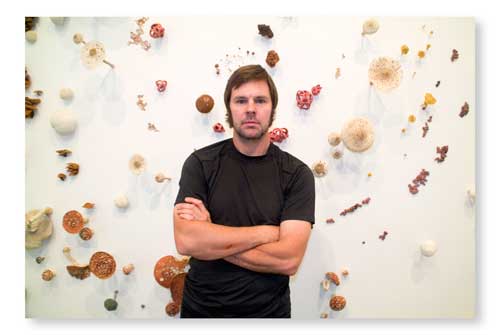 all photos (c) Resolve40 all rights reserved
REAL LIFE. REAL NEWS. REAL VOICES.
Help us tell more of the stories that matter from voices that too often remain unheard.