The "Hamilton" soundtrack plays in classrooms and family cars across America and his Oscar-nominated song, "How Far I'll Go," from the Disney movie "Moana," charted on Billboard. He's been well on his way to becoming this generation's Raffi (albeit also popular with adults), and now he has yet another song families will soon know by heart.
Netflix just released the trailer for "The Magic School Bus Rides Again," which will debut Sept. 29. In it, Miranda sings a new version of the classic theme song. Although the song isn't very educational by itself ― save for the warning that you might get "baked into a pie" ― the show will follow in its predecessor's footsteps (tire treads?) of teaching kids about science. 
Technically this isn't exactly a reboot ― in this Netflix trailer, the original Ms. Frizzle throws the keys to the magic bus to her little sister, the new Ms. Frizzle. The first Frizzle (then and still voiced by Lily Tomlin) goes off on her own adventure as the younger Frizzle (voiced by Kate McKinnon) takes over her class.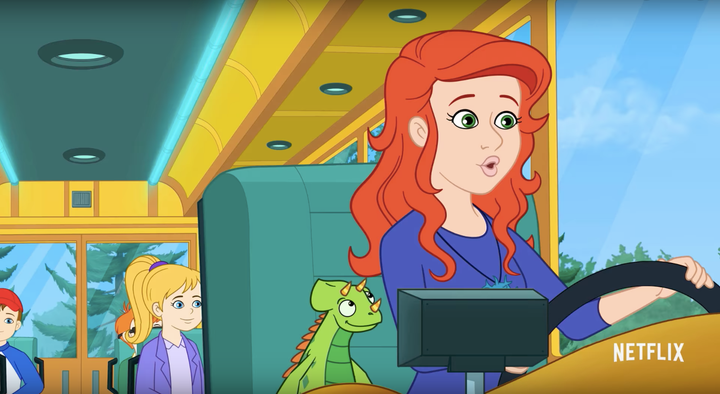 Here's the press release from Netflix:
The kids are back at Walkerville School for another school year of astonishing, out-of-this-world field trips in this all-new reimagining of the iconic science-comedy-adventure series The Magic School Bus. But this year, there's a new Frizzle (Kate McKinnon)! The younger sister of the famed Professor Frizzle (Lily Tomlin) has taken over the classroom! But worry not ― the new Ms Frizzle shares her sister's zany ways and passion for science. Field trips this year are wilder than ever, into the clouds, across the internet, riding the continents ― even a plunge into the depths of the Sun itself! And along the way, the kids we know and love bring their science investigations into the 21st century – still taking chances, making mistakes and getting messy! 
The kids are going to take a field trip to the internet! Hopefully Walkerville has a savvy IT department that knows how to keep the class from accidentally stumbling upon the many potentially scarring things on here.
Or at least they find a way to block the president's Twitter feed. Coming across that would finally justify the kind of determined self-destructive behavior of the character Arnold, who famously got frustrated enough to remove his helmet in space ― immediately turning his head into a chunk of ice.
REAL LIFE. REAL NEWS. REAL VOICES.
Help us tell more of the stories that matter from voices that too often remain unheard.
BEFORE YOU GO