Magic Vegan Bacon Grease (MVBG) is a spread made of coconut oil, non-GMO soy protein, sea salt, pure maple syrup, black pepper, onion, garlic, Torula yeast, and natural smoke flavor. (Stumbling over Torula yeast? We'll get to that.) Completely vegan and GMO-free, the spread is supposed to mimic bacon grease for people who are deprived of smoky flavor because they don't eat bacon.
You're meant to fry, cook or bake with Magic Vegan Bacon Grease. You can also simply spread it on toast. A serving size of MVBG is only two teaspoons, so one approximately nine-ounce jar will take you far. For inspiration, you can turn to the spread's Tumblr page, which features photos of things like popcorn seasoned with MVBG or roasted chestnut soup with "a dash or two of magic." The website also recommends cooking Southern fried greens and biscuits with the stuff. Smoky bacon flavor is undeniably appropriate in all of these cases, but can a totally meat-free spread impart a real bacon flavor? "It's real. Deal with it, society," the Tumblr page proclaims.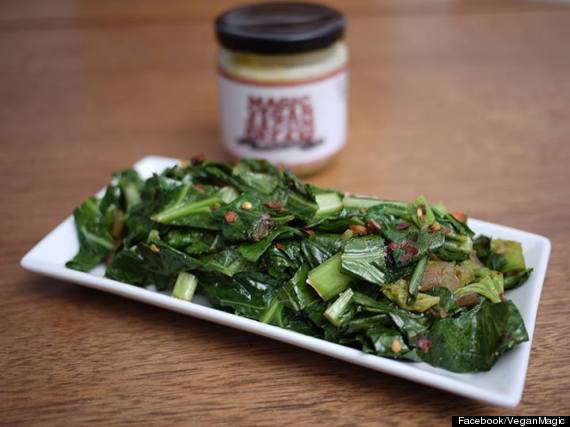 Not unusual for unconventional health foods trying to break into the mainstream, Magic Vegan Bacon Grease's website features a lengthy exposition about its origin and creator. Chris, the man behind the grease, hails from Hamilton, Ontario, where he has been a vegan for 20 years and comes from "the world of DIY punk and metal music." He came up with MVBG after traveling and being exposed to rich, savory flavors "from the food carts of Tijuana to the soul food joints of the American South." A self-proclaimed "ADHD-ridden mad scientist," Chris invented his special spread because while vegan cheese and tofu dogs have become commonplace where they weren't a couple years ago, there's still nothing to match bacon grease's flavor and texture.
The original formula for MVBG consisted of four condensed oils, one of which was GMO and one that was hydrogenated. Chris wasn't satisfied with this makeup, and went back to the drawing board. The current spread contains no GMOs or hydrogenated oils, and instead owes its semi solid consistency to coconut oil. And about that Torula yeast? It's an umami-rich species of yeast that is a popular additive to processed foods. It's got a "slightly meaty flavor," which explains its contribution to MVBG.
You can buy an 8.82 ounce jar of MVBG for $7.59 from VeganEssential.com. According the MVBG's FAQ page, the spread is also available in an increasing number of stores in Eastern Canada and will soon be available from Whole Foods stores in Texas. Since we haven't made it to Eastern Canada or Texas lately, and refuse to place any mail orders until holiday shipping craziness dies down, we haven't been able to try MVBG yet. Alas, we can't decide if it's totally brilliant or if we wouldn't wish it on our worst hipster enemy. The folks over at Big Gay Ice Cream have one opinion:
If you get your hands on some Magic Vegan Bacon Grease, let us know what you think!