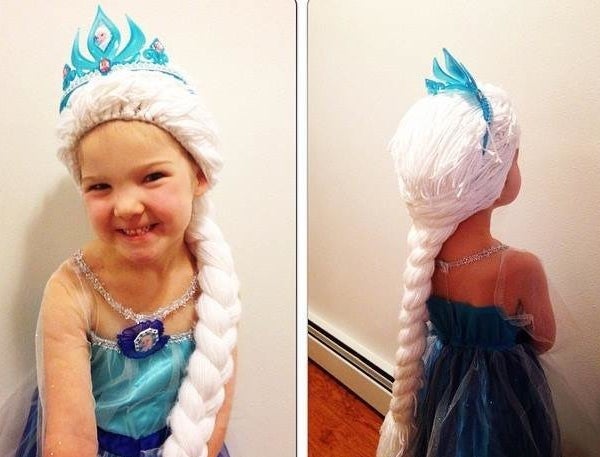 With the generous support of people in her community and beyond, an Alaska mom is bringing a touch of magic to the lives of young cancer patients through beautiful and whimsical "princess" wigs, all made painstakingly by hand.
The story of these wigs began last year when Holly Christensen got news that her friend's 3-year-old daughter, Lily, had been diagnosed with cancer. A former oncology nurse, Christensen says she was deeply grieved for the child.
"I knew having been a cancer nurse what she was about to go through," the 31-year-old mom of three told KTVA.com.
There was, she knew, much suffering ahead for Lily, who was going to undergo chemotherapy. "She's such a girly girl and loves princesses and [was] about to lose her long beautiful hair," Christensen, who lives in Palmer, Alaska, told ABC News.
That's when Christensen says she got the idea to create a special handmade wig for Lily: A Rapunzel-inspired braided style made out of very soft yellow yarn.
Chemotherapy can leave a child's skin "very tender and sensitive," making wearing traditional wigs uncomfortable, Christensen explained. The wig she created for Lily was made on an extra-soft crocheted beanie.
"I knew she would be going through a difficult time, and that no one would be able to take her suffering away," Christensen told Babble. "I also knew that losing her long, curly blonde hair at not even 3 years old would be difficult for her, so I figured that the yarn wig could help bring a little magic and fun to a difficult time in her life."
Lily is said to have immediately fallen in love with the wig. She would stroke the yarn, Christensen said, and would talk about a time when she would get her "real 'Rapunzel' hair" back. It made her "feel like the beautiful princess she is," said the mom.
Christensen says the experience with Lily convinced her that making these "princess" wigs was one way to bring some joy to the lives of children with cancer.
Its mission: To create and send out Disney-inspired "princess" wigs, all free of charge, to young cancer patients at treatment centers across the country.
According to the Dispatch News, the project has grown exponentially since its inception. It first began with Christensen and a small group of her church friends coming together to make the wigs. But now, volunteers and donors from across the country are offering their time and money to support the cause.
A GoFundMe campaign for the project has raised more than $5,000 so far and wig-making volunteers have included female inmates at Alaska's Hiland Mountain Correctional Center, who have learned to crochet the beanies that make up the base of the wigs.
Carl Hicks, a Hiland staff member who oversees the crochet program, told the Dispatch News that 70 prisoners made 150 beanies in two weeks. The women have been "more than a little bit ecstatic" to be a part of the wig-making effort, Hicks said.
Christensen has also been holding wig-making workshops in her hometown of Palmer. The most recent one, held on Saturday, saw 50 volunteers showing up to help. Christenson says she's also had people "in Scotland and Australia and California and Minnesota wanting to put on their own workshops."
The mom says she's been blown away by the outpouring of support. In fact, the positive response has been so immense that she may turn the project into a nonprofit that would have more of a global reach.
"That's been really neat," Christensen told ABC News of the support she's received. "To bring a little bit of magic into such a difficult time in their life is so rewarding. It's almost equally been so rewarding and magical to meet people who want to help."
Related