Warning: This article contains explicit content and may not be appropriate for work environments.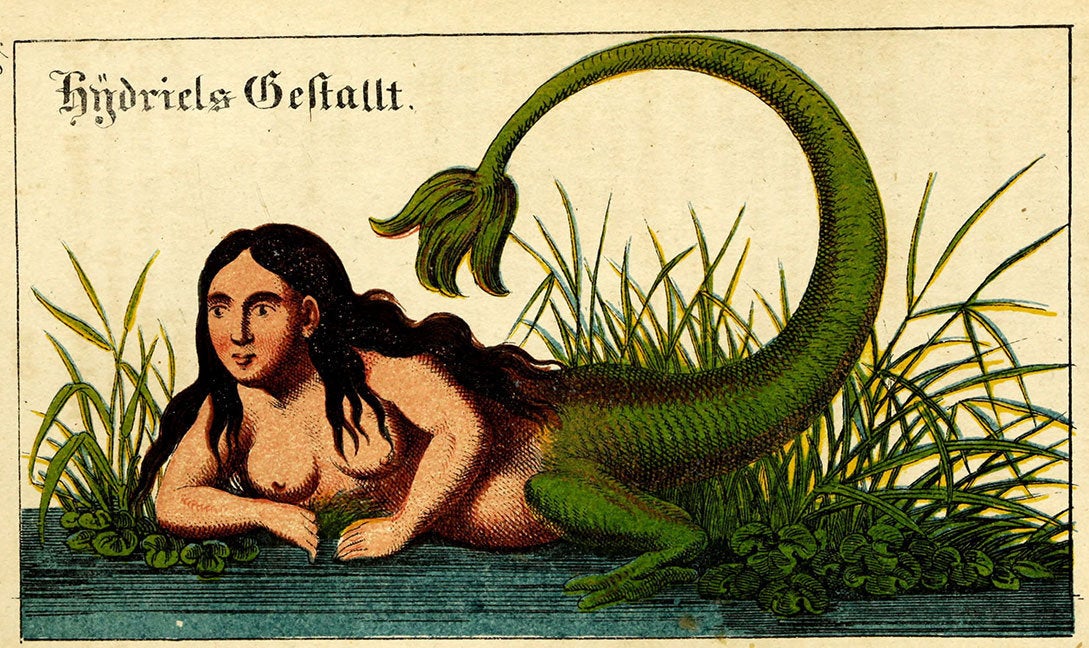 "This testimony we teach: that the sacred law of love regulates not only the earth, but the entire universe."
So wrote doctor, spiritualist and occultist Paschal Beverly Randolph in his 19th century text Magica Sexualis. Also a trance medium, women's rights advocate, abolitionist and author of over 50 texts, Randolph, known to his followers as PBR, was the Western progenitor of what's now known as "sexual magick," which is pretty much exactly what it sounds like.
This underground realm of the erotic occult is the subject of a current exhibition at Stephen Romano Gallery, combining contemporary, ancient, outsider, vintage and visionary artworks that explore that dark and shadowy space between the bedroom and the cosmos. If you've ever suspected that a good orgasm may be the key to unlocking the dark secrets of the universe, read on.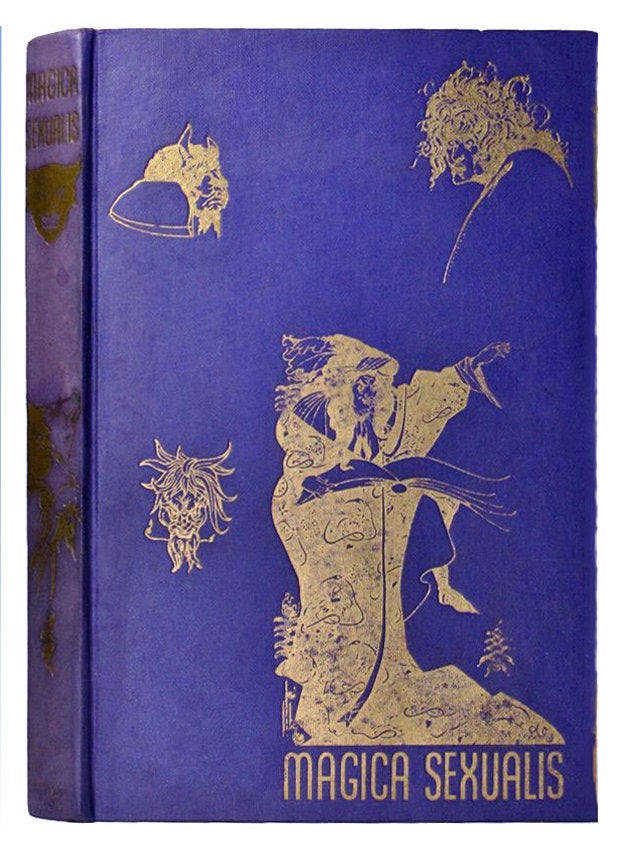 To put it simply, sexual magick is founded on the belief that divinity is everywhere, including inside each and every person on this earth. Men and women are, in PBR's terminology, "a radical soul-sexive series of energies." As such, the easiest way for us humans to channel the all powerful force of the deity within is through getting it on.
PBR's theory asserts that all living beings in the universe are governed by oppositional forces, positive and negative, which are attracted to each other by an inexplicable power. Some examples are good and bad, life and death, idea and action. In the material plane, man and woman represent the positive and negative magnetic poles, respectively; conversely, in the mental plane, woman represents the positive pole and man the negative.
Make of that what you will, but, as PBR sees it: "In the science of the mysteries that we teach, just as in nature, the female attracts the male, so we can attract to ourselves the desired form by creating the negative in order to attract the contrary, the positive! This is the principle basis of all magic, no law is superior to it; and it permits us to accomplish operations in two fashions: intellectually, it is spoken calmly, without emotion, and sensually, it is spoken in love."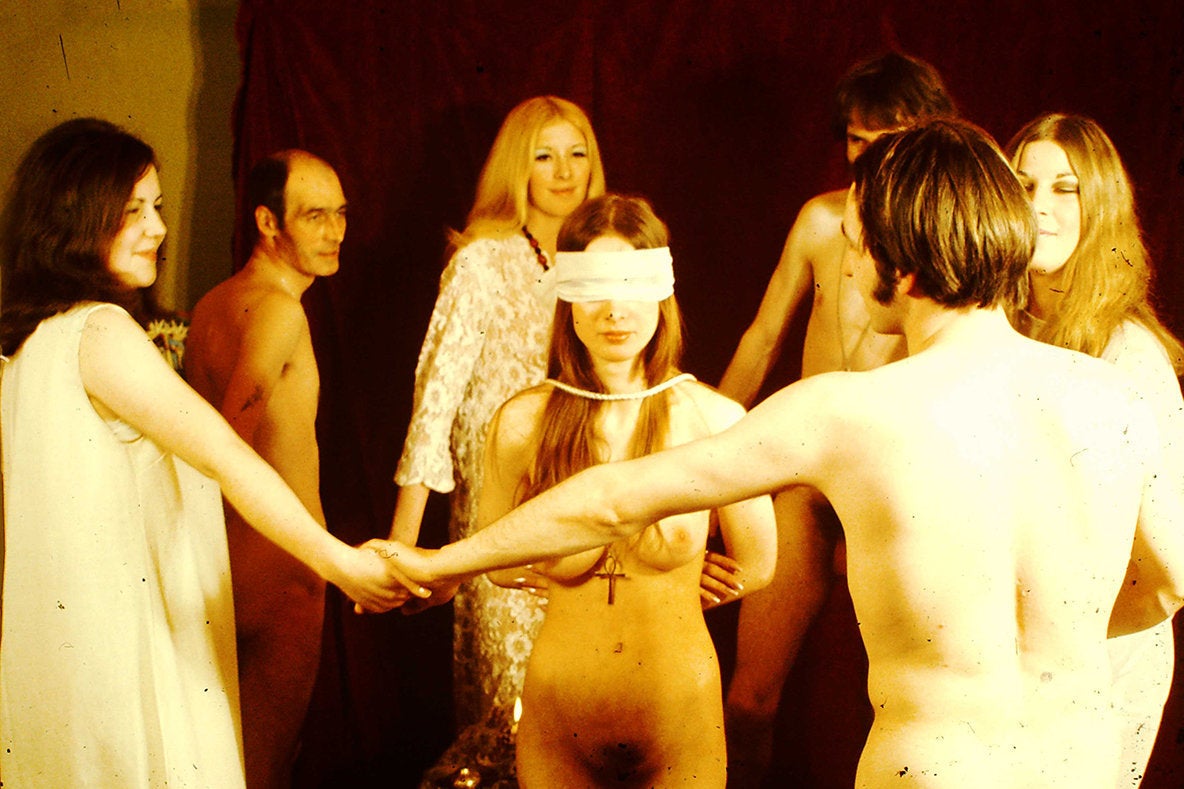 Another key figure of Western sexual magick was Ida Craddock, a sex counselor with a mystical bent. She authored sex manuals and other texts, exploring the nexus of the sexual body and the incorporeal beyond. "It has been my high privilege to have some practical experience as the earthly wife of an angel from the unseen world," Craddock writes in her paper "Heavenly Bridegrooms." Not too surprisingly, the convictions elaborated in her texts were not well received in the 19th century, especially coming from an unwed woman claiming to be married to a spirit.
Soon Craddock, who was recommended for admission as one of the first undergraduate woman students at the University of Pennsylvania (though she was later denied admission by the university's committee of Trustees), was bombarded with accusations of criminal behavior and lunacy. As she herself put it: "Suffice it to say that, while my non-occultist readers who did not know me personally pooh-poohed the idea of a spirit husband, and declared that I must surely speak from an illicit experience, my non-occultist friends, who knew my habits of life from day to day, could find no explanation for the essay but that I must have gone crazy; and two physicians made efforts to have me incarcerated as insane."
At 45 years old, before the start of a five-year sentence in prison, Craddock ended her own life, slashing her wrists in her apartment.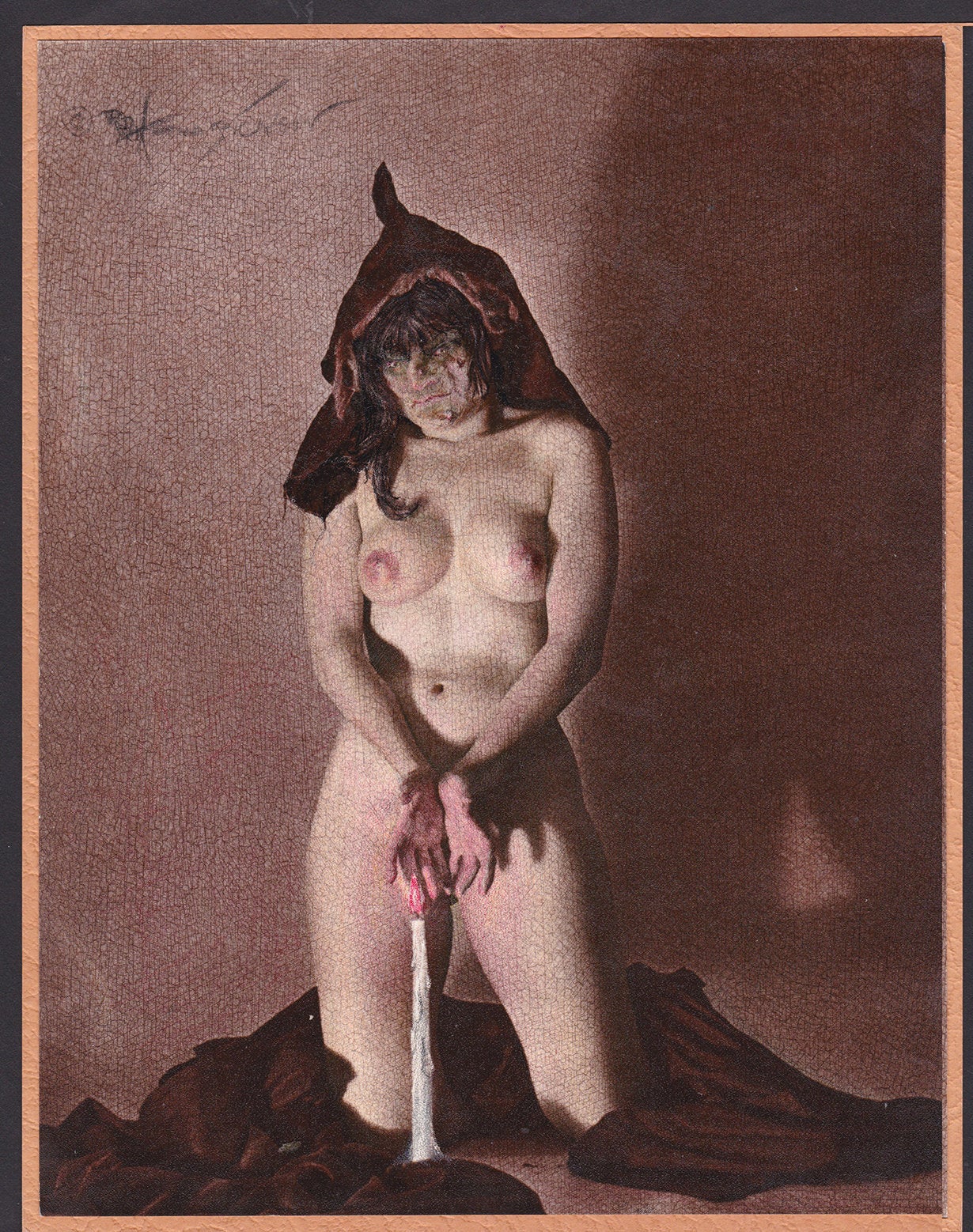 One of Craddock's ardent devotees was famed magician and occultist Aleister Crowley, who recognized through her texts that she seemed "to have had access to certain most concealed sanctuaries." As Crowley wrote in a review of Heavenly Bridegrooms: "She has put down statements in plain English which are positively staggering. This book is of incalculable value to every student of occult matters. No Magick library is complete without it."
Crowley was born to a highly puritanical British family, against whom he rebelled at a young age. Publicly indulging in taboo vices like masturbation, drugs, and fleshly excess of all kinds, Crowley also developed an interest in pagan religions and the occult, aligning Western tradition with Buddhist elements and Hindu Tantra.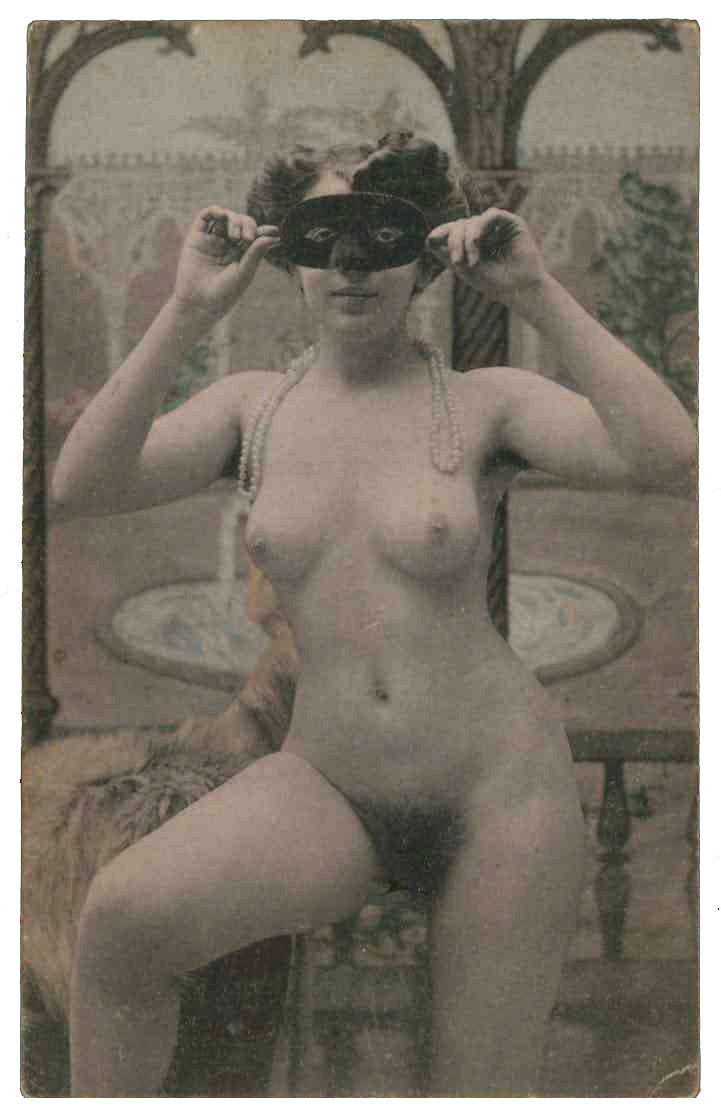 Creating a pastiche of Western and Eastern modes of limitless transgression, Crowley forged a path to power based on all kinds of ecstatic misbehaviors. "I say today: to hell with Christianity, Rationalism, Buddhism all the lumber of the centuries. I bring you a positive and primaeval fact, Magic by name: and with this I will build me a new Heaven and a new Earth. I want none of your faint approval or faint dispraise; I want blasphemy, murder, rape, revolution, anything, bad or good but strong."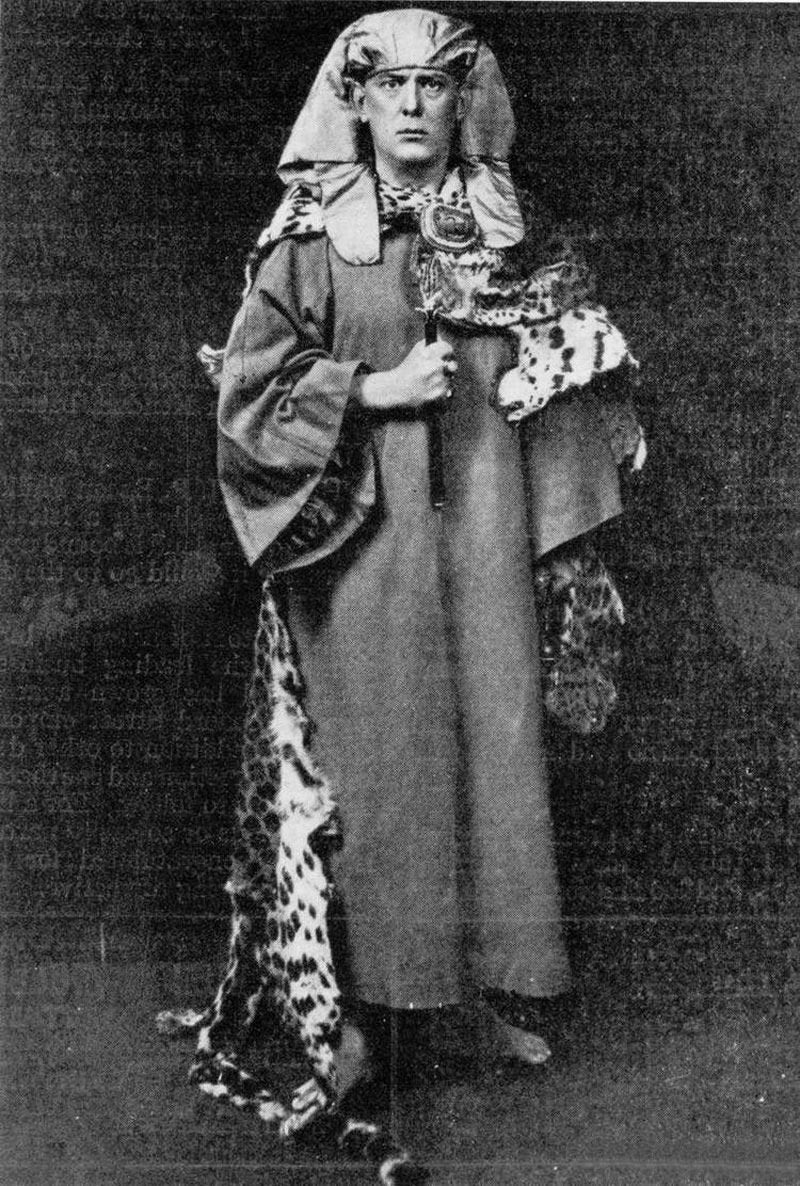 Crowley's ideas eventually inspired the work of Marjorie Cameron Parsons Kimmel, an artist and countercultural icon now known as Cameron the Witch Woman. Turning herself into a work of art, Cameron combined elements of occultism, Kabbalah, Surrealism, beat poetry, medieval manuscripts, feminism and astrology to create a practice all her own. Along with her husband Jack Parsons, who believed her to be a goddess in human form, Cameron engaged in all sorts of sexual rituals gleaned from Crowley's teachings. They even invited buddy L. Ron Hubbard to chant and invoke spirits while they made love.
After her husband died, Cameron channeled her energy into mystical artworks that coupled eternal dark forces with the countercultural aura of the 1960s. "Her hallucinated vision, at the edge of surrealism and psychedelia embodies an aspect of modernity that deeply doubts and defies cartesian logic at a moment in history when these values have shown their own limitations," explained MOCA Director Philippe Vergne. "Her work demonstrates that the space in the mind is without limit."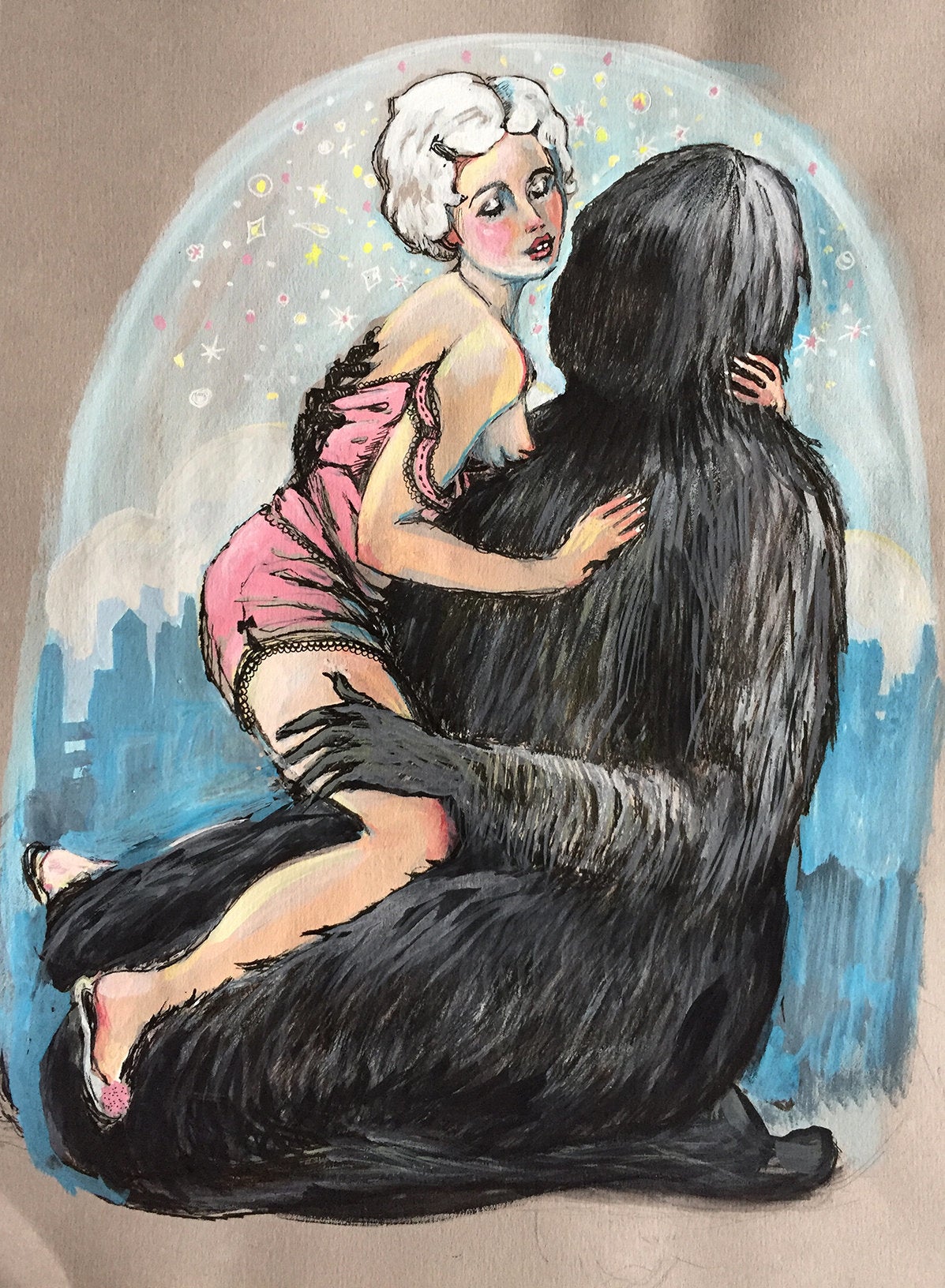 Cameron is one of the most well-known visual artists to incorporate elements of sex magick into her work. In the years since, countless artists including Rithika Merchant, Joseph McVetty and Darcilio Lima have contributed to the ever-expanding compendium of the erotic occult.
Brooklyn-based Lori Nelson's paintings riff off religious fanaticism, replacing traditionally revered deities with monsters and creatures of a freakier variety. "This is the sort art that fascinated me as a Mormon child growing up in a religious -- and somewhat artless -- household," the artist said. "I would find the reproductions of devotional art and photography in the family Bible and other religious texts, and gaze into them, falling into them hard. Such beauties! These wonderful children were appealing to me for their purity while all the time also being shame-inducing because I knew I would never believe so fully and gorgeously."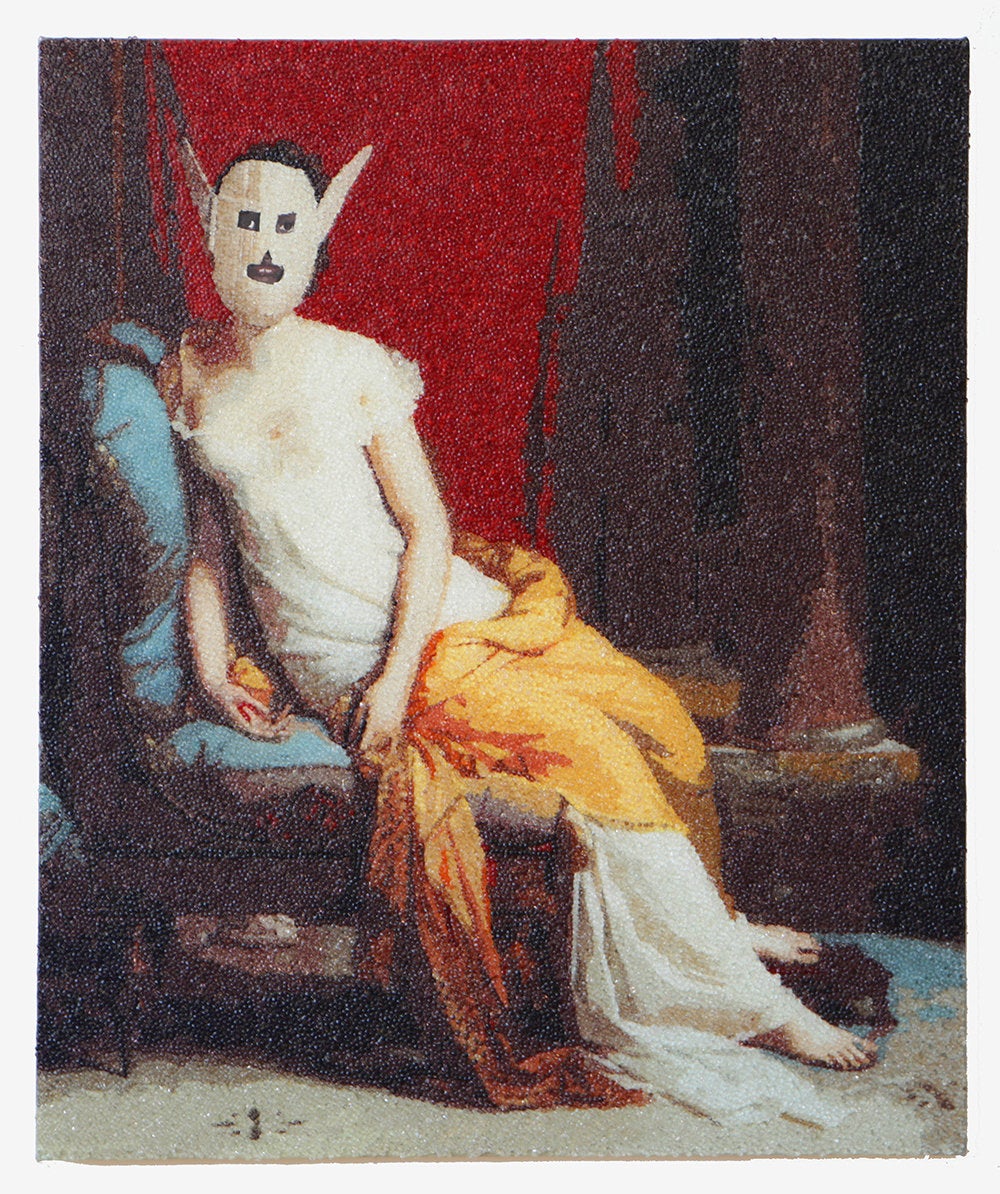 In "Venus de Mardi Gras," Canadian artist Shonagh Adelman applies colored glass and acrylic crystals to canvas, dragging the ancient storytelling tradition of the animal-human-hybrid into the contemporary age. In the artist's words: "A far cry from the wild kingdom, these quasi-beasts only vaguely resemble their animal counterparts. Anthropomorphized stuffed animal toys crystalized into vanity portraits engender a grisly beauty."
To learn more about the beautifully NFSW world of the erotic occult, you'll have to visit Stephen Romano Gallery in New York in person, or find a secret society in your local vicinity. The exhibition runs until December 15, 2015, and you can see a preview of the works below. Be careful out there kids, sex magick is no joke.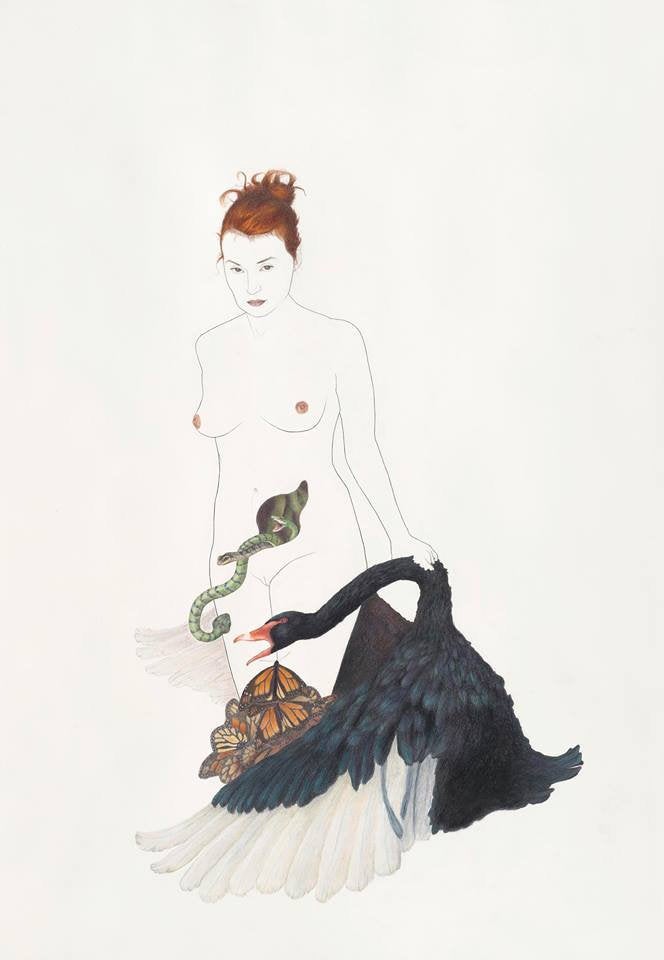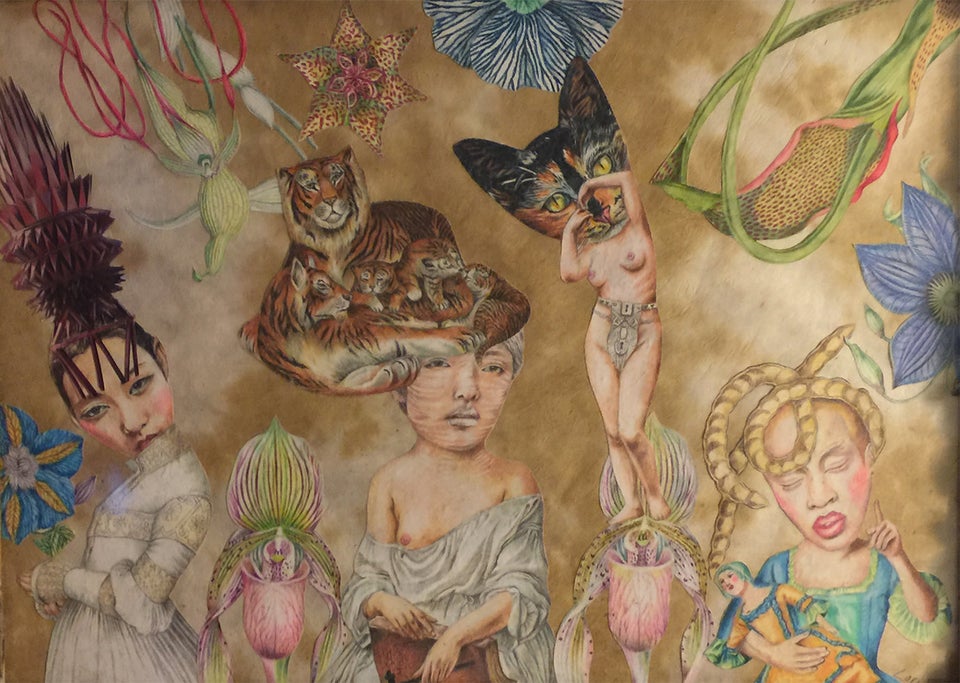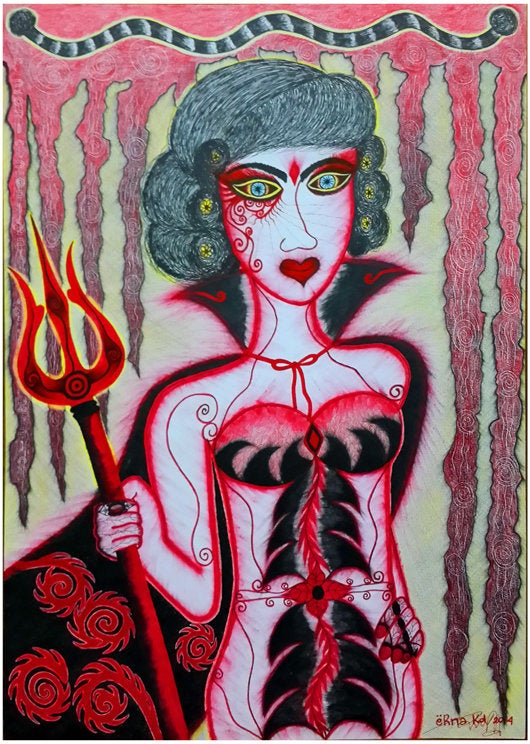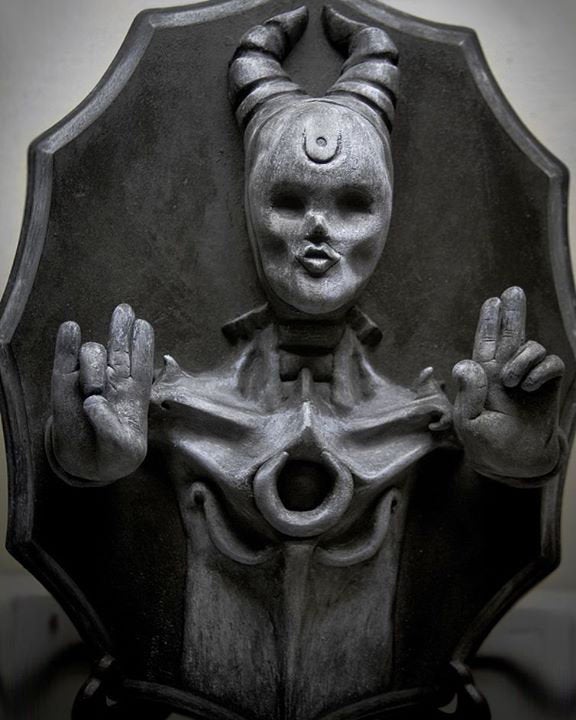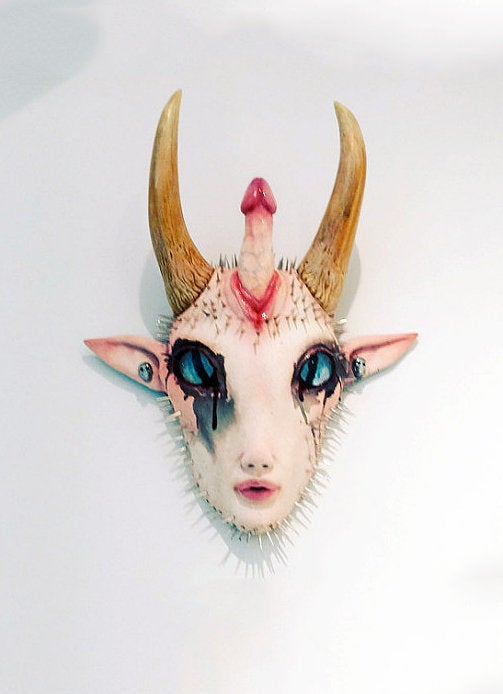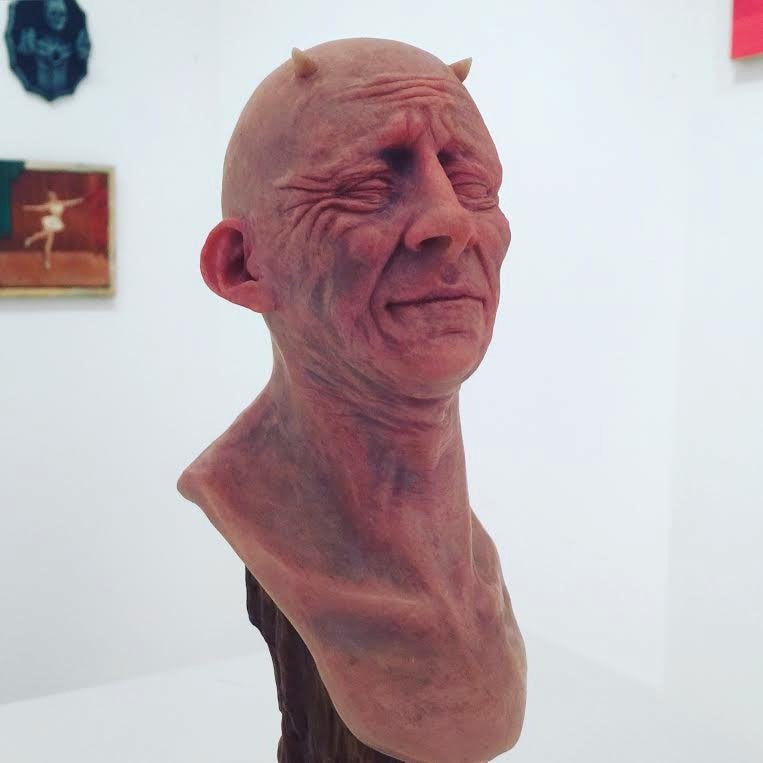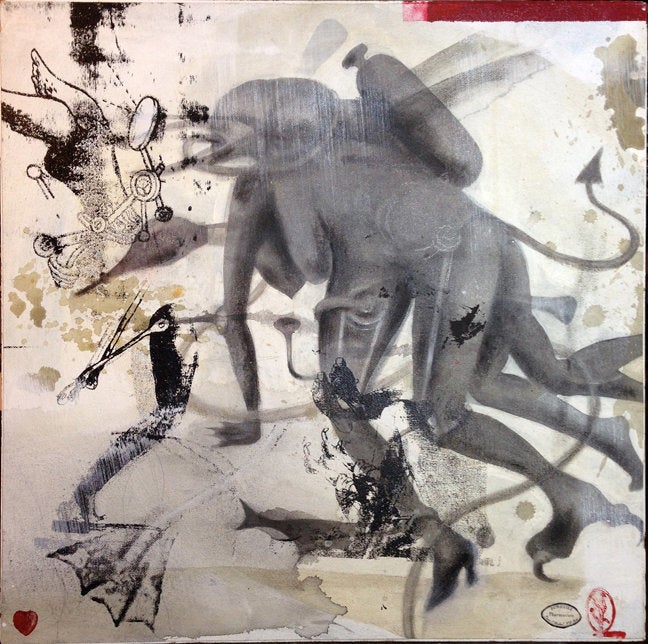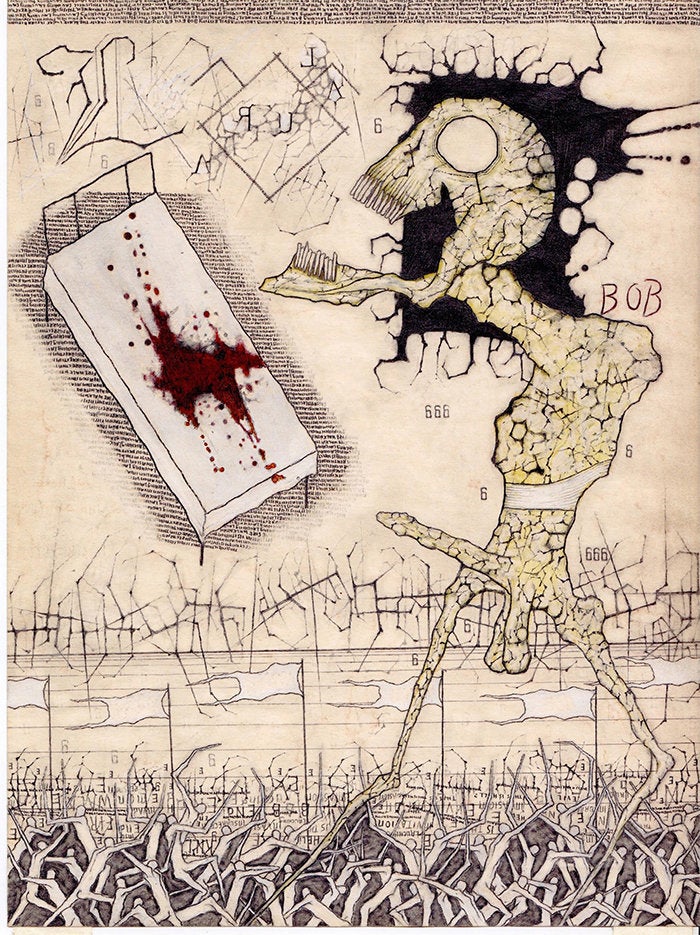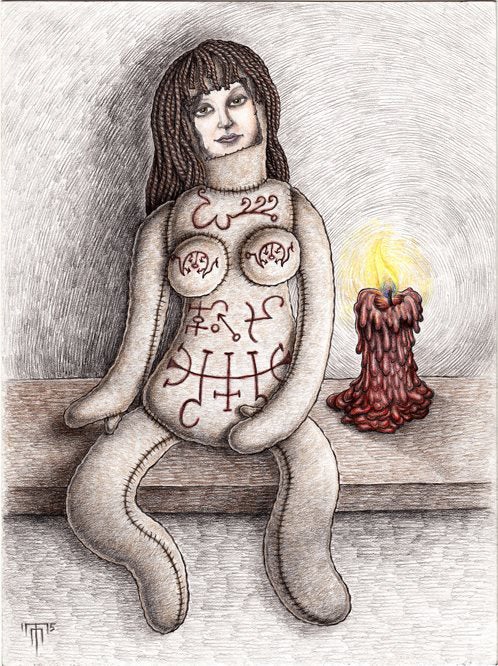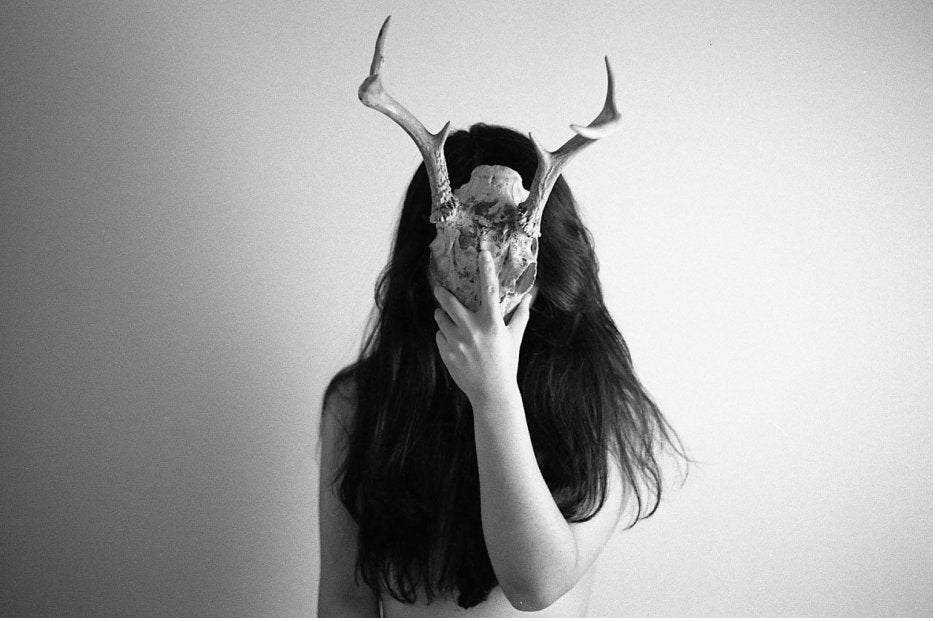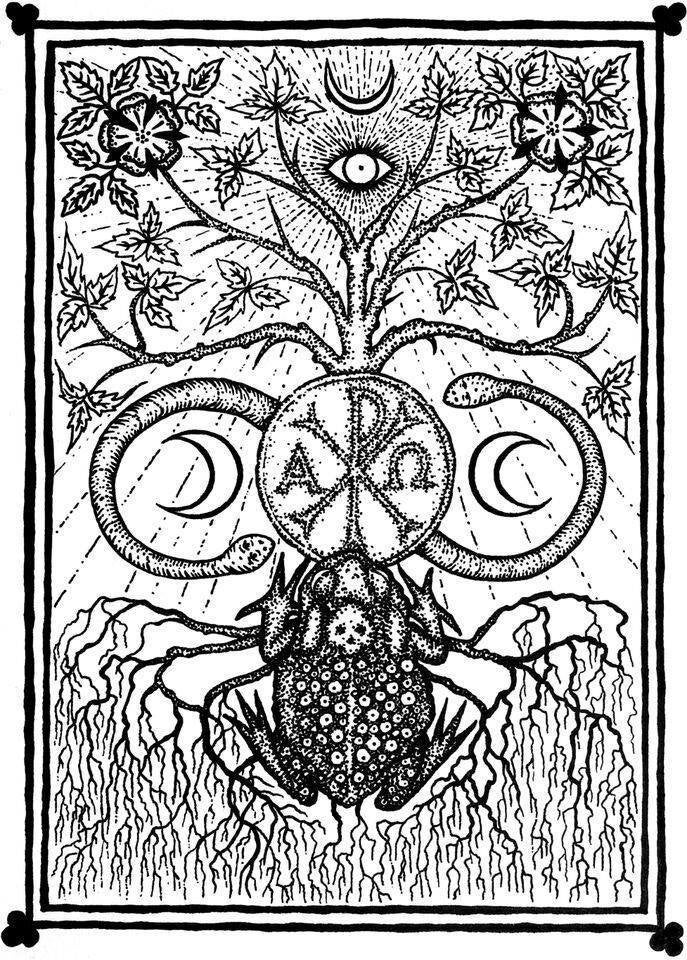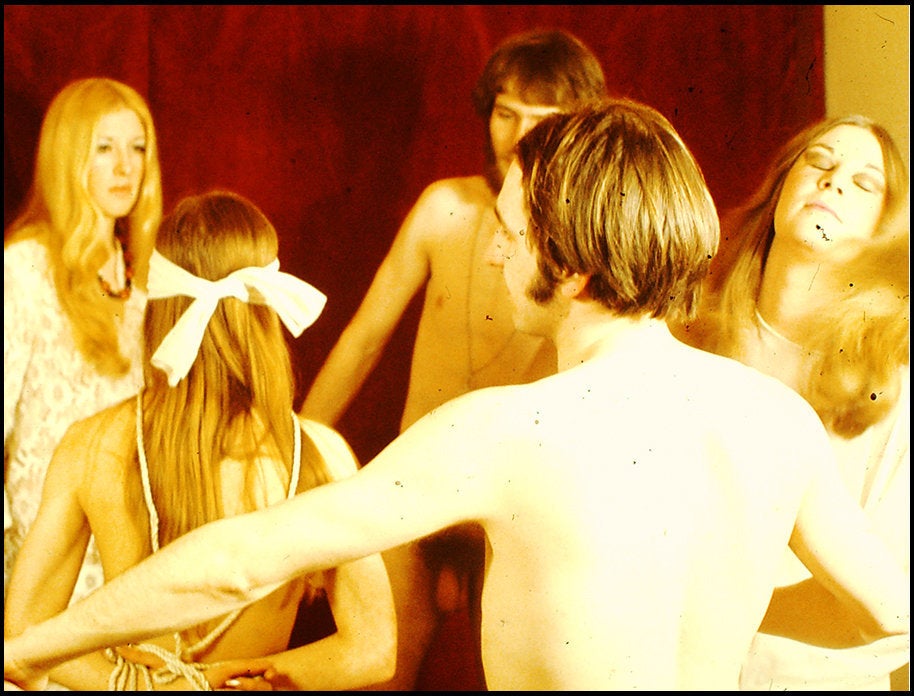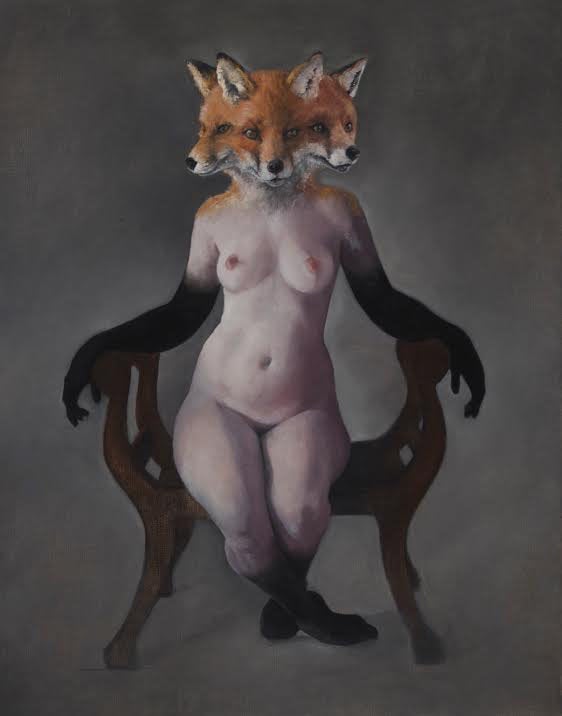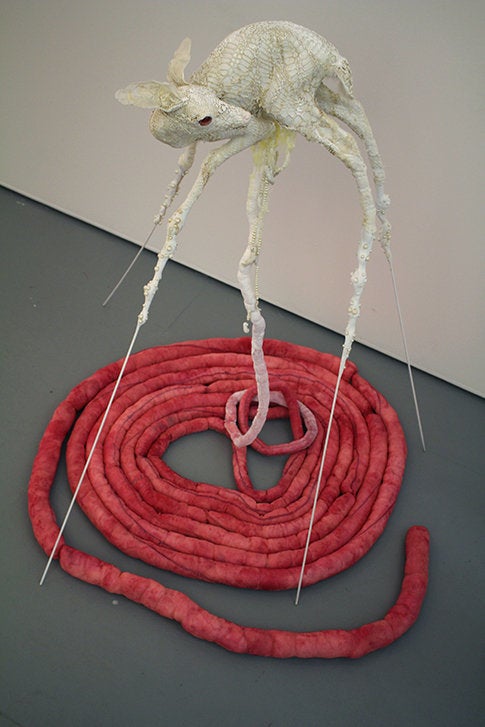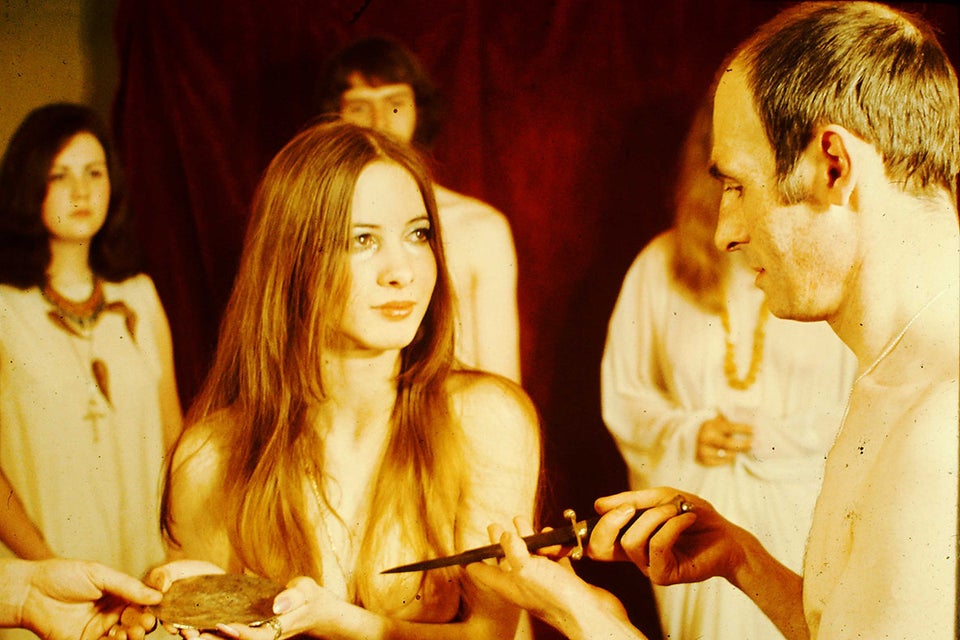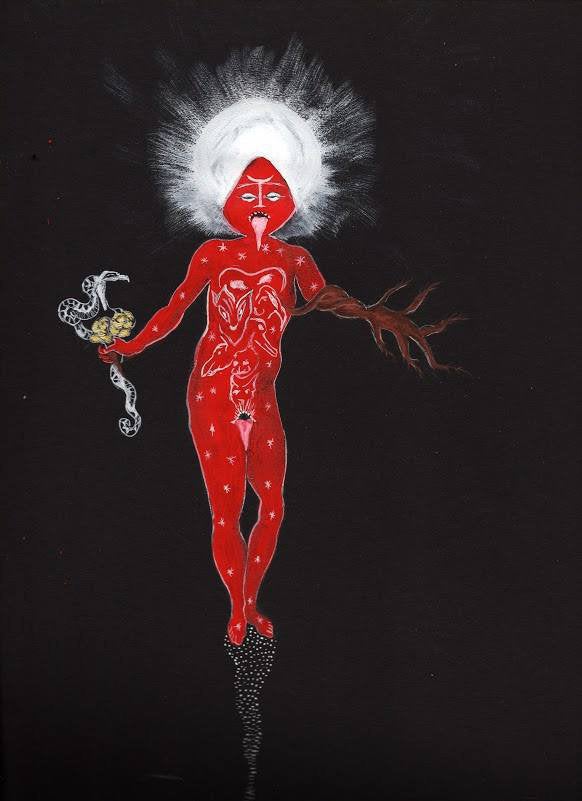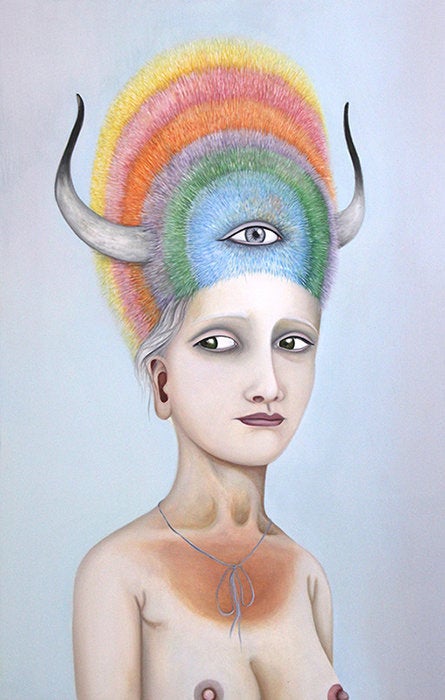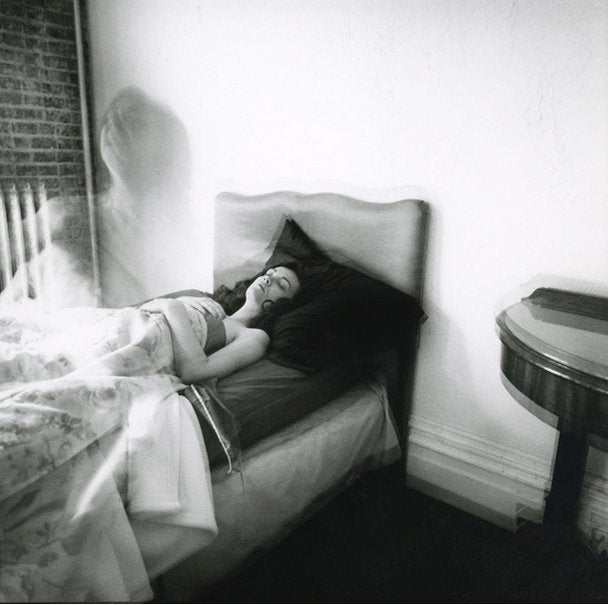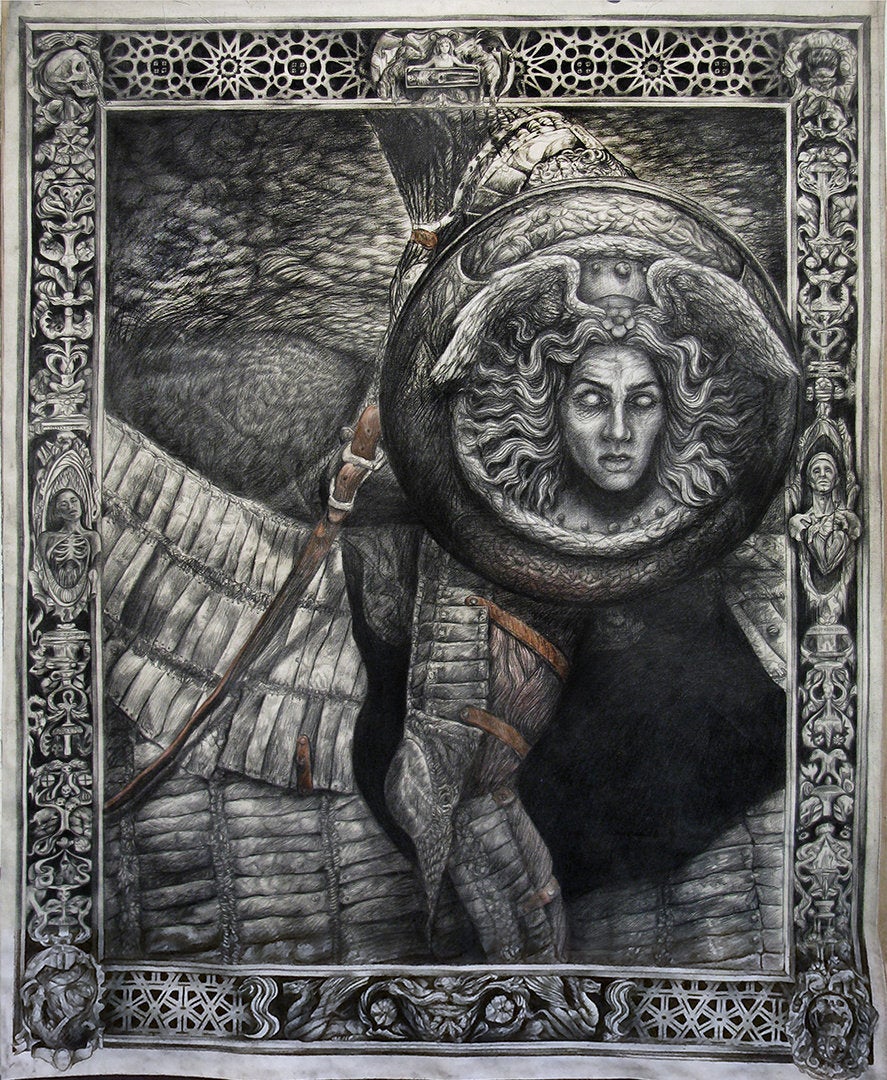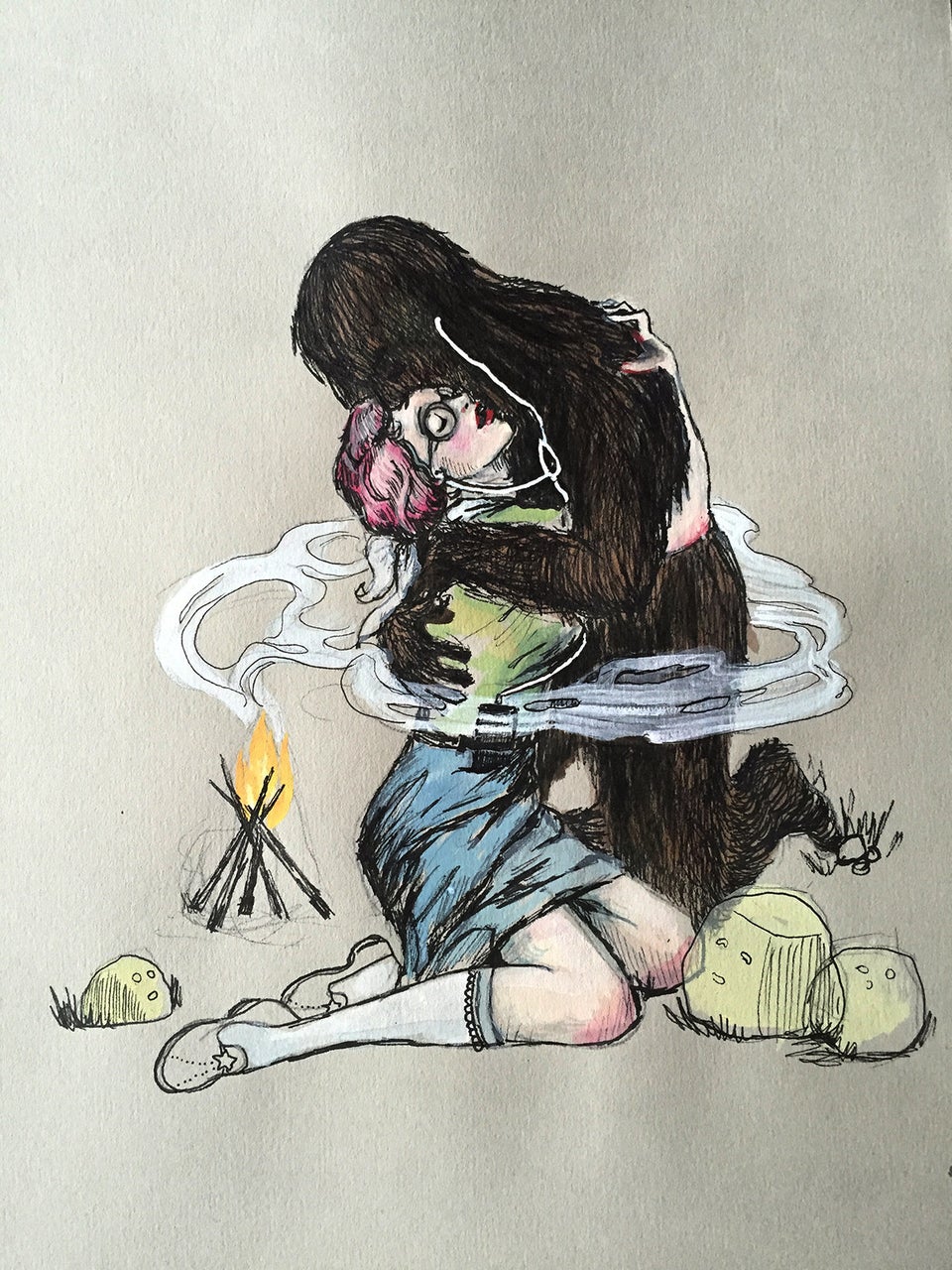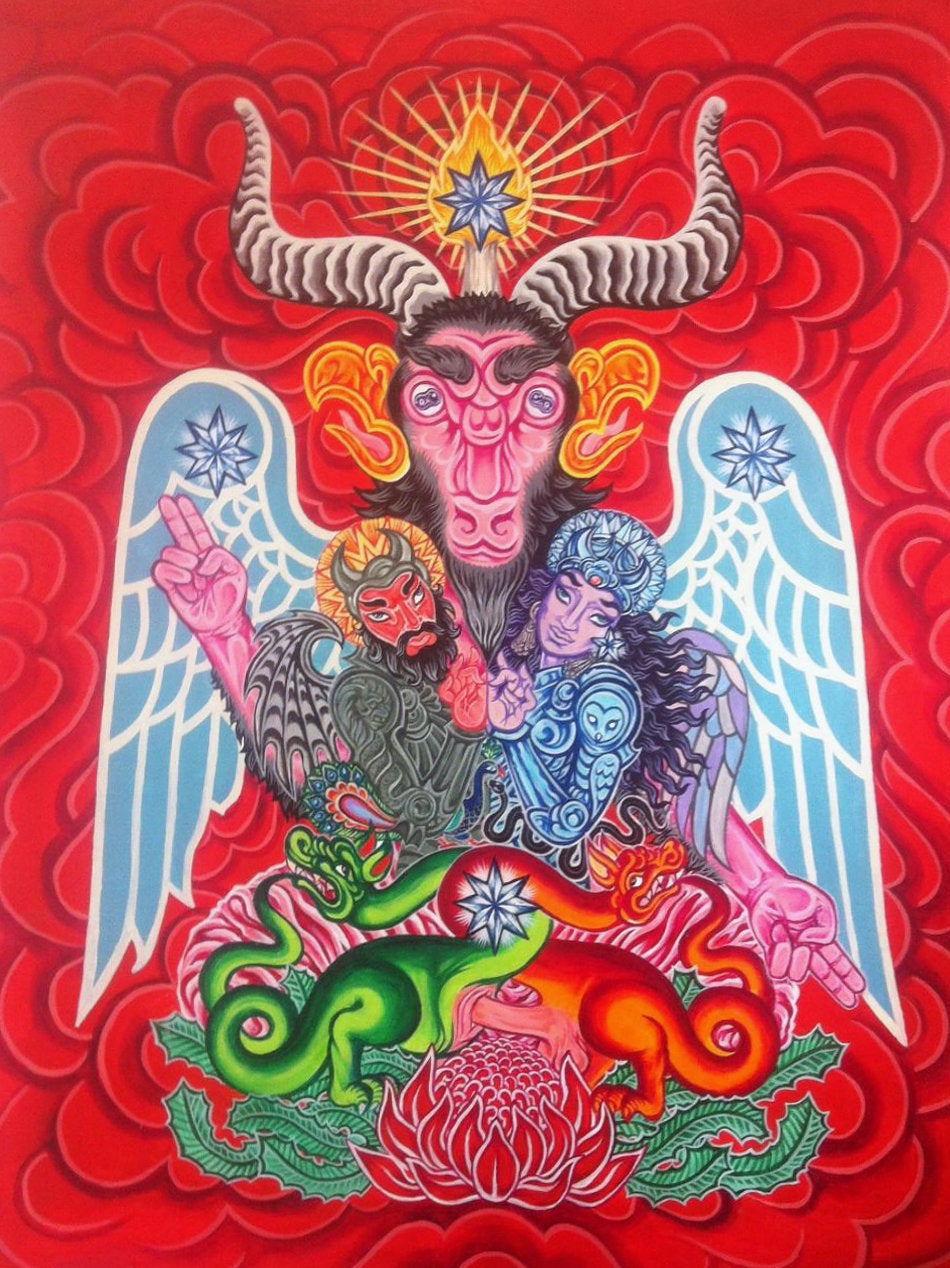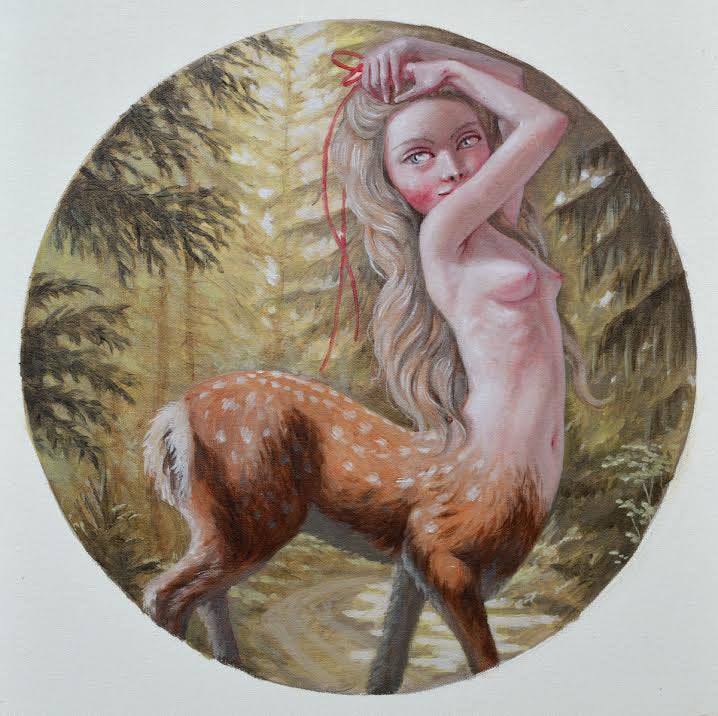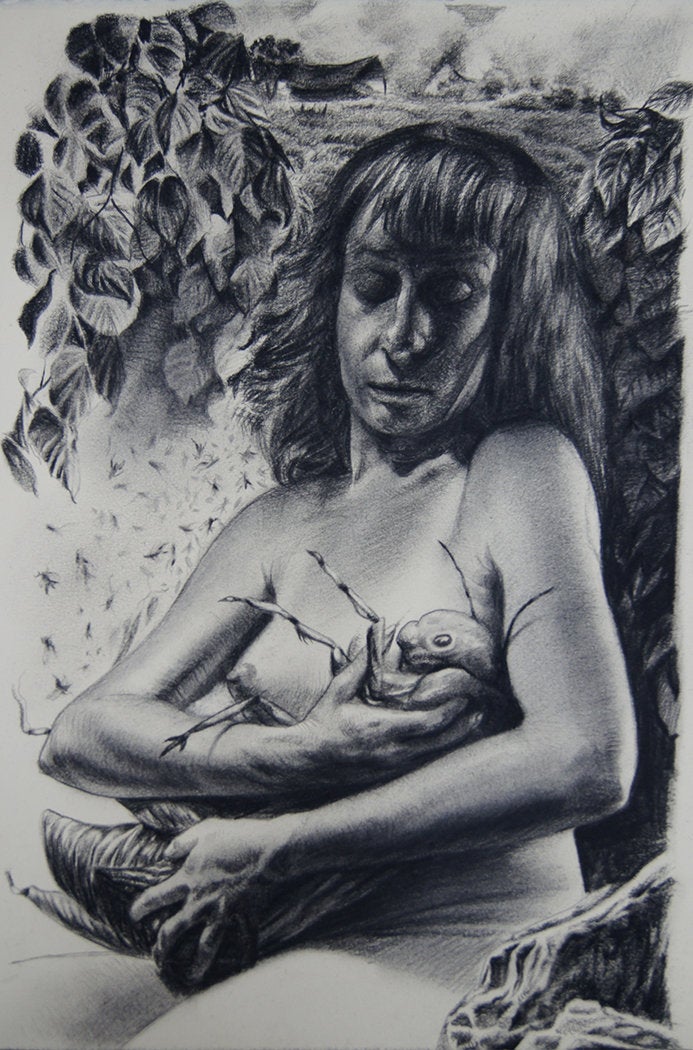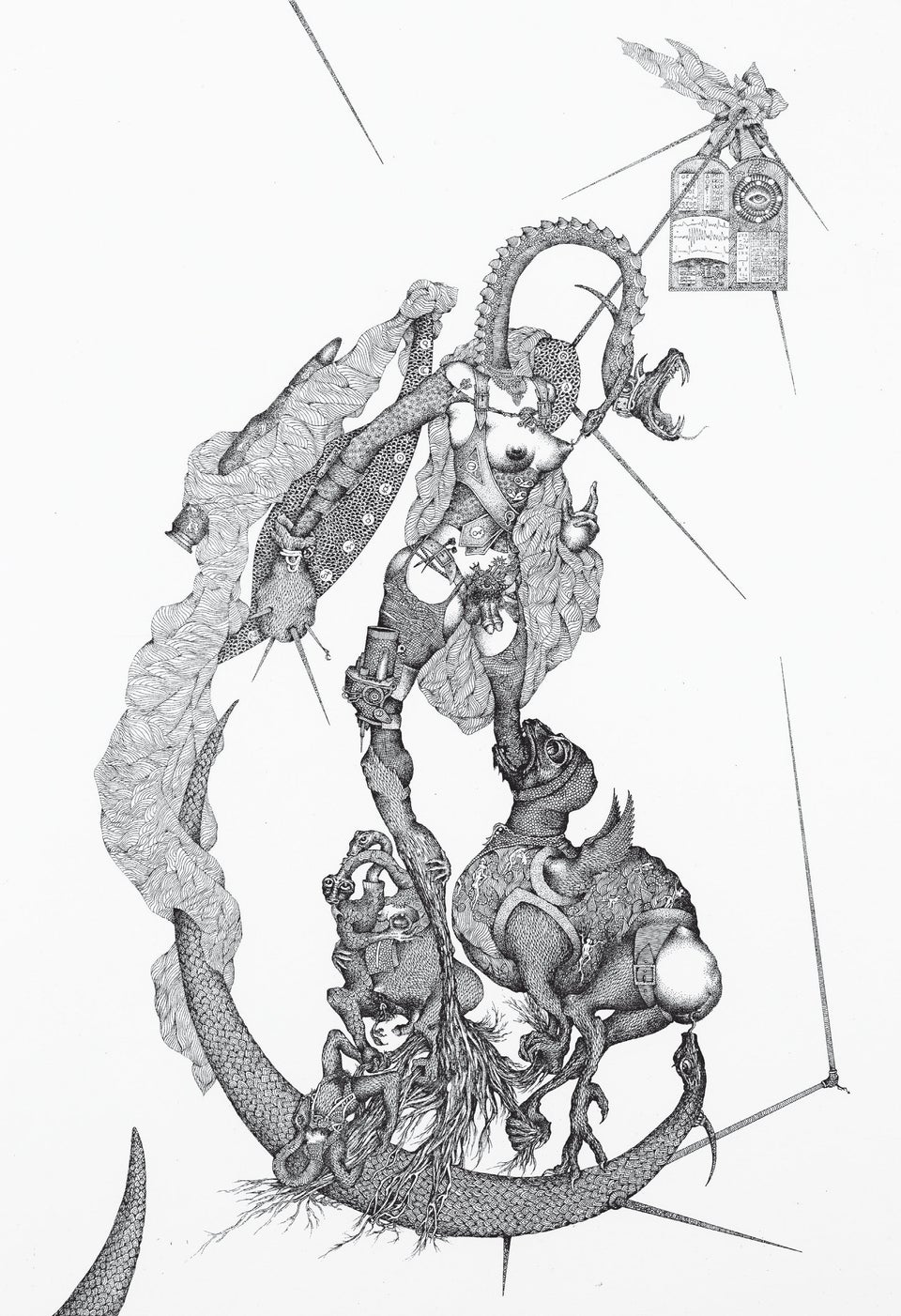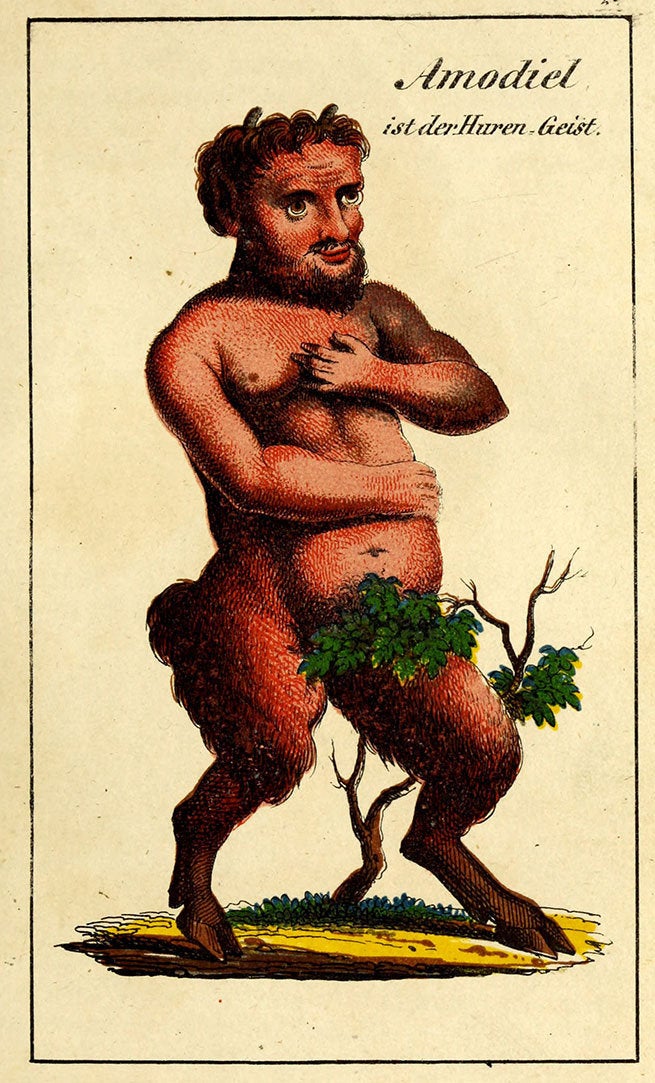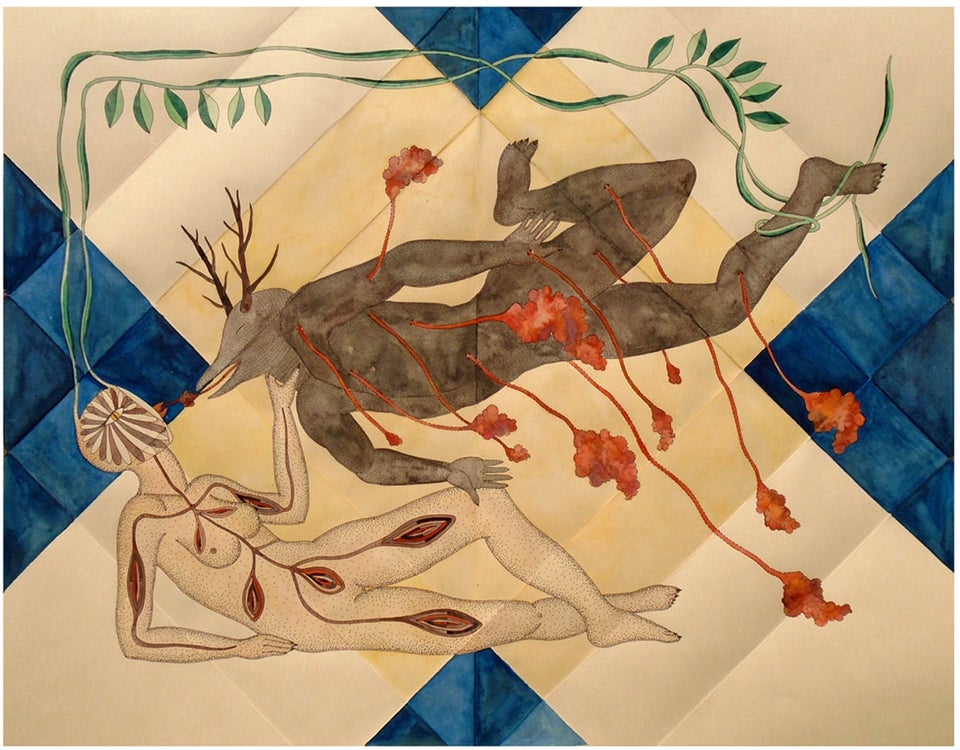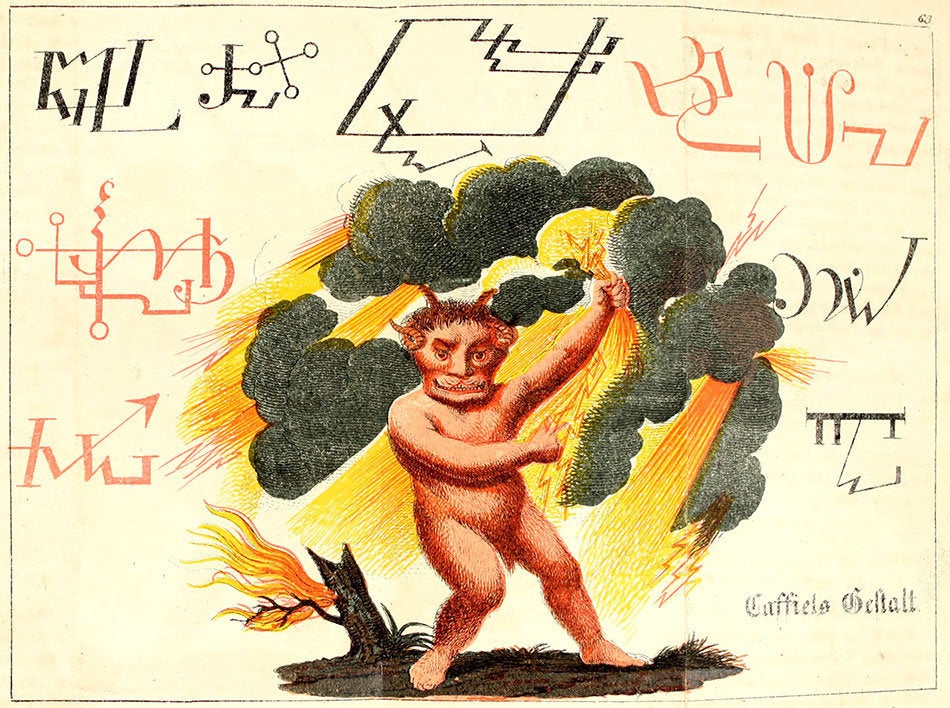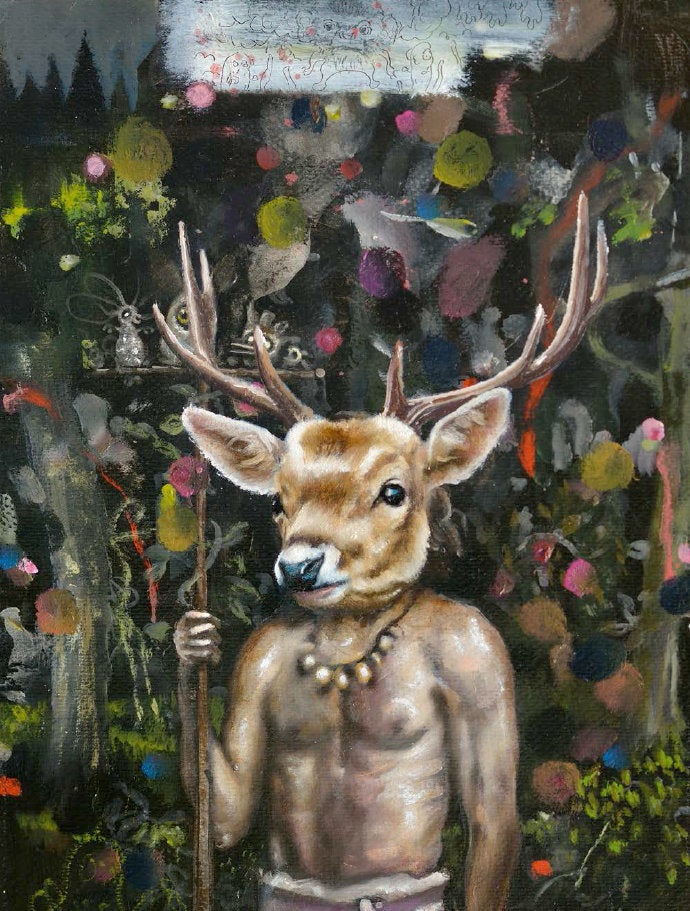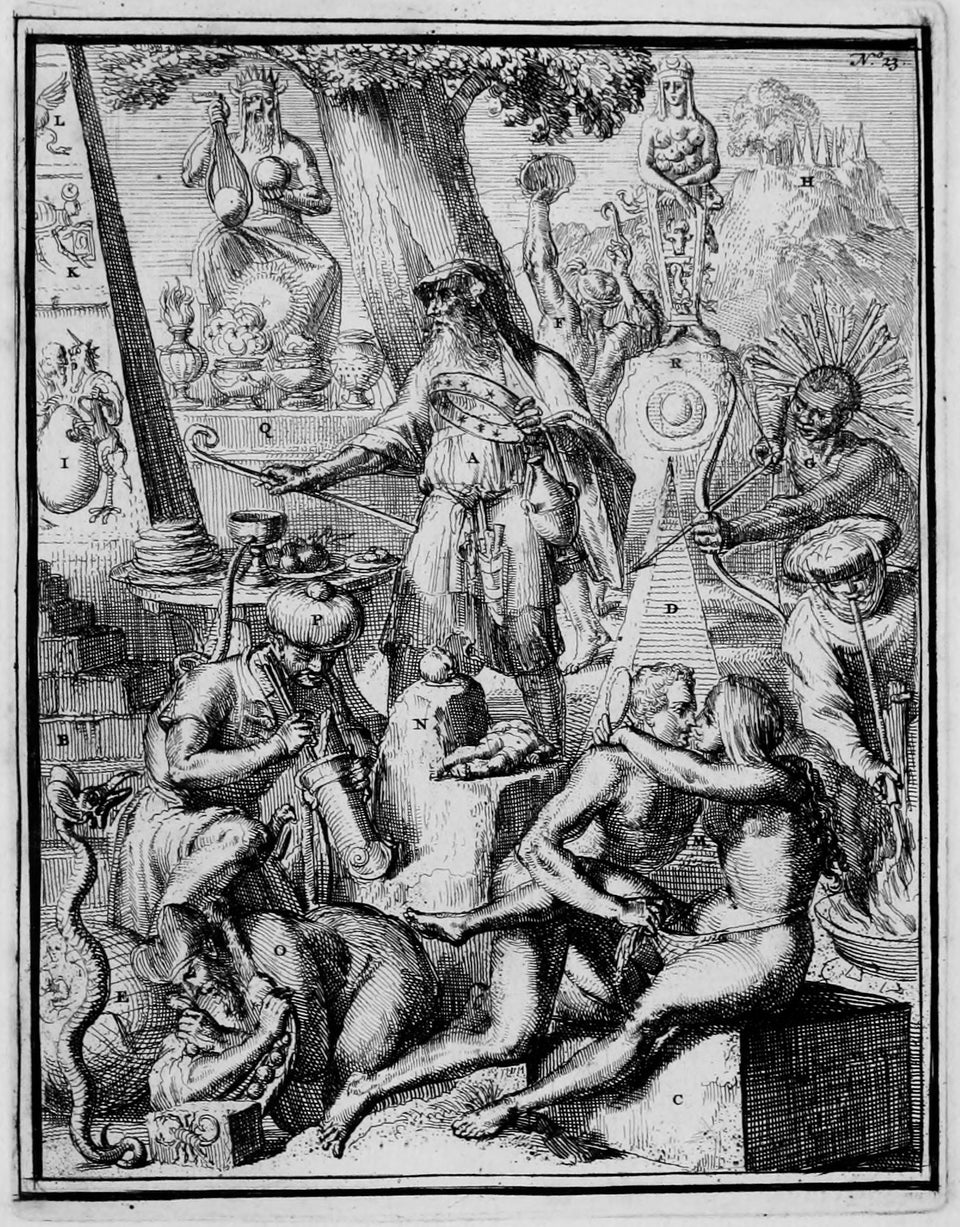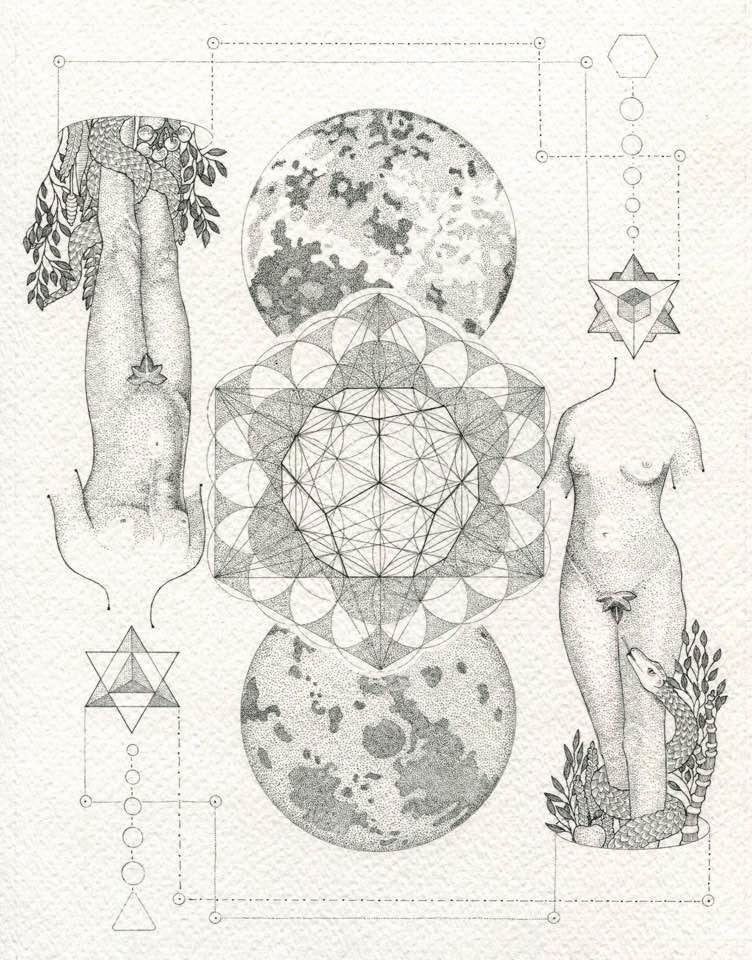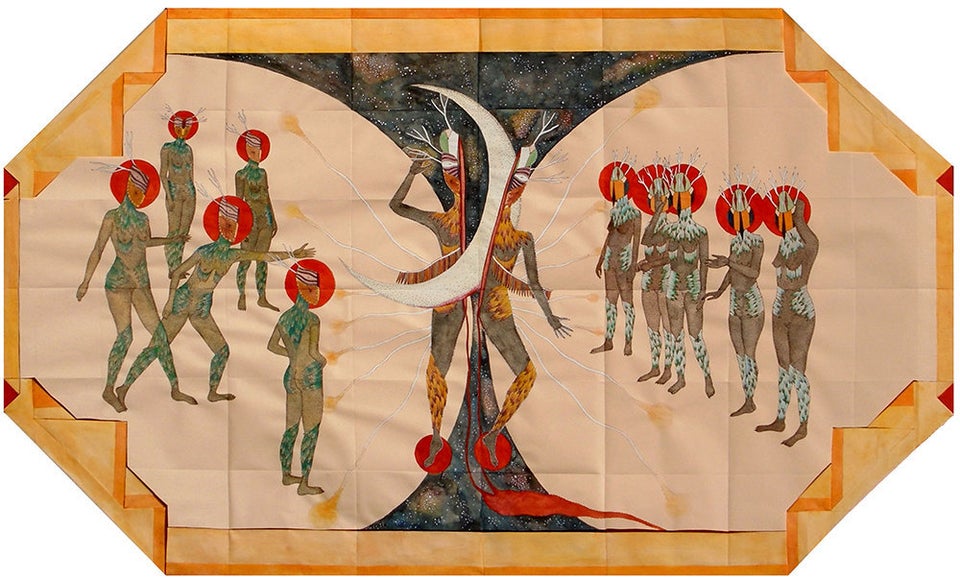 Rithika Merchant
Related
Popular in the Community