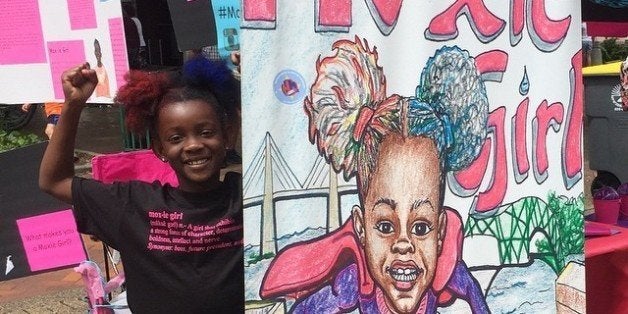 When 7-year-old Natalie McGriff struggled to embrace her natural black beauty, her mom was the first one to encourage her to love her hair and her beautiful brown skin and to apply the confidence that comes with self-acceptance.
Natalie didn't see herself reflected on TV and among the toys she owned -- and because of this lack of representation began to describe herself as "ugly," said her mother, Angie Nixon.
Nixon was determined to teach her daughter valuable lessons on self-image and self-love.
"I started a Facebook group called 'Natalie You Are Beautiful' where strangers and friends could post positive affirmations for her," Nixon told The Huffington Post. "She enjoyed reading them but it still wasn't helping her."
Invested in her mission, Nixon took a more creative approach. She hit on the idea of a comic book that would portray the 7-year-old as a superhero with crime-fighting afro puffs. The hero's curly hair, a trait that Natalie found hard to accept, became her crowning glory that came with special magical powers.
Natalie was immediately on board. She gave her mom story ideas for the comic and the two made the book together.
Shortly after, the pair launched The Adventures Of Moxie Girl, a comic starring a fictional Natalie who activates the superpowers in her magical puffs to fend off book-eating monsters that attack her local library.
"I was hoping to improve and raise the self-esteem of my daughter. I also wanted to instill in her a love for reading," Nixon said. "I wanted her to realize how powerful she is and that she shouldn't have to change for anything."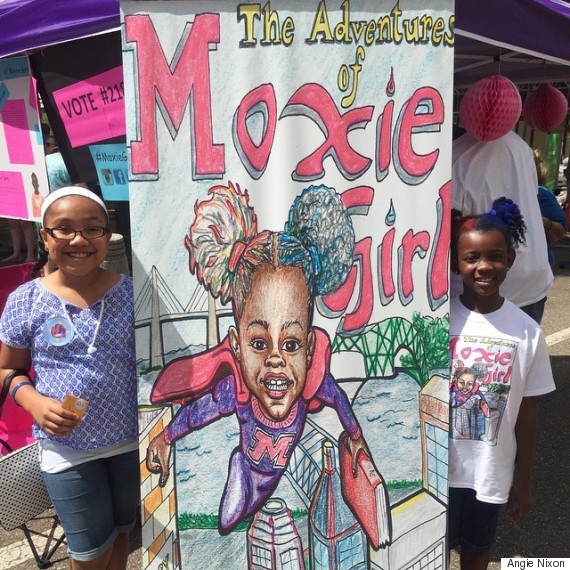 Nixon submitted the comic book to a crowdfunding festival in their hometown of Jacksonville, Florida, where attendees cast ballots on who would take home the large cash prize.
It turned out Natalie wasn't the only one who fell in love with Moxie Girl -- voters championed the idea and daughter and mother took home $16,400 to put towards a larger print run for the comic. The book will come out in June, Nixon announced on Instagram.
Now Natalie has much stronger self-esteem -- and so does Nixon. She advises other parents to always feed their children positive affirmations and model the self-respect they want their kids to have.
"How can I tell my daughter her hair is beautiful in its natural state, if I alter mine?" she said. "I have to embrace my natural beauty before I am truly able to tell her to embrace hers."
"We have to work on ourselves as parents first. We have to model the behavior that we want to see in our children," Nixon said.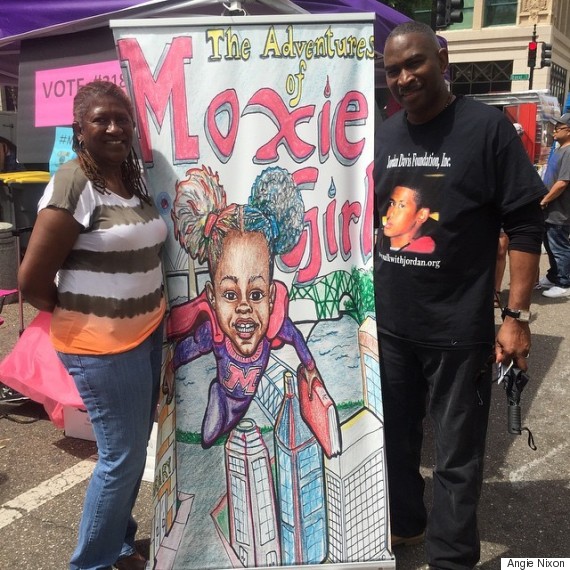 Calling all HuffPost superfans!
Sign up for membership to become a founding member and help shape HuffPost's next chapter
BEFORE YOU GO
PHOTO GALLERY
23 Stars Who Inspire With Their Natural Hair