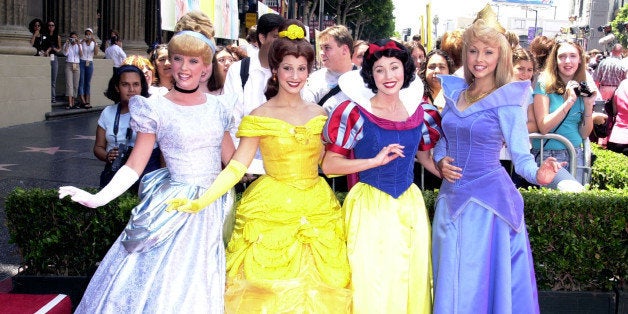 A dream is a wish your heart makes, and growing up a lot of little girls' hearts wished they were a Disney princess. Then the real world happens and tries to ruin things. You get older and start to think you may never hear the wolf cry to the blue corn moon or ask the grinning bobcat why he grins.

Image: Tumblr

(Seriously, what's up with the grinning, bruh? Is there something on our faces?)
Every once in a while, there's a little girl who just can't let it go, though. Kristen Sotakoun is one of those girls. She was a Disney enthusiast and one day found herself working there. Sotakoun then went to an audition just hoping to possibly wind up playing Winnie the Pooh or another costumed character. There, she was surprisingly pulled out of the group. "I got pulled to the side, and they said, 'Okay we're gonna fit you in Pocahontas,' and my first thought was, 'I'm not Native American. I'm half Asian. Do you know this?'" she said.
Sotakoun says she put on a Pocahontas dress, read a few lines about nature related stuff and at the end they said she was approved. "I went to the audition alone, so I just walked out like, 'I am very excited,' and waited for the bus. It was just so surreal."
She went on to play Pocahontas, Mulan and Tinker Bell's friend Silvermist at Disney. "Every girl dreams of being a princess when they're younger, and I got to get paid for it. It was great," says Sotakoun.
Recently, Sotakoun spoke to The Huffington Post about what's it's really like to be a Disney princess and the reasons you should probably be one, too.
1. Yes, you learn to paint with the colors of the wind.
The former Pocahontas says that when you first get picked you go through "traditions training." "All the animals are your friends and stuff like that," she explained. Though Disney gives guidelines, Sotakoun says, "They never tell you exactly what to say. [...] The great thing about Disney they never have to tell you do this do that. You want to do it ... It's just you are the magic."
The performer says puns were her favorite thing to throw in, adding, "[As Mulan,] I would always say, 'What's Mushu's least favorite chore, and I would either answer mu-laundry or mow-lawn. But nobody ever laughed," she said, laughing.
2. Since you can't reveal you're a Disney princess, your parents will have a hard time telling embarrassing stories about you.

Sotakoun as Pocahontas Sotakoun's "best friend" as Pocahontas. (Image: Imgur)
Parents love embarrassing their kids. It's their job. But while working at Disney, Sotakoun says you're not allowed to reveal you're a Disney princess, and that can put a wrench in your parents' plans.
"You always have to say, 'I'm not Mulan when I work at Disney. Mulan is my best friend,'" said the former best friend of Mulan. "My mom hated it. She was like, 'Everybody thinks I'm crazy at work because like I have to say Kristen's friend Mulan. [..] I sound like a crazy person.'"
3. You become so good at your character that it's almost like you are them for real.

People say all the time, "Oh, wow, Mulan is so quick! Cinderella is so quick with her answers, but people don't realize we've probably been asked that question a million times. It's not so much about being quick."
She also said aspects of the characters would show up in her life, such as accidentally signing "Mulan" on the dinner bill. "You go to pay for something with a credit card, and you just kind of go with it," she said.
4. The parents can get even more excited than the kids.

Image: Giphy

Sotakoun says it was great meeting kids, but the moms were sometimes even better. "It would always be, 'Mulan, we love you because you tell us you don't need a guy to save you.' I always loved meeting the moms," said Sotakoun.
5. Kids will spill their life story to you.

"I'll never forget there's one little girl. I was Pocahontas, and she came up, and it was about Easter time. I was just like, 'Hi! What's your name?' And she went, 'This is my Easter dress because my mom says I can wear it every day,' and she kept talking and talking and talking. I said, 'Thank you for that story, but what's your name?' She went, 'Jamie. But my mom doesn't let me go to the laundry room because there's chemicals in there, and I can't touch the gutter outside because the water comes,'" recalled Sotakoun.
"Those are the kind of moments I live for. Just kids who want to tell you about their life. In that aspect, it was everything I wanted."
Every once in a while rumors go around saying princesses are jealous of Elsa's popularity or that they are just plain mean. Sotakoun says those rumors are pretty much nonsense.
"I think a lot of rumors get started online about princesses that it's a big high school and they all hate each other, but probably so many of the girls who they say are complaining about Elsa are also another princess, too," she said. "There are Cinderellas who do Snow White and stuff like that, so in reality none of us really mind. Because someone's not coming to see me. Someone's coming to see the character that I play."
7. When people find out, they share their stories, too.


Image: Imgur
In a previous Reddit AMA, Sotakoun answered questions about being a Disney princess. She said tons of people messaged her saying she was the Mulan or Pocahontas they met and shared their own Disney stories, too. On the experience, she said, "I just liked reading everybody else's stories about Disney and when they met Snow White and all this stuff. It was such a positive experience."
8. You're going to have some surreal moments in the cafeteria.

Image: Giphy

Sotakoun says eating with other characters was always a trip. "I'll just be sitting there and people are staring at me, and you forget like what is going on," she said. "I understand because how crazy would it be if you're eating somewhere and Cinderella just sits down and is like eating Subway."
9. It's hard to have a bad day.
As with any job, not everything is positive. Sotakoun explained she would get hit on by random fathers, sometimes there was negativity from fellow co-workers and even her Reddit AMA got some backlash from employees currently at Disney.
"The good trumped the bad," she said. "A really awesome thing about Disney is when you work there and you're having a bad day for me it was impossible to go out and be negative. You walk outside, and there's this huge line of people, and in that line of people is a crazy child who's just going to reach up on you hug you and tell you about their life ... it's really hard to be upset about anything."
10. Once you're a Disney princess, it's like you're a princess for life.


Image: Giphy

Even today, Sotakoun says she keeps getting nice reminders of her Disney days.
"My friend was just on Instagram and was like, 'Hey, look at this picture my friend posted with Mulan!' and I have not worked there for three or four years. It was exciting," she said. "I was recently dating a guy and somehow his sister found out that I had done it and she was like, 'Hey, she's a girl worth fighting for.'"
And, of course, you'll go on to live happily ever after.
Calling all HuffPost superfans!
Sign up for membership to become a founding member and help shape HuffPost's next chapter
BEFORE YOU GO
PHOTO GALLERY
Celebrities Who've Starred In Disney Movies