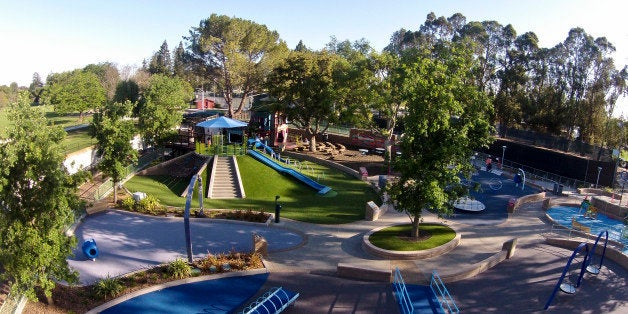 Playtime is one of the best parts about being a kid.
The Magical Bridge Playground has everything a kid could want from a playscape. There are giant slides, a jungle gym, musical instruments, swings and a custom playhouse. Everything is cheery and colorful. But what makes this playground truly magical is its inclusiveness. Every single detail is designed to accommodate children, and parents, of all abilities.
The playground, which celebrated its opening day in Palo Alto, California, on April 18, was dreamed up by Olenka Villarreal about six years ago. Villarreal's daughter, Ava, was born with developmental, physical and cognitive limitations and was using swinging as therapy. However, Ava had difficulty comfortably navigating the playgrounds in her community.
"In this beautiful town of Palo Alto, we have 34 playgrounds, and not a single one could accommodate my daughter," Villarreal told The Huffington Post. "A message needed to be made that everyone was welcome." So she took action and raised $4 million to build The Magical Bridge Playground.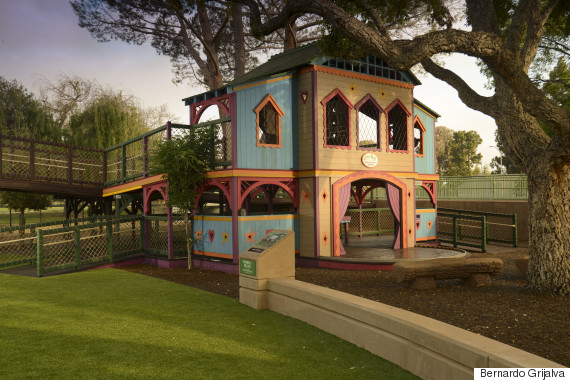 After speaking with the city of Palo Alto, Villarreal was approved for a space and began raising money for an all-inclusive playground. To design Magical Bridge, she consulted with a group of landscape architects, inclusive experts, designers and a focus group of families to make sure the playground was fully interactive, fun and functional for everyone.
"One of the biggest limitations in most parks today is ground surface," Villarreal explained to HuffPost. "Many parks still use sand, which is extremely inaccessible." Engineered wood chips are the most commonly used ground cover in public parks today because they are inexpensive and ADA-compliant. However, Villarreal claims they are "impossible for wheelchairs and walkers to navigate through."
All the surfaces in the Magical Bridge Playground are completely flat, and are made from rubbery, spongy soft materials. The playground is also divided into seven play zones for different activities, like a swinging zone and a music zone. Retreat huts are scattered throughout the park to accommodate children who get overstimulated or overwhelmed by typical playground noises. Having these designated sections allows users to feel safe and aware of the activity happening around them. Yet, Magical Bridge operates as one, large playscape, where children can all engage with each other and play freely.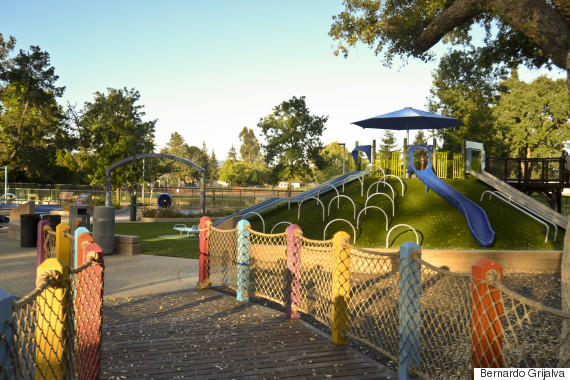 "[This is more] than just the ability to have everybody in the playground," Villarreal says. "It's time to plan public parks to include each ability and disability and only then will real magic happen for everyone."
Before You Go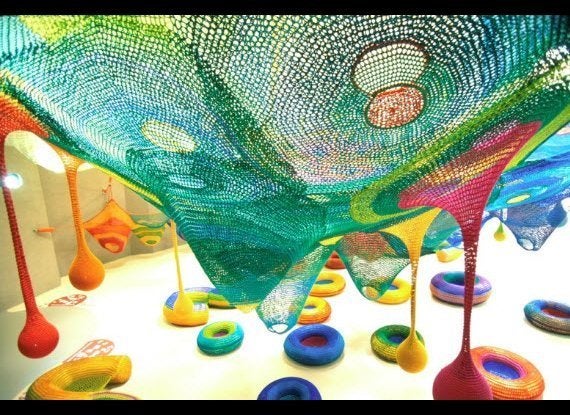 Playgrounds Made Of Nylon