Criss Angel isn't just a magician and illusionist. In his new TV series, "BeLIEve," he'll also come away with a new moniker: "Danger Man" or "Death Defyer," as he faces perils never before attempted.
After his previous television venture, A&E's "Mindfreak," Angel is now stepping into more outrageous death-defying feats.
Beginning tonight, over a period of an 11-week run on Spike TV, Angel, 45, promises 11 epic illusions that will involve high elements of danger and discipline for him to safely pull them off.
He's not even sure he'll be able to do them all.
"Magic is insanely difficult to bring to life," Angel told The Huffington Post. "Even though you can put it on paper, it never works -- it's a process, and that process takes time, a lot of different minds and a lot of focus. At the end of the day, we're doing demonstrations that have never been done before in the art of magic, at the level we're doing them, or they're brand new, so we're going down uncharted territories. We can only expect the unexpected."
One of the dangerous feats Angel is doing for the new series involves something he calls a cement grave, which resulted in the 1990 death of another magician, Joe Burrus, during his attempt.
Watch Criss Angel's Cement Grave demonstration:
"I want to do it above ground and create a plexiglass tomb so that people can see the 20,000 pounds of cement being poured, while I'm manacled with chains, leg irons and locks, and have just 15 minutes of oxygen within that coffin before it depletes, and then I'll have to fend for myself -- we don't know if it's gonna crush the coffin or if I can climb out of the cement.
"These are all things that the viewer will see how we address the different challenges and try to overcome them and how difficult they are. Houdini made one elephant vanish. Could I make a herd of elephants vanish -- not on a stage, but outdoor on the 50-yard line of a football field, where you can't have trap doors or hide these elephants?"
Angel's new series, "BeLIEve," is also the title of his hugely successful Las Vegas show at the Luxor Hotel. He says he's known since he was a young boy living on New York's Long Island that he wanted to be a magician.
"At 10 or 11 I became consumed and obsessed with it when I received magic under the Christmas tree, and every year from then, I would receive magic and that's all I could think about. I always thought I was going to do it for a living -- I never questioned or doubted it. It took me 18 years to become an overnight success."
He doesn't favor either title of magician or illusionist.
"I just prefer being called an artist because I use many different vehicles to connect to people. Sometimes it's magic, sometimes it's illlusion, sometimes an escape and sometimes it's a real-life demonstration of the mind-body-and-spirit."
Watch Angel do something freaky to a couple of people:
Angel's fascination with things considered unexplainable is the basis of another demonstration he'll attempt on "BeLIEve."
"Mankind has been consumed with the unknown, with the dead. I explore in this series raising the dead, which goes completely against my personal belief, but from an artistic perspective, I wanted to explore that subject matter. You hear people that are so consumed by what happens when you die, and that's what religion is based on. So, we try to reconnect the soul with a body -- a real body, no bull***t."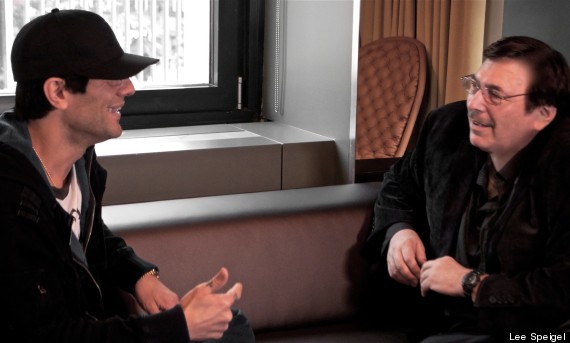 Above: Angel, at left, chats with HuffPost's Lee Speigel about his upcoming death-defying magic.
"Criss Angel BeLIEve" premieres tonight, Oct. 15, on Spike TV. Check your local listings for more information.
Calling all HuffPost superfans!
Sign up for membership to become a founding member and help shape HuffPost's next chapter