I thought it might be a good idea to finish the year by talking about the most memorable, adventurous exhibitions in Los Angeles' museums and galleries over that last year.
Let's start with William Eggleston's retrospective at LACMA. Until seeing this traveling exhibition, I had not more than polite respect for the work of this quintessential southern gentleman. But this ambitious and sprawling exhibition opened my eyes to the quiet beauty and melancholic poetry of the Eggleston camera, which captures trivial, everyday occurrences and shapes them into a profound portrayal of American culture.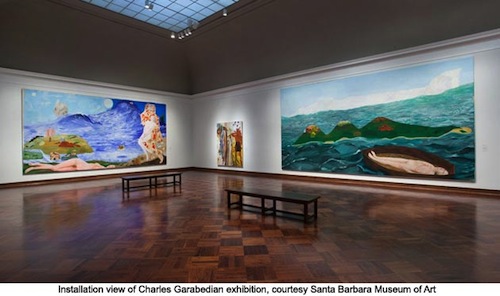 The sprawling retrospective of Charles Garabedian at the Santa Barbara Museum of Art found this Los Angeles artist, now in his late 80s, to be at his absolute best. His art is inspired by Greek and Roman mythology and populated by monumental, endearingly clumsy naked figures of men and women. Prepare to lose yourself in the deep blue sprawl of the Mediterranean sky of his paintings and then to plunge into the warm green water of his Aegean Sea.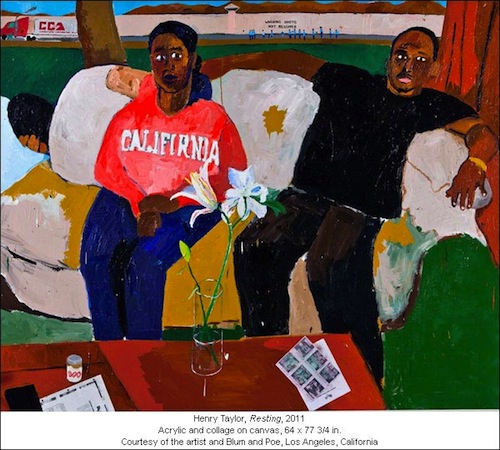 In his show at Blum and Poe, Los Angeles painter Henry Taylor rattled our nerves and retinas with gritty images of downtown denizens captured by him so colorfully, so mercilessly, but ultimately, so lovingly on his large canvases. These images are painted in a frenetic manner, as if in a hurry. None of the figures and their surroundings are complete, but, somehow, one feels that the very essence and spirit of their story is fully told.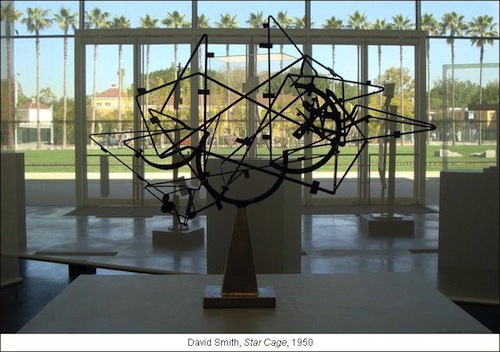 David Smith, one of the greatest artists of the 20th century, threw his brutal and delicate punches at the retrospective of his works at LACMA. The exhibition told the fascinating story of a young man who started as a welder at Studebaker automobile factory in the 1940's. The severe geometry in his works always coexists with a complex, syncopated rhythm that evokes the spirit of American Jazz at its most vital.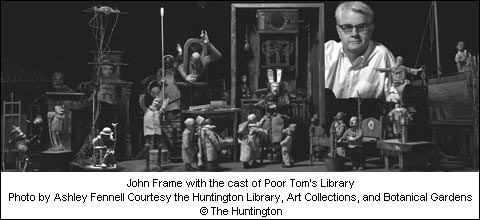 Los Angeles sculptor John Frame, at his exhibition at The Huntington, showed his trademark highly theatrical sculptural tableaux, populated by adorable yet slightly scary creatures. Who are they, where are they coming from, and where are they going? There's an unsettling mixture of innocence and cynicism in his art that evokes the phantasmagorical world of Gardens of Earthly Delight by Hieronymus Bosch.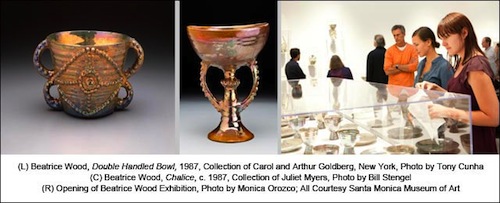 And now a few words about the one and only Beatrice Wood, whose gorgeous ceramic sculptures, while on display at Santa Monica Museum of Art, were as endlessly charming and seductive as the artist herself. She lived to be 105, but didn't lose her vivacity until the very end. In her famous response to an inquiry about the source of her youthful spirit, the 90-year-old artist revealed her secret: Oh, it's simple -- young men and a lot of chocolate.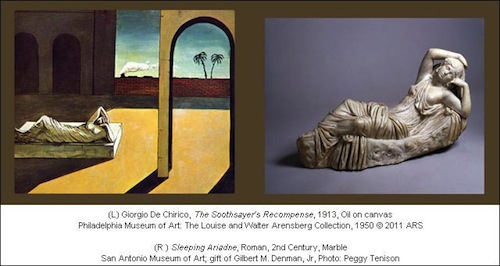 Modern Antiquity, an intriguing exhibition currently on display at the Getty Villa, tells us about the long and powerful shadow cast by Gods and Muses of antiquity over the art of our time. Four masters of European Modernism -- Picasso, Léger, De Chirico, and Picabia - rub shoulders, so to speak, not only with each other but also with superb examples of Greek and Roman art borrowed from museums and private collections all over the world. This exhibition runs through Jan. 16, so you still have a chance to end this year in style. Happy New Year my friends.

*Banner image: Three images by William Eggleston