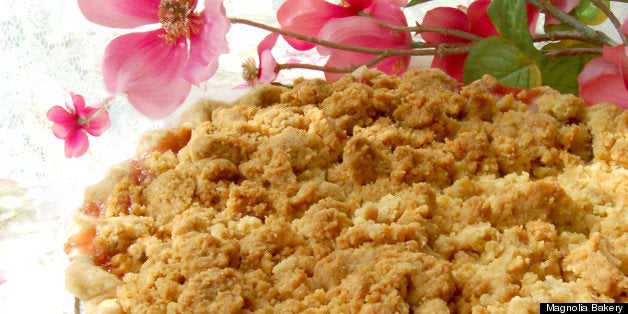 If you don't live in New York, you probably know Magnolia Bakery from Sex & The City. (And if you do live in New York, you know Magnolia's original West Village location as a tourist trap for pink-feathered-boa-clad women from the Sex & The City bus tour.) Fans wrap around the block waiting in line for their signature cupcakes, but don't worry -- even should the cupcake industry die, Magnolia will be in fine shape. Not only do they have seven locations now, but they've also got pie. Really great pie.
Magnolia's strawberry rhubarb crumb pie is their specialty for spring, and though they rarely share their house recipes, we've got an exclusive copy of it for our dear HuffPost Taste readers. And we know how much our readers like rhubarb recipes. So try your hand at the famous bakery's formula -- you're pretty much guaranteed success, right? (Don't worry -- if you mess it up, chalk it up to ill fate and go buy a pie from the shop.)
STRAWBERRY & RHUBARB CRUMB PIE
Recipe courtesy of Magnolia Bakery
Yields one 9" pie
Pie Dough
1 cup flour
1/4 teaspoon salt
4 oz butter (1 stick), cold & cut into small pieces
2-3 tablespoons cold water
Filling
1 cup sugar
2 tablespoons all purpose flour
1 tsp orange zest (optional)
1/4 teaspoon salt
4 cups rhubarb, trimmed and cut into 1" & 1⁄2" pieces
3 cups strawberries, trimmed and cut in half (or quarters if they are large)
2 TBLS unsalted butter
Crumb
4 oz butter (one stick cold, unsalted & cubed)
1 1/3 cups flour
3/4 cup brown sugar
1/2 tsp ground cinnamon
3/4 teaspoon salt
Directions
Make your pie dough first. Preheat conventional oven to 425°. For pie dough, place the flour, butter, and salt into a food processor; pulse until the butter is pea sized and resembles a coarse meal. Add the water, one tablespoon at a time, and pulse until a crumbly dough forms. Turn the dough out onto a floured surface and flatten into a disc. Wrap and refrigerate the dough for approximately 30 minutes.
In the meantime, for the filling, combine the granulated sugar, flour, and salt in a large bowl. Remove 2 tablespoons and set aside. Mix the dry mixture (minus the 2 tablespoons that were set aside) with the strawberries, rhubarb and orange zest, and let sit.
To make crumb topping, place the butter, flour, brown sugar, cinnamon and salt into the food processor; pulse until the butter is mixed in and the texture is crumbly; set aside. (Or mix together in a bowl with a pastry cutter).
On a lightly floured work surface, roll the disk of dough into a circle shape, about 11" in diameter and 1/8" thick. Fit the dough over a 9-inch pie pan and crimp the edges as desired. Sprinkle the 2 tablespoons of the sugar/flour mixture that was set aside onto the bottom of the crust. Toss the rhubarb pieces in the remaining sugar mixture; set aside.
Pour the rhubarb filling evenly into the pie pan. Dot with 2 TBLS of butter. Cover the pie evenly with the crumb mixture. Place the pie on a sheet pan lined with parchment paper and put into the oven for 10 minutes. Reduce oven heat to 350° and bake for 35-45 minutes longer until the juices are thick and bubbly.
Remove from the oven and allow the pie to cool for at least 4 hours.