What happens to a photograph deferred? Some are tucked in a file or packed in the basement while others are shoved under the bed and, in time, forgotten. These photos and the details they house -- a particular moment, a unique perspective, a potential story -- rest outside our view, sometimes forever. Many never get the opportunity to be seen, contemplated, digested, by many beyond their maker.
Magnum Photos, an international photo agency founded by photographers like Robert Capa and Henri Cartier-Bresson, is coordinating a project to dig up long lost images from their most renowned photographers, allowing unseen photos to break into the wild after many years. Magnum enlisted legendary photographers from Bruce Gilden to Bieke Depoorter to "rescue a work from oblivion," selecting an image that, for some reason or another, went unpublished or unnoticed, while remaining close to the photographer's heart.
"In what other medium does 99.99% of the work made end up unseen, or even in the (digital or literal) trash?" Magnum's creative director Gideon Jacobs explained to The Huffington Post. "Intense and ruthless editing is built into photography's very nature, and that will always leave a whole world of great pictures on 'the cutting room floor.' This project allowed photographers who are responsible for some of history's most iconic images to give life to photographs that may have been lost, or simply faded with time."
From now until November 14, Magnum is selling signed prints of these unsung artworks, along with their creation myths, straight from the photographers themselves. Check out six photographers' thoughts on their favorite long-overlooked photos below and head to Magnum's Archive Dive Square Sale website to learn more.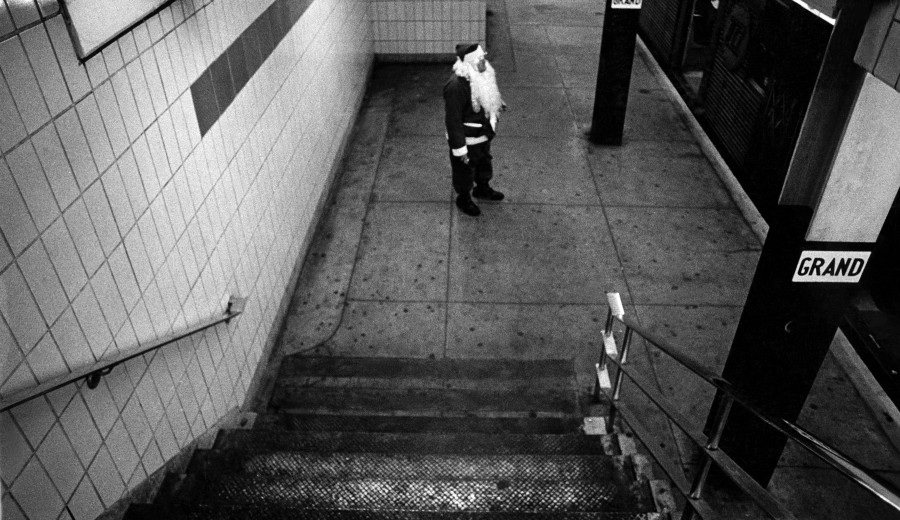 "When I was 22 or 23, I took a semester long photography course. We had an assignment, and I decided I want to follow Santa Claus. At the time, there were all these guys around New York dressing up as Santa for Volunteers of America, and they'd collect donations outside Macy's, etc. After they'd collect, they'd head back to the volunteers headquarters on Houston Street and go out drinking -- most of the Santas were alcoholics. I took this picture because in my head, I remember thinking, 'Why is Santa taking the A train. Where is his sleigh?' Later, I took this photograph to an editor at The New York Times, and he loved it, but said it's 'too late to publish for Christmas.' Well, I missed the boat that Christmas, so I guess I'll catch the boat 46 years later."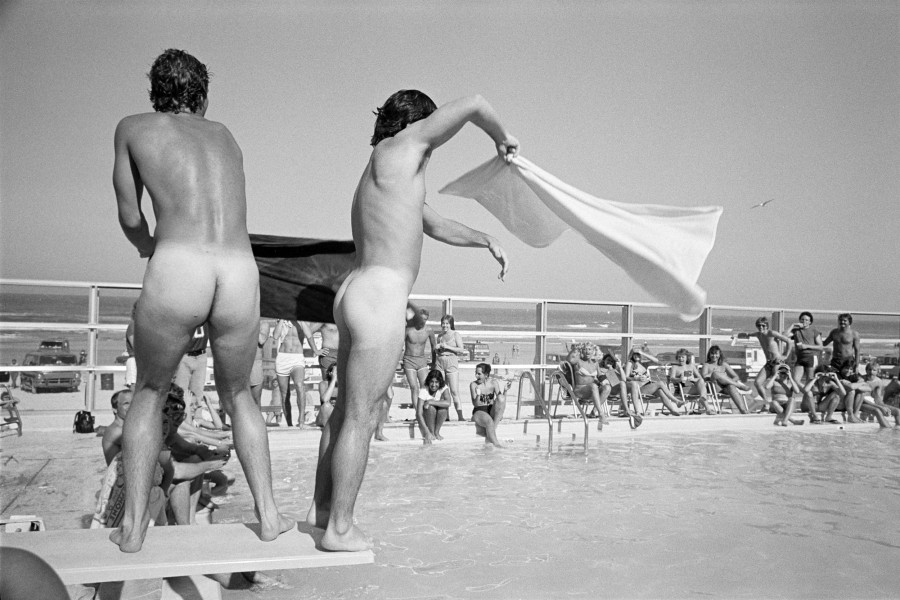 "This picture was made in 1981 in Daytona Beach, Florida, during Spring Break at a favored gathering place for the visiting college students -- one of the large swimming pools of the big oceanfront hotels. As it happened, I was in the right place at the right time. These two boys appeared on the diving board wrapped in their towels, which they suddenly brandished in the air, revealing the fact that they wore no swimsuits. The poolside crowd screamed with delight and the boys jumped into the water. This is one of the wonderful things about photography, being able and ready to push the button and capture a charming moment which has never been seen before and will never be seen again. The picture has never been published, as so, to an extent, has gone unseen until now."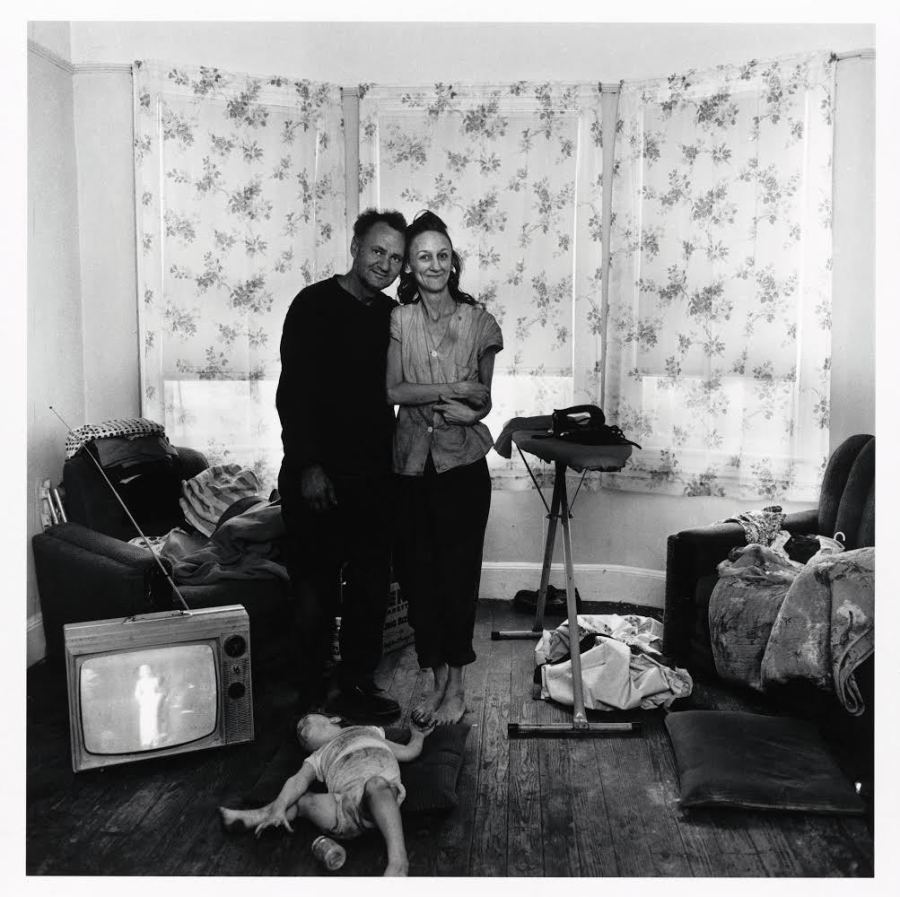 "In the winter of 1965, I explored the industrial wasteland across the Hudson River from New York City to New Jersey. I traveled on dirt roads that led through the brackish marshlands with mountainous garbage dumps used for landfill. There I met Willie Royka, who with his young son Willie Jr., picked the dumps for scrap metal in the warmer months and trapped muskrats on the colder days when the pelts were thicker. They led me deep into the New Jersey meadows where tall cattails obscured the Manhattan skyline and the marshlands became a pristine wilderness. At low tide, we made our way through the muck to the traps and the drowned muskrats. At the end of the day they invited me home, where they skinned and dried the pelts for sale. They also removed the musk gland that can hold the aroma used in perfume-making processes. It was after I photographed this family that I thought it would be interesting do a film about their lifestyle titled, 'Living Off the Land.' Though this image has been published before in two of my books, it still continues to go unnoticed."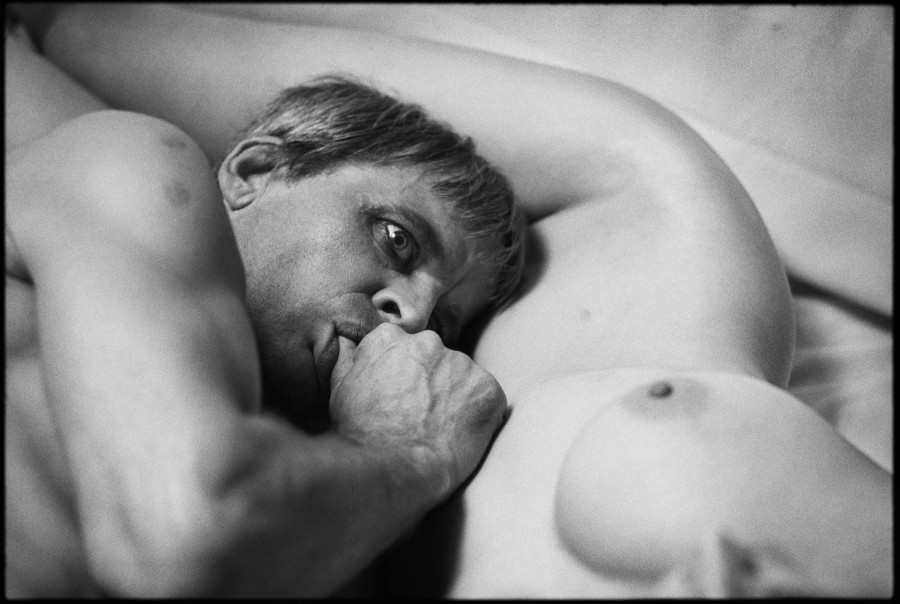 "This was photo was taken on the set of 'L'important c'est d'aimer' by Andrzej Zulawski in 1974. It was my first film set. I had only one year of professional photography behind me, and I was just finishing university. With [Klaus] Kinski, there was also Romy Schneider, Jacques Dutronc, Fabio Testi, and more. All these prestigious figures made me feel quite intimidated as a beginner, but I was so fascinated, watching in silence what was unfolding in front of me. I discovered amazing intricacies that existed between the mood of the film and the inner psychology of the actors during the shooting. I ended up unable to completely differentiate between what was emotionally happening in the fictional film, and what was happening with the real life actors. Andrzej Zulawski has always excelled in handling this kind of situation. The film crew and producers had given me almost full 'carte blanche,' so I was left alone with the actors. Kinski fascinated me most -- his sudden moods swings, from very calm to incredibly violent. He was struggling with his demons and playing with the struggle. With me, he was attentive and kind. It was while the crew was setting up the lights that Kinski began to improvise this moment, began to play. It weighed on me, the mood he inhabited a few moments after this frame was made. After the take ended, he got up and walked away slowly towards the bedroom window. He cried. We both stayed silent."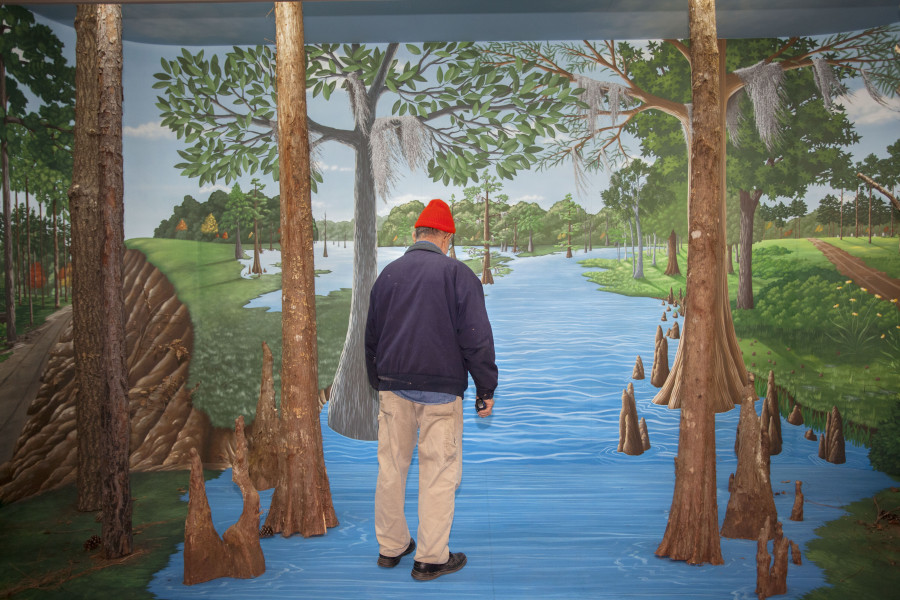 "This photograph was taken during my first visit to the United States for project 'I am About to Call it a Day.' I had just finished working on 'Ou Menya' in Russia, a project made by asking people I met on the street to spend a single night in their home. I found that this was my way of entering into the intimacy of their family. With this, I finally felt comfortable taking photographs of strangers. But I wanted to use the same approach in a country where I could speak the language; I wanted to see if it would still work even then. So, while shooting in the U.S., I got stranded in a little town in Louisiana. I couldn't find a place to stay, but an old man wanted to show me, 'The only beautiful museum in town.' The museum's exhibits were buried with dust and the dismal, lonely atmosphere was remarkable. This is not an image I wanted to use in my book because it's totally different than any of my other photographs. And to be honest, I actually still don't know if I like this image! But somehow, for some reason, the photograph keeps popping up in my mind. So, maybe it's best that it doesn't get lost in an undefined digital archive. Maybe it's best that it isn't just forgotten with time."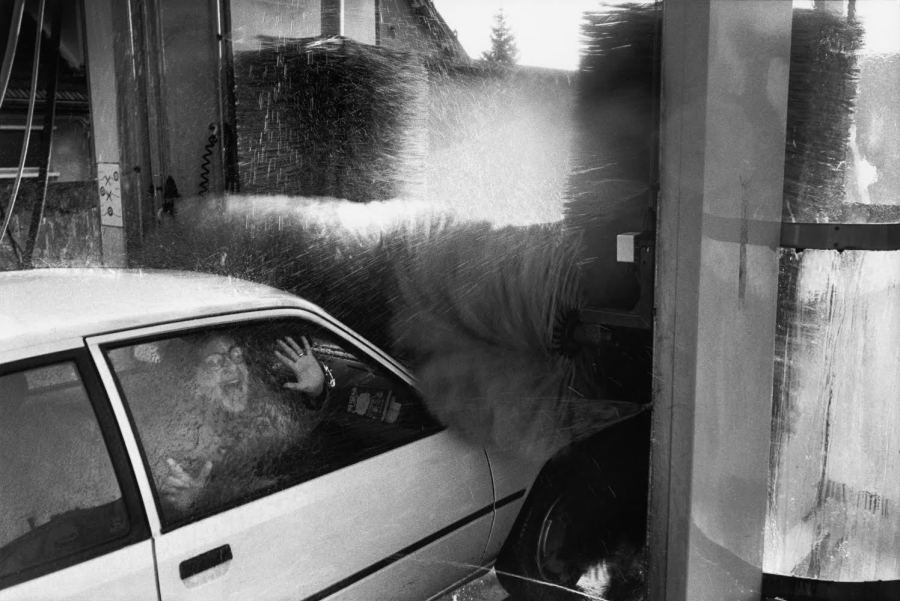 "At a car wash in the suburbs of Paris, I saw this poor woman locked in a car, just as the giant rollers were about to swallow the vehicle. She looked familiar; she was, in fact, my wife. I could never put this picture with my personal work, because there was a certain complicity between me and the subject. To maintain my credibility, my photos must be 'found,' which wasn't quite the case here, so the picture has remained lonely and neglected. But I like it anyway."
Related
Before You Go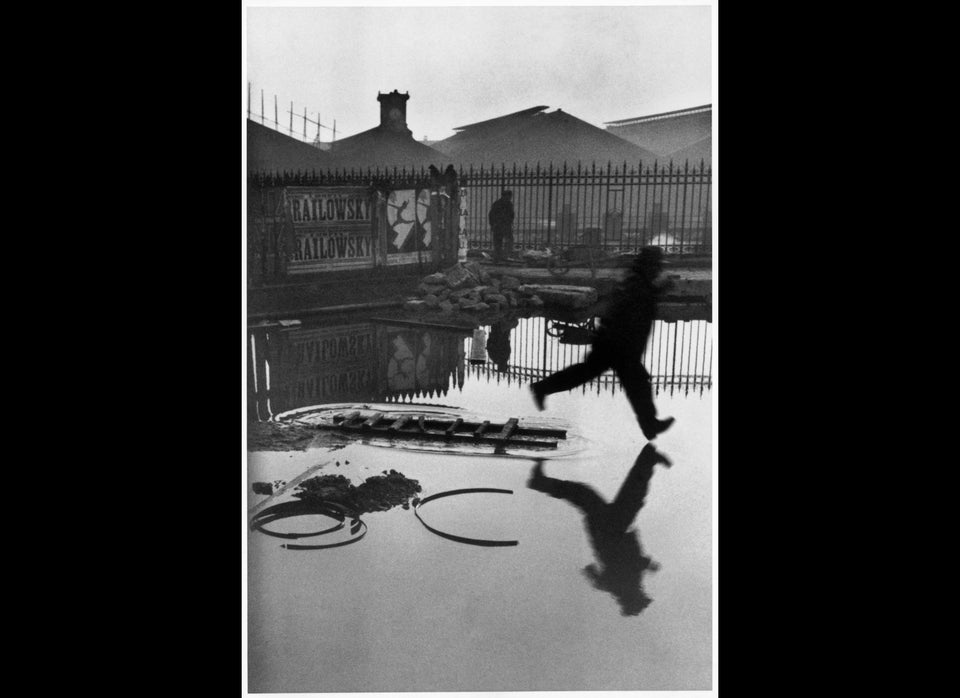 Henri Cartier-Bresson (1908 - 2004)
Popular in the Community