The Museum of Modern Art, New York, pays homage to the quintessentially Surrealist decade in the career of Belgian painter Rene Magritte with "Magritte: The Mystery of the Ordinary, 1926-38." Surrealism flourished as the preeminent art movement between World Wars I and II in Europe. The MoMA exhibition, traveling to Houston and Chicago in 2014, showcases Magritte's prolific Brussels and Paris years and proves the continued viability and accessibility of the Surrealist aesthetic.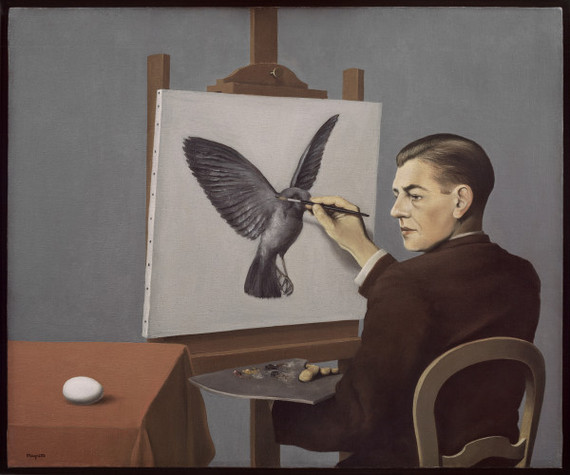 René Magritte. La Clairvoyance (Clairvoyance), 1936; oil on canvas, 21 1/4 x 25 9/16 in. © Charly Herscovici.
Magritte's paintings, while traditional in technique (often oil on canvas), are innovative and witty in concept. Doubling, fragmentation, displacement, and irrational juxtapositions are his favored strategies. Like Marcel Duchamp before him, Magritte used his background training in commercial sign painting to execute his works. And as with Duchamp, language games are a preeminent concern. "This is not a pipe," proclaims Magritte's painting of a pipe. The paradoxical proclamation is correct: It is a painting of a pipe. Near this work is a small painting of a piece of cheese resting inside an actual glass cheese tray. Title? This Is a Piece of Cheese. Gotcha! Through the combination of text and image, Magritte questions not only reality, but representation itself. This is art about art. Given the continued post-conceptual trend in contemporary art and the continued questioning of the politics of language, the popular appeal of Magritte comes as no surprise.
In exploring the semiotics of text and image, Magritte set the stage for 1960s American conceptual artists like John Baldessari and Joseph Kosuth, who similarly questioned language and representation. This pioneering influence is evident in many of his text-based works, and particularly in the manuscript pages for Magritte's Les Mots et Les Images [Words and Images], an illustrated essay about his artistic technique published in the journal La Revolution Surrealiste in 1929. In one sketch, Magritte depicts a horse, a painting of a horse, and a man emitting a speech-bubble utterance of the French word for horse (cheval) -- presaging by more than three decades Kosuth's One and Three Chairs (1965), a conceptual sculpture comprising an actual chair, a photograph of the chair, and a dictionary definition of the word "chair."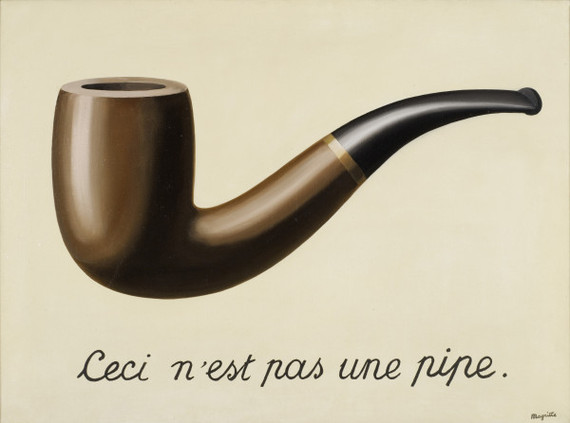 René Magritte. La Trahison des Images (Ceci N'est Pas une Pipe) (The Treachery of Images [This Is Not a Pipe]), 1929; oil on canvas; 23 3/4 x 31 15/16 x 1 in. © Charly Herscovici. Photo: Digital Image © 2013 Museum Associates/LACMA, Licensed by Art Resource, NY.
Latent sexuality, anxiety, menace, and violence interlace the works thematically. L'Assine Menace [The Menaced Assassin] sums up both Surrealist painting's fascination with the irrational and the movement's obsessive and sexist attitude toward women. Multiple well-dressed male "assassins" hover around the victim of a crime: a murdered naked woman, bleeding from the mouth. One male assassin holds a prehistoric-looking club, another a voluminous fishing net, and an incongruent third man listens to a gramophone, perhaps on the verge of being ensnared further in the mystery. The assassins' black bowler hats are a nod to the pre-WWI serial-fiction character Fantômas, favored by the post-WWI Surrealists. Magritte took up wearing the same type of hat as his signature piece.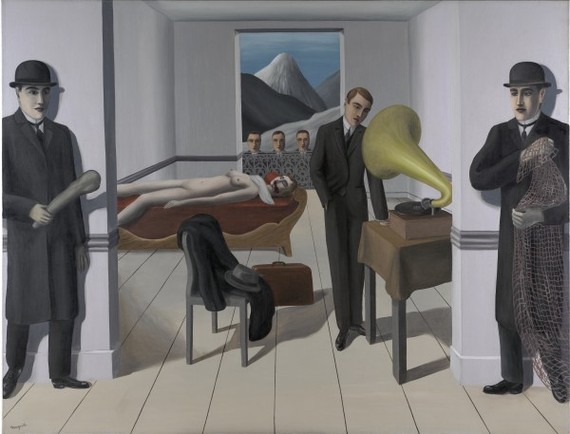 René Magritte. L'assassin Menacé (The Menaced Assassin), 1927; oil on canvas, 59 1/4″ x 6′ 4 7/8 in. © Charly Herscovici.
MoMA's tone deafness about Surrealism's obsession with decapitated or fragmented naked women is evident when a nearby shaped canvas of a naked female torso, centering on the genitals, is praised by the wall label for its "technical virtuosity and debt to Old Master tradition." The painting's title is a giveaway to its ambitions: La Representation (Representation). The achievement here is the blending together of representation with the object represented: The painting is curved exactly around the depicted woman's curves, with a curving gilt frame. The subject and its representation (the painting) strive to be one and the same: an icon, in the religious sense. It is also as artful and problematic a crotch shot as Courbet's Origin of the World (1866).
Revelations in this show are the works from private collections, rarely seen by the public. For example, the exhibition brings together a whimsical series of untitled cut-and-pasted paper collages from 1926-27 from private collections and different museums. In these collages, Magritte cleverly utilizes sheet music (with lyrics in English and German), cut into his trademark grelot shape resembling a chess piece and meant to stand in for the human form. In one collage, the chess-piece-shaped sheet music is tilted on its side to float like a cloud in the sky. From the same years, we are treated to Magritte's graphic-design work for avant-garde Belgian journals such as Le Centaure (the centaur, cousin to the Surrealists' favorite Greek mythological monster, the minotaur). His commercial advertisements -- for a jewelry store or a restaurant in Brussels -- feature weird juxtapositions of elements unrelated to jewelry or restaurants per se, echoing the same concern to unfix realistic representation as his paintings of the same period.
In Magritte's La Lumiere des Coincidences [The Light of Coincidences], painted in Brussels in 1933, a realistic candle set on a table casts a shadow into a painting of a sculpture of a torso, illuminating the body inside the painted frame. A painting of a painting of a sculpture of a body--Magritte peels back the onion of representation in a way that keeps today's viewers looking and wondering: What is real?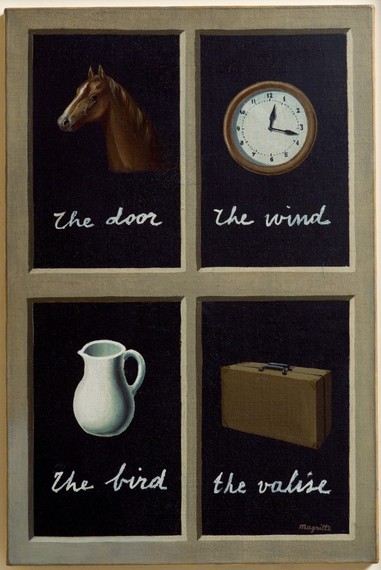 René Magritte. La Clef des Songes (The Interpretation of Dreams), 1935; oil on canvas, 16 1/8 x 10 5/8 in. © Charly Herscovici. Photo: Jerry Thompson.
Magritte: The Mystery of the Ordinary, 1926-1938, is on view at the Museum of Modern Art in New York through January 12, 2014. The exhibition will travel to The Menil Collection, Houston (February 14-June 1, 2014), and The Art Institute of Chicago (June 29-October 12, 2014)
Calling all HuffPost superfans!
Sign up for membership to become a founding member and help shape HuffPost's next chapter