Martin Luther King, Jr. almost never uttered the words "I have a dream" during the March on Washington in 1963.
The iconic face of the civil rights movement didn't plan to include the famous phrase in his address, but history changed forever when gospel singer Mahalia Jackson urged him to share his vision for a peaceful, colorblind nation.
On the 50th anniversary of that seminal speech, a musician who played organ at the March shared with HuffPost Live's Mike Sacks her experience of being face-to-face with that exchange. During the rally, Yolanda Clarke stood on the dais before the national mall and heard Jackson's powerful motivation to King.
"I was very close to Mahalia, to Dr. King and all of those right in that section. At first it was like church remarks," Clarke said. "He started speaking, and then [Jackson] said, 'Tell them about the dream!' And he started on 'I Have A Dream.'"
Another attendee of that historic rally was Harry Klugel, who was about to teach his first class as a history teacher and wanted to see history in person. He wasn't as close to the action as Clarke, but he saw the exchange that made King share his dream with the world.
"As he was speaking, you could see that after about 12 or so minutes -- it was a good speech to that point, no doubt -- you could see Mahalia Jackson sort of gesture to him," he said. "The story is, from the people that were close to it, she said to Martin, 'Tell them about the dream, Martin.' And she repeated it: 'Tell them about the dream, doctor.'"
The energy changed after that, Klugel said.
"He dropped the prepared remarks and went into another part of the speech," he said. "It became more of a sermon at that time. It was a powerful message."
See the full conversation with attendees of the March on Washington at HuffPost Live HERE.
Before You Go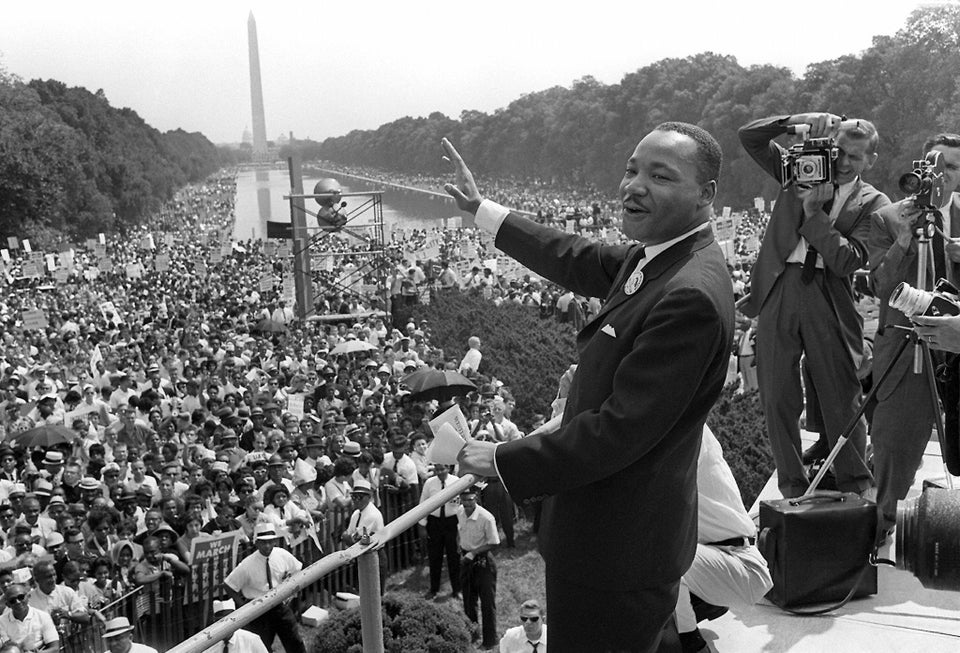 The 1963 March On Washington
Popular in the Community