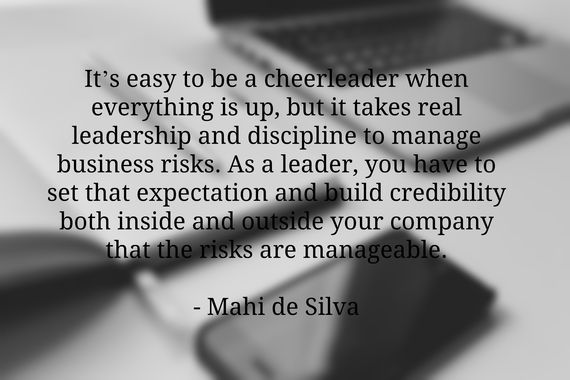 I am re-reading Steve Jobs, by Walter Isaacson. The first time I read the book I wanted to learn about the man behind the black turtle neck. But for the 2nd reading I am focused on learning what made Apple such a successful company.
Yes, I know, there is no one formula for success but there are rituals, habits, things that if done over and over again can lead to the building of a successful company. For Apple, it was about product, relationships, vision, loyalty, and expertise.
But while I was interviewing Silva, he mentioned one other quality which is critical to a company's success – transformational growth. You can argue that growth is a prerequisite for any company – a check box on the form if you will.
But if you are looking to place your company on a steep upward trajectory then growth cannot be a prerequisite; it must be transformational. So let's read what else Mahi de Silva has to say about building a rockstar company.
It's easy to be a cheerleader when everything is up, but it takes real leadership and discipline to manage business risks. As a leader, you have to set that expectation and build credibility both inside and outside your company that the risks are manageable.
So Mahi what is your story?
I was born in Sri Lanka and grew up in Wichita, KS.
I moved to Silicon Valley in 1988 to work at Apple. In 1996, as part of the startup team at VeriSign, I helped establish some of the basic building blocks of Internet trust and security, which helped start the flywheel of e-commerce. Also at VeriSign, I led a team that built and ran the mobile business as a trusted intermediary for messaging, roaming, content and commerce for mobile carriers.
In 2008, I co-founded AdMarvel with an aim towards improving the efficiency of the mobile advertising marketplace. We sold the company to Opera in 2010. I've remained at Opera, running and expanding Opera Mediaworks (10 acquisitions to date), which has become the largest independent mobile ad platform in the world.
What I've learned in my professional journey: The greatest advances in humankind have come from exponential leverage of resources. The world needs more levers – such as tools, trusted intermediaries, reliable infrastructure and machine learning. A real business can be created by packaging some of these building blocks into a service-based solution that is singularly focused on solving a real-world problem.
Really big economic opportunities, 100-billion-dollar markets are all about commerce. Removing friction, increasing transparency and trust for both buyers and sellers creates highly efficient markets and drives exponential scale in commerce.
Tell us about a time when things didn't go the way you wanted – like a promotion you wanted and didn't get, or a project that didn't turn out how you had hoped?
For many companies, transformational growth comes from acquisitions. In the mid–2000's, I led the effort on a $600 million acquisition in the mobile content space. The transaction was immediately accretive and helped deliver strong growth when our organic growth was slowing.
Post-acquisition, the business was doing much better than anyone expected, growing from $40 million to more than $400 million in revenues in less than two years. The ROI on the transaction was phenomenal and in addition to revenue and profits, it helped add $4 billion to our market cap.
But within 18 months, the mobile content market changed dramatically, for a number of reasons including consumer appetite, carrier billing standards and fraud, and the business started to slide backwards. Everyone, including my team, our shareholders, industry analysts, were shocked at how quickly the market changed.
For me, it was a painful but important lesson on anticipating the unexpected and setting expectations. I failed in anticipating change and contingency planning -- but more importantly I failed in setting expectations.
It's easy to be a cheerleader when everything is up, but it takes real leadership and discipline to manage business risks. Everything that goes up will eventually come down. As a leader, you have to set that expectation and build credibility both inside and outside your company that the risks are manageable.
When you are a startup it's relatively easy to focus on one thing, but in a medium-sized company, growth comes from diversification and parallel innovation. You have to invest in new things that have breakthrough potential and dedicate some of your best and brightest to that journey of discovery and celebrate both success and failure -- celebrating failure is hard!
How do you see the company changing in two years, and how do you see yourself creating that change?
Our long-term vision is to be the go-to platform for mobile advertising. We will achieve that by providing the best products and services in our industry, which our customers will effectively leverage to drive more commerce. We are well on that path but we still have giants like Google and Facebook that are approaching duopoly status – which in itself is an opportunity.
If you look at the evolution of digital advertising, the majority of the revenue is concentrated amongst few giants (e.g. Google, Facebook, Yahoo, Baidu). Even if they start out with the aim of being an "enabling platform", they've all gravitated towards servicing and monetizing their own traffic and all that's left for their partners are crumbs.
We aim to be different; we don't compete for eyeballs with our customers. We want to bring a whole new level of transparency and trust to the digital ad ecosystem.
What values do you want to instill in your team?
The two most important values for us are ownership and accountability. These traits are important at all levels of the organization and it helps build a foundation of trust and reliance. Teams that can pull this off produce results that are far greater than the sum of their parts.
Fights are healthy, how you get through them is another the question. How do you deal with conflict? Compromise?
Passion and diversity of opinion are key ingredients for innovation. If you have a passionate and data-driven POV, people listen and are open to changing their opinions. Sometimes you have such a divide in approaches there's no viable compromise.
Organizations are a journey, we have to navigate what bridge to cross, what bridge to avoid and what bridge to burn.
When your team is developing a new product what does the creative process look like?
In our business, new products, features and services are born in every level of the organization.
It often starts with a simple spark of an idea. It could be a salesperson, a customer service employee, an engineer or a finance person. From the very start and through a bunch of acquisitions, we found a common thread across our organization – a desire to delight our customers through innovation.
That sounds awfully cliché, but we are constantly engaged in conversations around making things better. Not just better than our competitors but better than what we did yesterday -- not resting on our laurels. We live and die by helping our customers do more. Sometimes it's a small change that could be implemented in hours, other times it takes months, even years to fully realize.
The longer-term projects tend to require more planning and prioritization and paying attention to ROI, but if you celebrate innovation, you empower creativity.
Reader Question: Being a leader is not limited to senior management – everyone should take a leadership roll when dealing with risk. What is your strategy in managing risk?
Photo Credit: Unsplash By Luis Llerena
Calling all HuffPost superfans!
Sign up for membership to become a founding member and help shape HuffPost's next chapter