Boston Ballet is about to take a leap unlike any leap an American ballet company has ever taken.

The company will be the first American ensemble to perform legendary choreographer John Neumeier's ballet, The Third Symphony Of Gustav Mahler, starting October 22.
The piece lasts nearly two hours, begins with an all-male 35-minute movement, and features a 78-piece orchestra, the New World Chorale, and soloist Sarah Pelletier.
A two-hour ballet? To the music of Mahler? Really?
As rehearsals filled Boston Ballet's South End headquarters last week, I sat down with the company's Finnish-born Artistic Director, Mikko Nissinen, to find out what prompted this leap into the unknown.
His role models aren't just Nijinsky and Nureyev. They're also Phil Jackson and Bill Belichick.
Phil Jackson and Bill Belichick...and ballet? And Mahler? Again...really?

Michael: Mikko, life is hard enough. Why Mahler?
Mikko: Well, isn't this a Mahler town? Boston is known in the world as a city that loves Mahler.
Michael: He has a cult following in Boston. That's true.
Mikko: So that's a good thing, right? This is one of the ultimate symphonies out there. It's one of the longest ones, too. John Neumeier, an American, has been at the helm of the Hamburg Ballet for 40 years. He has a unique voice as a choreographer. He has actually choreographed every Mahler symphony except two. Mahler's Third was the first one he did.
It was a huge undertaking and a huge risk for him, and it became an iconic work -- the Hamburg Ballet was performing Mahler symphonies around the world. He initially intended for it only to be for his company. The Paris Opera Ballet asked him, "Could we please do it?" He gave it to them. After that, the Royal Swedish Ballet did it.
I've been talking with John for a long time. What is the right piece from him to enter our repertoire? And he asked, "What would you think about Mahler's Third Symphony?" I said, "Fantastic. We didn't have to have a longer conversation. I loved it."
Michael: How would you describe the piece?
Mikko: It's an epic work, on a Biblical scale. It is massive. It's an ode to being human. There's no story, but there's an incredible emotional journey. It's almost like how man comes from the rock, man's experience recognizing who he is, his masculinity, seeing a woman, love, separation, loneliness, the whole gamut of life. The whole circle. It works on so many levels.
Michael: The first movement is 35 minutes long, and it's all men. Isn't that unusual for a ballet?
Mikko: Definitely. More than 20 men, and it's impressive. You start to think you understand where the piece is going. Then it starts to go in a totally different direction, and it's like a big poem that keeps surprising you around each corner. Just when you thought, "Oh, my God, I'm so satisfied," there's more. It's a gift that keeps giving. An incredible journey.

Michael: And you had no hesitation about undertaking it.
Mikko: No. The company is more than ready. I've taken lots of chances with the Boston audiences, and they have always been there. I've been very proud that audiences started embracing us very quickly from the beginning. An example is Jiří Kylián's work, because we hadn't done this type of contemporary work previously. The company excelled in it and we had a sensational run. Now we have more Kylián repertoire than any other company in North America.
You stick your neck out there. You take a risk. That's when you win the most. It's one thing to get to the Olympics, the 10,000 meter run, and everybody's on the same line. Now, you're happy with that. But do you want to be the first one to cross the finish line? I like to make sure that when the curtain goes up on Boston Ballet, this is not a church. This is not a museum. This is a living theatre for today's people. It is really a time for self-reflection. The art that's on stage should stimulate that inner dialogue. It's like a little ping-pong game that goes between your consciousness and visual and audio pulses that come from stage. And when art is really at a great level, it replenishes you.

Michael: The Boston Globe has said the upward trajectory of Boston Ballet during your tenure is one of the most important stories about art in Boston in recent years. What were your goals when you took over the company?
Mikko: I wanted to really start molding the company to be a ballet company of the future, that's really relevant for today's people. Naturally I wanted to do that through diversified repertoire. We do the classics, neo-classical ballet, and also contemporary dance. That gives you three doors through which you can enter. Everybody's welcome. We are not exclusive. We are inclusive.
That was very important. And the second thing is, I've been in this industry since I was fifteen. I'm very attached to quality. I wanted to start to shape our artists to be the very best dancers they can be. I wanted to bring the finest examples of the choreographic art form for them to perform and learn from. I don't teach my audiences -- we expose our audiences to different works.
So slowly we started on this journey, and there was a change in six months. There was a profound change in three years. In five years, it was a whole other ballgame. And in ten years, the artists already, before they make any move, they're all already thinking the same way. So, we have now distilled a certain philosophy in the company and created a pipeline for artists because it's a young profession.
Michael: How have ballet audiences changed over the years?
Mikko: Well, that's the good news, actually. Our audiences are way larger now than they were in the past. We used to do six performances of a mixed bill. Now we do at least ten performances. Sometimes more. And the full-length ballets are performed 10, sometimes 12 times. Now we do 14 or 16 performances. So the audiences are increasing, and the average age of attendance has gone down and down and down. And that is usually not the scenario in the arts world.
So, hopefully some of that relevancy and diversification of the repertoire have attracted different groups at different ages to come to see it.
Michael: You're very fortunate, because with classical music, the cohort is just getting older and older, and you say, where are the younger people? And they're here.
Mikko: Everybody is welcome here. Old, young, in-between, art is for everyone. People ask, is ballet appropriate for children? Children can process and get art much better than adults, because they're just open.
A good example of younger audiences was Romeo and Juliet. When we planned our marketing, we didn't want to go with another picture of Juliet on a balcony. So we took two beautiful artists, yes, in costumes of Romeo and Juliet, but put them in the South End behind a raw brick building, and the tag line was, "What wouldn't you do for love?"
During the run of Romeo and Juliet, we saw higher than usual numbers on young audiences attending the ballet, particularly 18- to 25-year olds. One sentence and image lit the fire and brought them in, and many of them had never seen a ballet before. And I heard from them that they were just loving it.
Michael: Ballet is more company-driven as opposed to star-driven today. Is that correct?
Mikko: I would say so. I'm a big believer on the Phil Jackson philosophy of Chicago Bulls. Team basketball. Team basketball wins championships. And Bill Belichick is also a master of the same kind of school. The group, the collective, always comes first, and the individuals all benefit from being in a winning team. I don't want to have a couple strong dancers. I want to have a really strong company.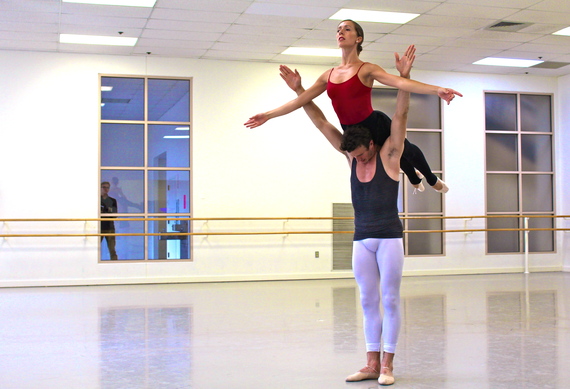 Season preview at https://www.youtube.com/watch?v=8B4aCVWBx6U&feature=youtu.be
John Neumeier shares his insights on Third Symphony of Gustav Mahler: https://www.youtube.com/watch?v=okHX4vjXemU
Boston Ballet like you have never seen us before... shot in slow motion at 1,000 frames a second #RethinkBallet: https://www.youtube.com/watch?v=BwFqEQxU1qU
Third Symphony of Gustav Mahler: A Ballet by John Neumeier. Boston Ballet. October 22-November 1. Boston Opera House. Tickets on sale now. http://www.bostonballet.org/
REAL LIFE. REAL NEWS. REAL VOICES.
Help us tell more of the stories that matter from voices that too often remain unheard.