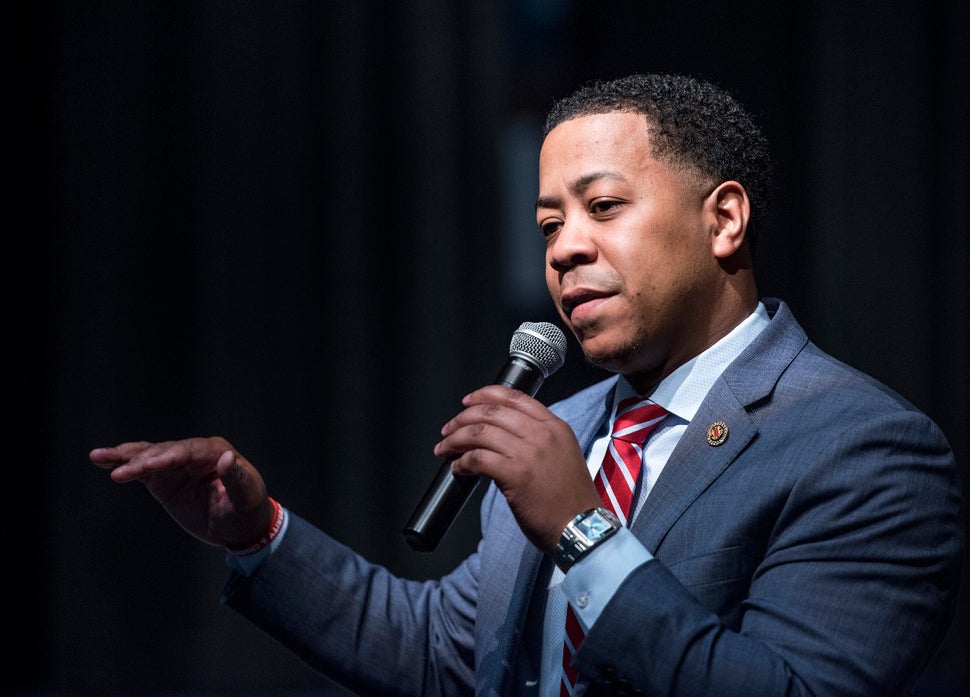 SUPERIOR, Wis. ― It was a little early for a drink, but that wasn't going to stop Mahlon Mitchell.
It was a Saturday at 11:30 a.m. in Superior, a port city of 30,000 in Wisconsin's far northwest corner. Mitchell, the leader of the Professional Firefighters of Wisconsin and a Democratic candidate for governor, had just finished touring the city with fellow firefighters and was about to kick off an economic roundtable with other union members. But first, he was perusing the beer list at Thirsty Pagan Brewing.
Breweries, as locally owned small business with a bit of a cool factor, have become a standard campaign stop for politicians of both parties. But while many elected officials can't tell a scotch ale from a Schlitz, Mitchell knows his stuff. He settled on the Hardtail Double Pagan, a double IPA with 8 percent alcohol by volume. (For comparison, Bud Light's ABV is 4.5 percent.)
As Mitchell sipped his beer, a reporter asked if he believed a black candidate could win statewide in Wisconsin.
"Yeah," Mitchell responds. "I actually think it's an advantage."
"I can run faster and jump higher than the other candidates," he said with a grin on his face. His communications director sighed deeply and glared. 
It wasn't the first time Mitchell made his staffers cringe. When EMILY's List, the group that backs female Democrats who support abortion rights, endorsed a rival candidate in June, Mitchell responded with a groanworthy joke about a female supporter named Emily in Milwaukee. In July, he drew criticism for comparing himself to a movie character with a mental disability. He swears frequently. 
Some Democrats look at Mitchell's frequent off-color jokes ― call them gaffes, if you want to use a term from a different political era ― and see a man who could ruin their best chance at defeating Republican Gov. Scott Walker in years. Walker's moves to crush the state's public sector unions made him public enemy No. 1 among liberal Wisconsinites. And after years of battles, his approval ratings have slipped. Just 34 percent of registered voters in the state say the governor deserves to be re-elected, an NBC News/Marist poll released last week showed. 
Others believe Mitchell's unique biography makes him the perfect man to win back the voters who jumped from supporting President Barack Obama twice to supporting President Donald Trump: He's a Milwaukee-born, Madison-based African-American whose economic policies could fire up the base; the leader of a union whose members split between Hillary Clinton and Trump; with an occupation that gives him instant credibility with the white working class.
But before Mitchell can get to Walker, he needs to win the state's Aug. 14 Democratic primary. And that might not be easy. While there will be 10 candidates on the ballot, most Democratic observers see three with a real chance to win: Mitchell, state Superintendent of Schools Tony Evers (the front-runner) and Kelda Roys, a former state lawmaker who has the backing of EMILY's List.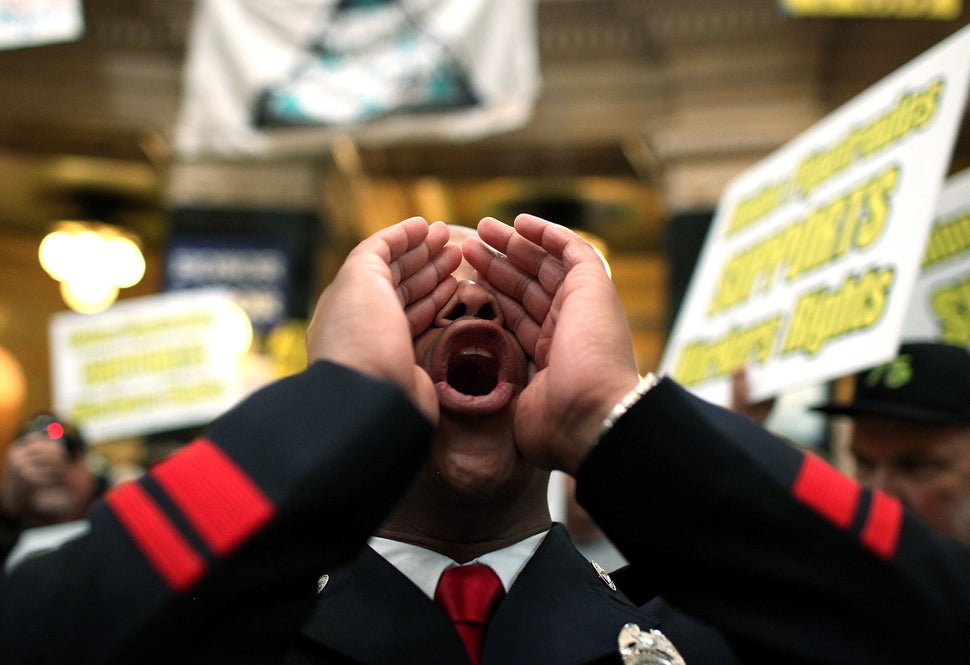 "How Do You Play Up North?" 
Mitchell is part of a historic wave of black gubernatorial candidates this cycle. Only two black candidates have ever won a governor's race in the United States ― Massachusetts' Deval Patrick in 2006 and 2010 and Virginia's Douglas Wilder in 1989. This time around, Democrats already have two black gubernatorial nominees confirmed in Georgia's Stacey Abrams and Maryland's Ben Jealous. With Mitchell and Andrew Gillum in Florida, they have a chance to nominate two more. 
But while Gillum, Abrams and Jealous are running in states south of the Mason-Dixon line with significant black populations, Mitchell is running in an Upper Midwest, GOP-dominated swing state with a population that is just 6 percent African-American.
"All the time, I have black people ask, 'How do you play up north?' They're like, 'Oh my god, you're black, you're going north of Highway 10, do you need an escort?'" Mitchell joked at the brewery in Superior. 
"And I say, 'No. People here are kind, they're gentle. They're like people anywhere else in Wisconsin.' There are some people here who are racist, but that's not just up north, that's all over Wisconsin. And I don't worry about those people."
Or as he put it in an interview: "Fuck 'em. I'm not trying to win their votes." 
Mitchell is the only Democratic primary candidate with a campaign office in Milwaukee, Wisconsin's largest city. His campaign admits it's reliant on turning out the black vote for the primary.  
But in the general election, he thinks he can do more than just turn out the party's base ― he thinks he can win swing voters by promising to move past the political battles of the Walker years. 
"A fresh new leader for Wisconsin," a female narrator declares at the start of Mitchell's first television ad. Mitchell promises to "take on corporations to raise wages and return the money that Walker stole from our schools." 
And at the end: "And I will fight against racism and division, because our kids' future depends on it."
If there's an identity Mitchell is running on, it's as a firefighter. While there aren't many firefighters in high political office, it's an occupation ripe for political success, associated with bravery in the public imagination. "The firefighter has a brand that is very valuable in the political arena," said Harold Schaitberger, the president of International Association of Firefighters
So while most Democrats tend to avoid red as the dominant color in their campaign logos and literature ― it's become intrinsically linked with the GOP ― Mitchell uses the color of the firehouse and firetruck everywhere, and his logo is a traditional firefighter's helmet.
"This is the best stop," he said earlier in the day, during his morning visit to the firehouse in Superior. "I feel at home here." He later toured an oil refinery that was hit by a massive explosion in April and went in-depth with his fellow firefighters on the techniques, equipment and chemicals they used to douse the blaze.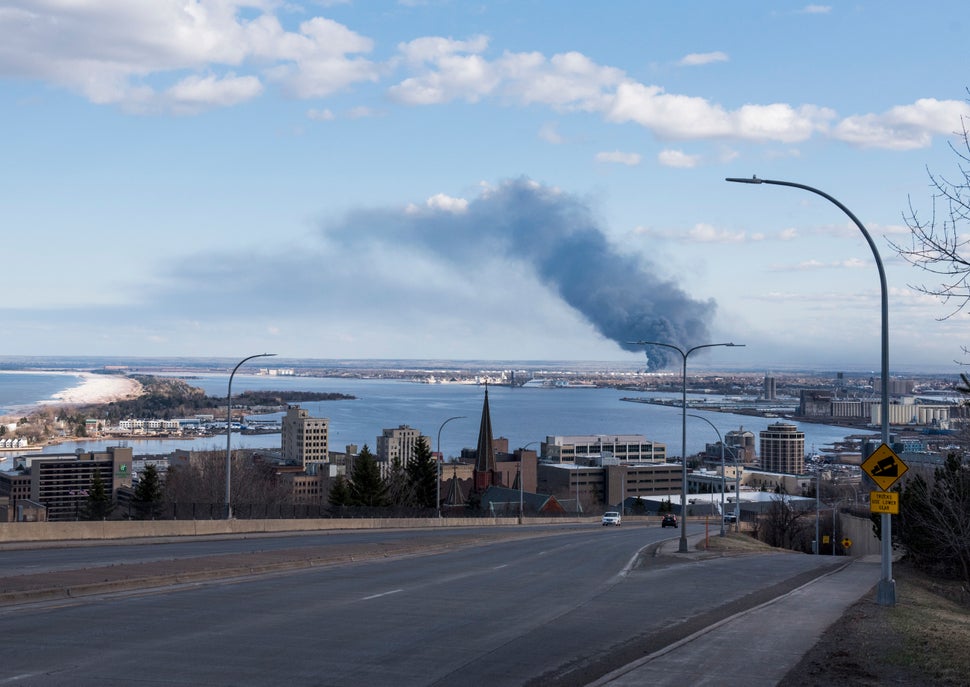 "He Was Leading The Marches"
Mitchell first rose to political prominence in 2011, when Walker and Republicans in Wisconsin's state legislature rammed through Act 10, a bill that stripped collective bargaining rights from the state's public sector unions. The bill excluded firefighters and police. Republicans hoped the exemption would keep unions representing first responders out of the political battle. Instead, Mitchell dove head-first into the fight. He was the Democrats' nominee for lieutenant governor during the unsuccessful 2012 recall election.
"He could've very easily stayed on the sidelines," Schaitberger said. "He was leading the marches. He was leading the protests." 
The opposition to the seven-year-old law clearly drives a lot of the energy behind Mitchell's bid for governor now. Mitchell has the backing of several unions, including the Service Employees International Union, the American Federation of State, County and Municipal Employees and the Wisconsin AFL-CIO. 
And he also touts his history at the firefighters' union as evidence that he can appeal to the white, working-class voters the Democrats need to win back over ― Mitchell says at least half of his union's members voted for Trump in 2016. He also successfully brought Milwaukee's conservative-leaning firefighters union back under the umbrella of the statewide union. 
His visit to Superior ― a six-hour drive from Wisconsin's population centers in Milwaukee and Madison ― was well received among the locals. "I feel like everything north of Eau Claire is Minnesota," one labor leader tells him during the roundtable.
"There's no doubt in my mind that the Democratic Party kind of writes off some parts of the state, just because they're like, 'They're all Republicans up there,'" Mitchell responds.
Yet Mitchell doesn't necessarily want to be known as a labor candidate ― he's quick to note he's held small business policy roundtables in addition to labor-focused ones. Because if there is one group Walker and his allies know how to demonize, it's unions. A recent radio ad from the Wisconsin Republican Party blasts Mitchell as "a Madison insider abusing his position" who used union dues as a "slush fund."
"If I could snap my fingers, I would repeal Act 10," Mitchell said in Superior. "[Walker] was trying to cripple the competition." But he quickly adds, "If all we talk about is Act 10, that plays right into Gov. Walker's hands." 
If I could snap my fingers, I would repeal Act 10.

Mahlon Mitchell, Democratic candidate for governor of Wisconsin
A Generational Choice
Mitchell will never get a chance to test himself against Walker if he fails to triumph in the Aug. 14 primary. A trio of public polls have shown Tony Evers with a double-digit lead, though at least one-third of voters are still undecided. Evers, 66, is Wisconsin's popular three-term superintendent of public instruction. A former high school principal and superintendent, he's emphasized education ― a weakness of Walker's. Some recent polling shows him topping the governor. Those strong poll numbers may only add to his advantage in the Democratic primary.
"What's best for our kids is what's best for our economy and our democracy," Evers said in a phone interview, summing up his message. "We can't let our higher and K-12 systems flounder for another for another four years."
Beyond his education focus, Evers backs a $15 minimum wage, a statewide referendum on legalizing marijuana, and improving the quality of the state's roads.
Like countless other elected officials seeking higher office before him, he spins his long tenure and age as a positive. "I'm the only primary candidate who's run something," Evers said. "I think qualifications count for something, and I think the people of Wisconsin know this." 
But Mitchell and other Democrats worry Evers may be too bland. 
"I have nothing bad to say about Tony Evers," Mitchell said. "He's like my grandfather."
Mitchell's other Democratic rival, Kelda Roys, claims she's the candidate best equipped to fire up the party's liberal base and win over swing voters. Like Mitchell, she's young ― she's 39 to his 41 ― and she's drawn national attention for an ad where she breast-fed her child. The Democratic primary, she argues, represents a "generational choice." 
At a press conference at the Brown County Democratic Party headquarters in Green Bay, she endorsed universal prekindergarten, preventing public money from going to charter schools, and finally taking Medicaid expansion money from the federal government.
"We can't win it with baby boomers," she said. "We need Generation X and millennials."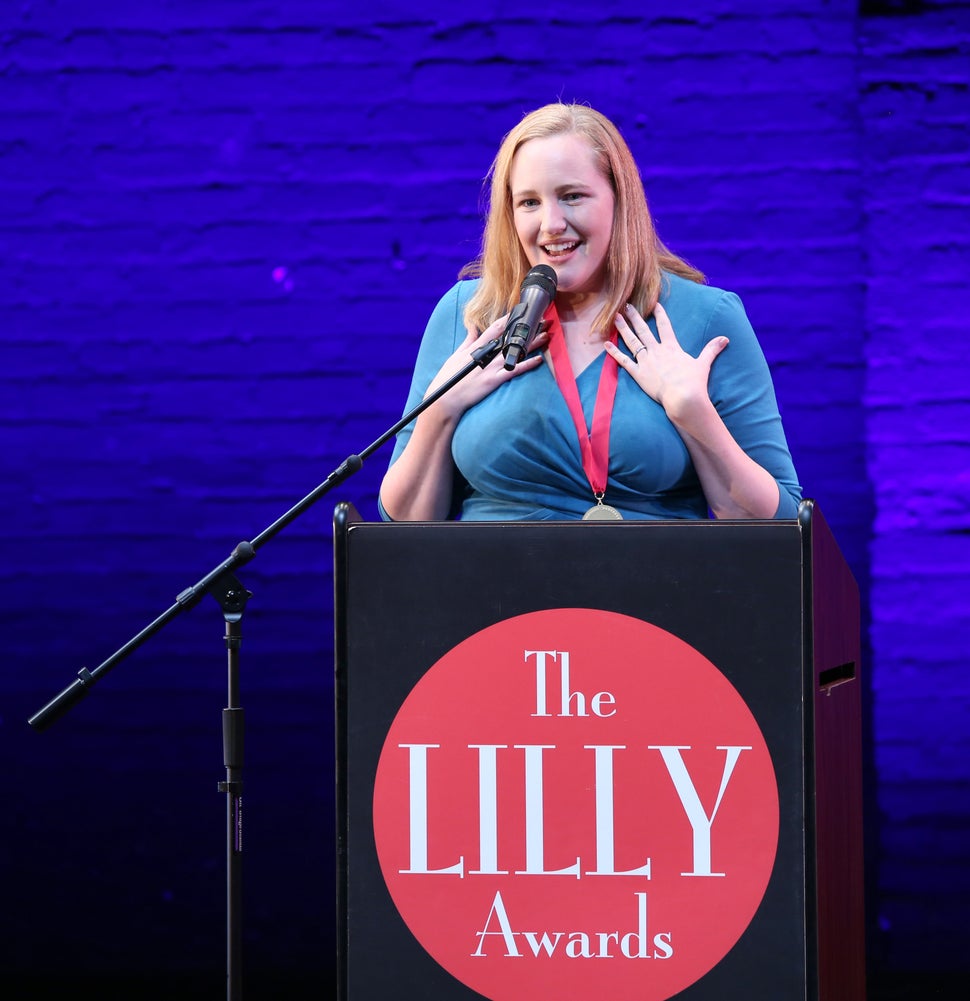 Roys has outspent her rivals on television ads ― she has spent about $250,000 ― and her first ad focused on the threat that Brett Kavanaugh's nomination to the Supreme Court poses to abortion rights. Wisconsin still has a law on the books criminalizing abortion, and Roys has promised to pardon anyone convicted under the law if Roe v. Wade is overturned.  
Many Democratic operatives think Roys has a better chance of catching Evers than Mitchell ― undecided voters in Democratic primaries this cycle have tended to break toward women. And she insists she's the candidate Walker should be most afraid of.
"He's never said my name," she claimed. "He doesn't have a plan to beat me." (The Wisconsin GOP has since released a radio ad attacking her for a plan to cut Wisconsin's prison population.)
National Democrats, cheered by Walker's low approval ratings but scarred by the Wisconsin GOP's history of political comebacks, have stayed out of the primary and are confident any of the three candidates can triumph over Walker. (There are two exceptions: California Sen. Kamala Harris has endorsed Mitchell, while New York Sen. Kirsten Gillibrand has endorsed Roys.)
"My Job Is To Run Into Burning Buildings"
Two days after his trip to Superior, Mitchell was at a senior center in the majority-black Harambee neighborhood in Milwaukee. An elderly crowd quizzed him about gun violence, about whether people in their community will be able to get jobs at a new Foxconn plant, and about voting rights. 
While a candidate's ability to stand up to Trump has been the dominant issue in some Democratic primaries this cycle, there's been less discussion about how to fight back against the president in Wisconsin, where the villains ― Walker, House Speaker Paul Ryan ― are closer to home. Still, it was about 12 minutes into the Q&A when a man stepped forward. "When you elected governor, are you going to be afraid to step up to Donald Trump?" he asked.
"My job is to run into burning buildings," Mitchell responded. "I'm not scared of any man."
Calling all HuffPost superfans!
Sign up for membership to become a founding member and help shape HuffPost's next chapter