A Yemeni-American father killed himself earlier this month after his family was barred from entering the country by the Trump administration's travel ban.
Salem's three youngest children are also American citizens, but his wife and two oldest kids were denied visas to join him because of President Donald Trump's travel ban. They were living in Djibouti in Africa when they got Salem's call and frantically reached out to a friend for help, according to NBC. The friend found Salem, 31, dead in the home in Crowley.
Mimun Salem, who lives in Michigan, blamed the immigration impediment for his younger brother's death.
"I'll say it's the first and main reason. I could give it 90 percent," he told NBC. "He cannot bring them here and at the same time, he cannot take them back to Yemen" because of the war ravaging that country.
There are thousands of Yemeni immigrants, many of them American citizens, who have been separated by family members due to the travel ban that bars people from seven predominantly Muslim nations. The Supreme Court upheld the ban last month.
The ban and Salem's death is part of a broader picture of the toll of harsh immigration policies by the Trump administration. After a series of four suicides by immigrants late last year and early this year in Baltimore following raids by Immigration and Customs Enforcement officers in the city, researchers at Johns Hopkins University began to gather data on immigrant suicide.
"Stress and depression in the immigrant community have always been there, but it is heightened now," Johns Hopkins psychiatrist Rheanna Platt told The Pew Center's Stateline. "I see more children being very distressed about the possibility that a parent will be deported."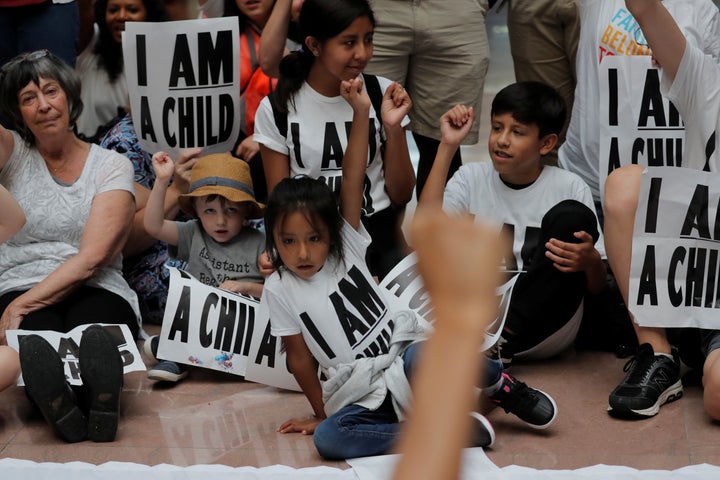 The littlest stress victims include children who were separated from families under Trump's "zero tolerance" policy for undocumented immigrants instituted in the spring. Though Health and Human Services reunited 1,800 children with their families by a court-ordered deadline on Thursday, more than 700 remained stranded in the U.S. system. Efficient reunifications were thwarted by shoddy record-keeping and the deportation of more than 400 parents while their children continued to be held in shelters, The Washington Post reported.
"The government is at fault for losing several hundred parents in the process," U.S. District Judge Dana Sabraw said on Thursday.
Sabraw, who had ordered the reunifications, said that "what was lost" in the government's process "was the family: The parents didn't know where the children were, and the children didn't know where the parents were. And the government didn't know either."
On Friday, a 15-year-old Honduran girl fled from an immigrant detention center in Florida, where she had been held for three weeks, the Post reported. She crouched out of sight in an auto shop in Homestead, distraught and crying. The shop's owner — a Cuban immigrant who said he supports Trump's tough immigration policies but not family separations — eventually flagged down a circling police van, and the unidentified girl was placed in handcuffs and taken back to the center.
As for Mahmood Salem's family, the U.S. government issued waivers for them to travel to America five days after his death, according to NBC. They arrived too late for his funeral.
Support HuffPost
The Stakes Have Never Been Higher
Popular in the Community