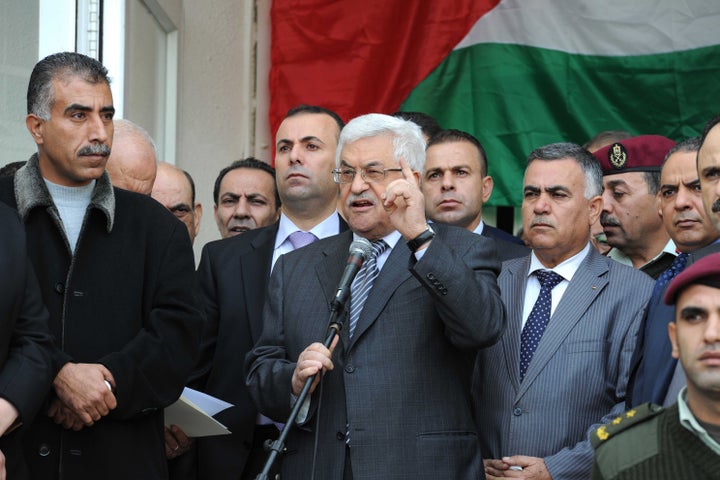 Mahmoud Abbas's drive for unilateral Palestinian recognition at the United Nations is like a train running full steam ahead -- except this one is going the wrong direction. It is a move that will intensify rather than end the conflict, setting the entire peace process back by decades.
Having failed to achieve recognition of Palestinian statehood where it really mattered, at the UN Security Council last year, this Thursday, President Abbas will go to the UN General Assembly, where he has submitted a draft resolution seeking to elevate the Palestinians' status from an 'Observer Entity' to 'Non-Member State.'
Abba Eban, the famous Israeli diplomat and former Ambassador to the UN, once quipped that "if Algeria introduced a resolution declaring that the earth was flat and that Israel had flattened it, it would pass by a vote of 164 to 13 with 26 abstentions."
Eban's sentiment is indicative of the Palestinians' automatic anti-Israeli majority at the UN General Assembly, where Abbas's resolution is guaranteed to pass.
Abbas has repeatedly said that he is going to the UN in order to seek a "just peace." However, his comments are inconsistent at best, and his actions are misleading and contrary at worst.
More accurately, the Palestinians' UN bid is part of their larger ongoing 'lawfare' campaign against the Jewish state, whereby they have sought to manipulate and abuse international law for political purposes.
In a New York Times op-ed in May 2011, Abbas was very explicit, when he revealed his true intentions, saying:
"Palestine's admission to the United Nations would pave the way for the internationalization of the conflict as a legal matter, not only a political one. It would also pave the way for us to pursue claims against Israel at the United Nations, human rights treaty bodies and the International Court of Justice."
The truth of the matter is, had Abbas really wanted a "just peace," he would have accepted any one of the umpteenth number of offers from this Israeli government to negotiate a Two-State Solution without pre-conditions in the last four years.
Instead, Abbas shunned each one of those requests -- including during Israel's historic settlement freeze in 2009/10 and has sought to embrace Hamas (which is deemed a terrorist organization by both the United States and the EU) into his government.
In fact just this week, in the aftermath of Israel's war with Hamas in Gaza, the Aksa Martyrs' Brigades, a terrorist group affiliated with Abbas's Fatah party, proudly proclaimed to reporters that they too fought alongside Hamas, firing as many as 500 rockets at Israel.
Is this really the sign of someone who seeks a "just peace?"
In going to the UN, Abbas risks damaging the entire peace process beyond repair, and in the process crushing the hopes of millions of his own people.
Firstly, it would open a 'pandora's box' of potential responses from Israel, including annexation of land, withholding of PA tax revenue and even circumventing Abbas altogether on key policy decisions regarding security and the economy. Simply put, Israel would not be able to stand idly by in the face of what Foreign Minister Liberman has called Abbas's "diplomatic terror."
It would also constitute a fundamental breach of the Oslo Accords, to which Abbas himself signed on behalf of the PLO in 1993.
Furthermore, it would severely undermine previous UN Security Council resolutions, specifically Resolutions 242 and 338, which call for 'agreement' and 'negotiations' between the parties as a means of establishing a just and durable peace. Both resolutions, together with the Oslo Accords, are the backbone to the entire peace process.
This gambit will also undo many years of cooperation and achievement between Israel and the Palestinian Authority, primarily in the areas of joint security and economic development, which have produced significant gains, particularly in the West Bank.
The international community must consider all these factors before casting their ballot on November 29.
The United States has repeatedly said that direct negotiations are the only way to achieve a comprehensive and lasting resolution to the conflict, a call that has been echoed an equal number of times by Catherine Ashton, the EU Foreign Policy Chief. Regrettably, both calls have fallen on deaf ears in Ramallah.
The entities consisting of the Quartet, including the United Nations and the EU, together with the U.S. and Russia have been the guardians of the peace process. It is therefore incumbent upon them to uphold past agreements between the two sides instead of acquiescing to the Palestinians' destructive demands or allowing them to believe they can act with impunity. In view of the fact that Abbas's resolution will be voted on this Thursday, anything less than a vote 'against' would be a derogation of that duty.
Ultimately, a successful vote at the UN General Assembly will not help the Palestinians realize their elusive dream of an independent state. This will be no more than a hollow 'victory' that will push the two sides even further apart.
A 'just peace' will only come about through painful compromises in the context of a negotiated settlement.
REAL LIFE. REAL NEWS. REAL VOICES.
Help us tell more of the stories that matter from voices that too often remain unheard.