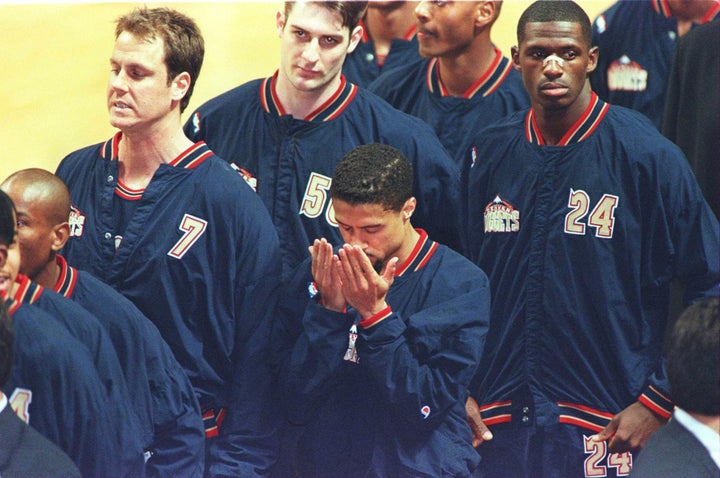 The biggest moment of Mahmoud Abdul-Rauf's NBA career came on the bench. On an otherwise mundane March night, as his Denver Nuggets slumped toward the end of a season in which they'd miss the playoffs, Abdul-Rauf, a devout Muslim, sat quietly as the rest of his teammates -- and everyone else in the arena -- stood for the playing of "The Star-Spangled Banner."
For two decades, that moment has defined the former sharpshooter's legacy. But as the 20th anniversary of Abdul-Rauf's refusal to stand for the anthem approached this year, it was another player -- one who could knock down more three-pointers than Abdul-Rauf ever did -- who put his name back in the headlines. Not because of the protest, but for all of the qualities of his game that incident has at times overshadowed.
This season of Stephen Curry has left the basketball world searching for comparisons. And three weeks ago, as Curry lit up the Oklahoma City Thunder and surpassed his own single-season three-point record with still 23 games to play, Phil Jackson finally thought he'd found the one.
So the New York Knicks president, who won 13 titles as a player and head coach in the NBA, took to Twitter to remind the world of a name from the past.
The social media response bordered on outrage. Mahmoud Abdul-Rauf -- who was known as Chris Jackson before he converted to Islam in 1991 and changed his name two years later -- was a 35 percent career three-point shooter, hardly in Curry's realm. But to others, like Dale Brown, who coached Abdul-Rauf at Louisiana State University nearly 30 years ago, it made perfect sense.
"I said it a year or two ago!" Brown told The Huffington Post recently. "Chris Jackson was Steph Curry before Steph Curry was Steph Curry."
Once upon a time, Mahmoud Abdul-Rauf was one of the deadliest shooters in the history of college basketball, a two-time All-American at LSU and then a lottery pick who, in nine seasons in the NBA, flashed that same ability against some of the sport's biggest names.
In making the comparison to Curry, Jackson meant only to remind the world of Abdul-Rauf's brilliance on the court. But given its proximity to the anniversary of Abdul-Rauf's protest, the tweet also prompts questions: Whatever happened to him, and has his significance as a player, and as something more, been forgotten?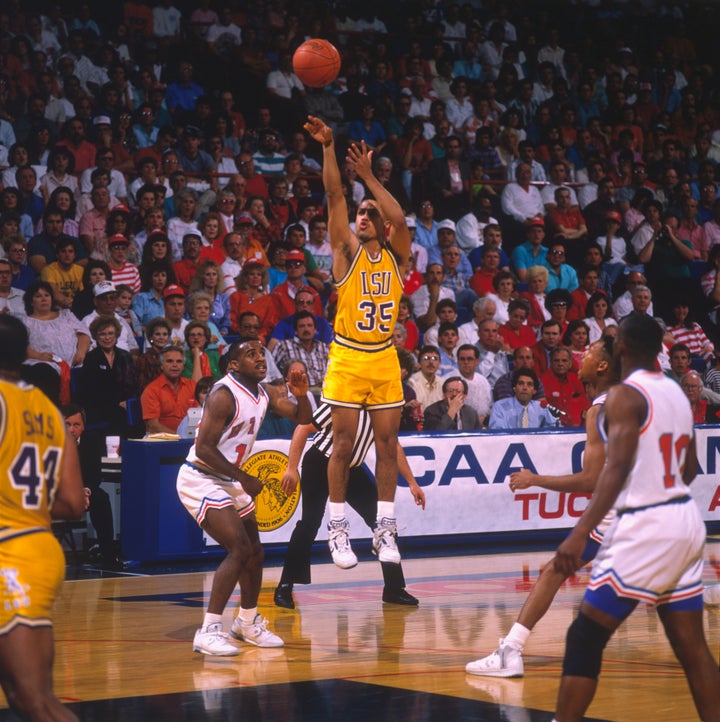 Brown lured Jackson to LSU in 1988 from Gulfport, Mississippi, where the point guard had already developed into a deadly scorer with a silk-smooth jump shot that left his high school opponents in awe. Jackson had grown up poor in Gulfport. He never knew his father, and suffered from Tourette's syndrome, a neurological disorder that caused tics, but that Brown said also spawned the obscene focus that created his magical shooting stroke.
Jackson was a shy, quiet, humble kid, even when he arrived at LSU as one of the country's top high school recruits. His first game in an LSU uniform, Jackson started and helped the Tigers to a win over Marist, and told reporters that he was thrilled to be there and happy with the number of looks Brown's offense gave him (official stats are hard to come by, but Brown recalled that Jackson scored 13 points).
But as they walked out of the Maravich Assembly Center, LSU's home arena, Brown pulled Jackson aside and told the young freshman to never act like that in front of the press again. Jackson was terrified he'd let his new coach down.
"Son, let me say something to you," Brown told him. "You have unlimited shooting skills. Don't look over at the bench. You shoot anytime you want. I'll tell you if it's a bad shot, and you don't have to worry about it. You're such a deadly shooter, you go ahead and do it."
He never had to remind Jackson again. Two weeks later, Jackson scored 48 points against Louisiana Tech in just his third college game. In his first road trip in conference play, on Dec. 10, 1988, he hung 53 on Florida.
Jackson scored 965 points that year -- his 30.2 points per game average is still a record for a college freshman.
Over his two seasons in Baton Rouge, Jackson's dedication to the game became the stuff of lore. There were gym sessions, Brown recalled, where Jackson refused to leave until he hit 300 consecutive free throws.
Jackson left for the NBA after his sophomore season, and the Denver Nuggets traded two picks to take him with the third overall selection in the 1990 NBA Draft.
As a matter of timing -- the NCAA didn't adopt the three-point line until the season before he arrived at LSU -- Jackson's bombs-away approach to shooting made him something of a revolutionary college basketball player.
Jackson scored 48 points in just his third NBA game, but he never quite developed into the force Curry became later. Jackson never made more than 39 percent of his three-pointers in any single season. Curry, by contrast, has a 44 percent career mark from distance, and has never made less than 42 percent in a season.
But the same stylistic traits that define Curry's game -- the quick release, the ability to shimmy his way into open space, the effortless way in which he scores even when he wasn't open, and the sense that no lead is safe if he's on the floor -- were present in Abdul-Rauf's too, even in an era when the three-pointer and the score-first point guard weren't as celebrated as they are now.
"Beyond him and Steph shooting, they're so much alike," Brown said. "He can get free any time he wants to, and then, if the lane gets plugged up, he's got the great ability to shoot the little floater, just like Steph can. They're almost contortionists with the basketball. There's so many similarities. Quicker, faster than a speeding bullet."
Bryant Stith, who played with Abdul-Rauf in Denver and has known him since they were teammates at a Nike recruiting camp as high school seniors, wonders how Abdul-Rauf might have fared in today's NBA, which has begun to reckon with the true value of the three-pointer and allows guards like Curry so much space to improvise and dictate offenses with their scoring ability.
"If Mahmoud had the freedom to shoot and score in an offense that was so wide open," Stith pondered, "I don't know if he would be able to put up the same type of numbers Steph Curry is putting up now, but he'd probably be the closest person that could do those things. ... The numbers he'd have put up would have been unbelievable."
Every now and then, he got that chance. On Dec. 8, 1995, Abdul-Rauf walked into Salt Lake City and set the Utah Jazz ablaze.
The performance -- Abdul-Rauf finished with 51 points -- featured moments in which fans could see the same type of whirling, frantic, that-can't-be-possible flair that Curry has perfected. To suggest that Abdul-Rauf helped create the mold that Curry is now shattering isn't absurd.
But three months after that Jazz game, Abdul-Rauf's career came crashing down.
"After the national anthem fiasco, nobody really wanted to touch me.""
The night of March 10, 1996, started like almost any other that season. Abdul-Rauf went through warm-ups, returned to the locker room to dress for the game, and walked out with his teammates for the normal pre-game rituals. When the first chord of "The Star Spangled Banner" struck, though, and the rest of his teammates stood in front of the Nuggets bench, Abdul-Rauf sat down.
In truth, he hadn't participated in the typical anthem ritual for most of that season. Sometimes he'd stretch through it, other nights he remained in the locker room and only joined his team on the court once it was over. But on this night, a local reporter noticed him sitting there, and wrote up a small story for the next day's paper.
By the next morning, Abdul-Rauf's silent gesture was national news, and his mailbox was flooded with death threats.
The protest, he said at the time, was meant to draw attention to the fact that the American flag was "a symbol of tyranny, of oppression." It was out of line with his Islamic faith, he said, to honor it.
"This country has a long history of that," he said. "I don't think you can argue the facts. You can't be for God and for oppression. It's clear in the Koran, Islam is the only way. I don't criticize those who stand, so don't criticize me for sitting. I won't waver from my decision."
"I am also a man who tries to perfect my life on and off the court, and someone who tries to be sincere in my treatment of my fellow human beings, and sincere in any activity that I undertake," Abdul-Rauf said in the days after the controversy erupted. "Therefore, it is my understanding that 100 percent honesty and sincerity is the requirement for participation in the national anthem. As such, I chose not to disrespect anyone and remain in the locker room or hallway area while the anthem was being played."
Two days after that game, on March 12, NBA commissioner David Stern suspended Abdul-Rauf indefinitely. He sat out one game -- forfeiting a $31,700 game check -- before striking a compromise with the league: He had to stand, but he could bow his head and close his eyes to pray if he wanted.
Abdul-Rauf still showed flashes of brilliance in the season's final months. He lit up Michael Jordan and the Chicago Bulls for 32 points in May. But his career would never be the same.
The Nuggets traded Abdul-Rauf to Sacramento immediately after the season ended. It seemed like a move meant to dump the "controversial guard," as the Los Angeles Times described him in a story about the trade, given that the Nuggets only received a second-round pick and Kings shooting guard Salunas Marciulionis (who played only 17 games in Denver before retiring after the 1997 season) for a player who'd averaged nearly 20 points per game the season prior.
Two seasons later, Abdul-Rauf was out of the NBA. His final year in Sacramento was disastrous -- he shot just 16 percent from behind the arc. After a year stint in the Turkish league, he caught one final chance with the Vancouver Grizzlies in 2000. He averaged 6.5 points and shot 28 percent from three in 41 games, and once the season ended, so did his NBA career.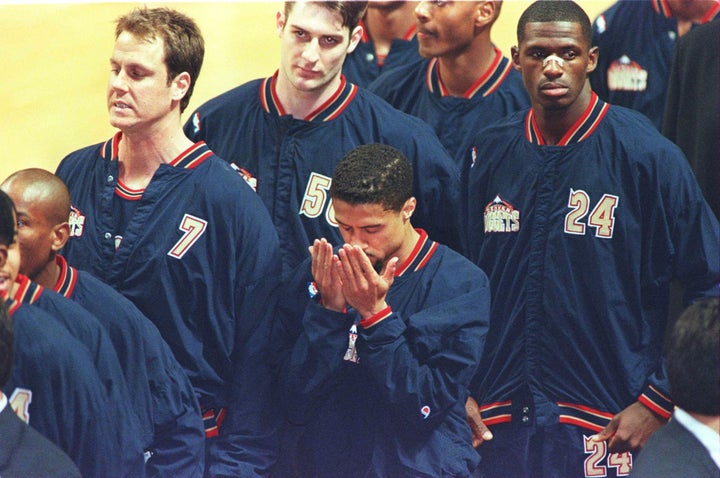 For Brown, it was a shock that Abdul-Rauf became the focal point of one of the biggest off-the-court controversies of his time. After all, his star point guard had always been a straight arrow. Once, he recalled, both he and Abdul-Rauf delivered Christmas turkeys to families in Baton Rouge. Abdul-Rauf asked him to turn off the music in the car as they drove past a church, saying he felt it was disrespectful to God.
When Abdul-Rauf converted to Islam, he didn't hide it from his teammates. He fasted during Ramadan each season, and his teammates were aware of his stance on the anthem long before it became public.
"We knew that Mahmoud was very devout in his beliefs," Stith, now an assistant coach at Old Dominion University, said. "We knew that he took them seriously, and we respected that."
Other players felt similarly, and the NBA Players Association backed him up in fighting the league's suspension.
"He's a good kid," Michael Jordan said at the time. "He's got his beliefs, and I may not agree with them, but I give him all the credit for trying to stick to them."
But fans, the NBA and perhaps even those in charge of his franchise were uncomfortable with the gesture.
Sports in the 1990s were relatively free of political protest, and geopolitical events made Abdul-Rauf's stance against the flag ripe for outrage. Just three years prior, Islamic terrorists had bombed the World Trade Center in New York City, and the memories of that -- and of a war in the Persian Gulf -- were still fresh in the nation's mind.
The controversy even began taking a toll on his teammates. When Abdul-Rauf returned to the floor against Chicago after his suspension, fans belted the national anthem with passion and a volume that Stith had never heard before a game. Secret Service officers often accompanied Nuggets players into opposing arenas to guide them past waiting protesters.
"It increased the amount of pressure on Mahmoud, it increased the amount of pressure on the Nuggets organization," Stith said. "I don't think the Nuggets organization wanted to deal with that negativity at the time."
After his NBA career ended, Abdul-Rauf briefly returned to Gulfport, his hometown, where he planned to build a Muslim center. But it was burned to the ground in 2001 in what he considered a hate crime (authorities did not pursue it as such). He traveled the world playing in foreign leagues over the ensuing years, making stops in Europe and Japan. By 2007, he was living outside Atlanta, raising five children with his wife -- and still receiving hate mail about that night in March 1996, according to a story about him in Denver's 5280 magazine.
Brown saw Abdul-Rauf not long ago, and said that his former player has remained committed to charitable work in underserved communities, just as he was when he and Brown used to deliver turkeys during the holidays. Stith hasn't talked to him since the Nuggets traded him to Sacramento.
But Abdul-Rauf rarely speaks to the media now, and even as the anniversary of the protest approached -- at a time when the country is dealing with and debating many of the very issues he raised -- little is known about what he's doing now.
For months, I have tried to track down Abdul-Rauf to talk about that moment he refused to stand for the national anthem, and the days and years that followed, as the 20th anniversary approached.
Even before Phil Jackson's tweets, I wanted to ask about Curry, and whether he saw himself in the NBA's biggest star. Could he have been that player, or something like it, in this era, in a league that was learning the true value of the shot he excelled at?
And if he was before his era as a guard, might he have been a generation early as an athlete willing to take a stand too?
But more than that, I was curious about his view on how it might have been accepted today, at a time when prominent NBA players like LeBron James, Dwyane Wade, Derrick Rose and Chris Paul have used on-court demonstrations and social media to protest police killings of young black men, and the idea of athletes -- and those of color, in particular -- taking stands against issues they see as injustices is less foreign than it was when Abdul-Rauf sat down.
I wondered if Abdul-Rauf thought the sports world -- and the media environment around it -- had changed in a way that might lend more compassion and nuance to the point he was trying to make, and whether the NBA might treat his gesture differently today.
Or, would he tell me that we hadn't changed at all? America, after all, is a country that in 2016 is still fighting multi-front wars in two Muslim countries. It is a nation in the midst of a presidential campaign in which a bombastic billionaire has called Muslims the enemy of the United States, openly suggested that we ban Muslim immigrants from entering the country, and promised to target the families and children of suspected Islamic terrorists abroad. Do the messages his protest sent matter even more today than they did 20 years ago?
But Abdul-Rauf didn't answer when I reached out via Facebook or through an email account listed on a little-used Twitter page. His agent took a request for Abdul-Rauf over phone, and then again over email, but stopped replying. Brown asked him to call, but he didn't.
David Stern, who stepped down as commissioner in 2014, was not available to comment for this story, according to the NBA. Aside from Stith, several of his former Nuggets teammates either declined or did not respond to requests for comment.
Abdul-Rauf's Facebook page tells the story of a man still deeply committed to the issues his moment of protest raised. He regularly shares memes about Islam and an assortment of political topics. A recent post features a picture of Malala Yousafzai, the Pakistani activist and youngest-ever Nobel Prize laureate, with one of her most famous quotes chalked on a blackboard behind her: "With guns, you can kill terrorists," it says. "With education, you can kill terrorism."
Another belies his feelings about Donald Trump and his campaign for the Republican presidential nomination. It cites a recent Stephen King tweet that read, "Conservatives who for 8 years sowed the dragon's teeth of partisan politics are horrified to discover they have grown an actual dragon."
Brown, who still talks to him regularly, said that Abdul-Rauf is still the same as he was all those years ago.
"He's the kind of guy who is so humble, so gracious, so spiritual, there's an aura around him," Brown said. "He's just a beautiful human being."
"And," he added, "he could play right now."
Brown wasn't surprised that Abdul-Rauf didn't want to talk -- about the Steph comparisons or the protest -- even as he tried to connect us. The incident in Denver, Brown said, has always been misunderstood, our attention focused on the act itself instead of the meaning behind it.
"What he was trying to do, he was just trying to say, 'We need America to unite and eliminate poverty and prejudice, and love one another,'" Brown said. "That's what he was trying to do. It wasn't anti-USA or anything."
"I'm 80 years old," the former LSU coach said. "I'd like to be more like Mahmoud Abdul-Rauf."
Popular in the Community