At a Japanese maid cafe, customers pay good money to be pampered by cute, young girls in frilly costumes.
The role-play goes pretty far. Waitresses will get on hand and knees to take orders from "Master." Some even offer ear-cleaning and spoon-feeding. *SEE PHOTOS BELOW*
There are dozens of cosplay cafes in Tokyo's Akihabara district. On weekends, lonely boys line up for a plate of ketchup-rice decorated by their favorite maid.
These eateries are an odd but harmless fantasy -- a space where nerdy "otaku" can get attention from anime and manga heroines. Some develop warm "moe" crushes on their favorite maid. For a few hundred yen, customers can buy decorated Polaroids, or capsule toys from "gashapon" machines.
Japanese maids are elusive creatures. Most of these cafes ban photography, since they cash in by selling photos of the girls. Try to take a photo of a maid handing out flyers in the street, and she'll cover her face and walk away.
Here's a selection of my photos from various Japanese maid cafes. Which girl would you like to play rock-paper-scissors with?
Melty Cure
3F, 4-6-2 Sotokanda, Chiyoda-ku, Tokyo, Japan
Nearest station: Akihabara or Suehirocho
Open: Mon-Fri (1-9pm), Sat-Sun (12-10pm)
Tel: 03-3254-7557
MIA Cafe
Riverside Seven Bldg. 3F, 2-7-9, Sotokanda, Chiyoda-ku, Tokyo, Japan
Nearest station: Akihabara or Suehirocho
Open: Mon-Fri (12-10pm), Sat-Sun (11am-10pm)
Tel: 03-6804-3771
Cafe Mai:lish
FH Kyowa Square Bldg. 2F, 3-6-2 Sotokanda, Chiyoda-ku, Tokyo, Japan
Nearest station: Akihabara or Suehirocho
Open: Daily (11am-10pm)
Tel: 03-5289-7310
Cos-Cha Cafe
Isamiya Dai 8 Bldg. 2F, 3-7-12, Sotokanda, Chiyoda-ku, Tokyo, Japan
Nearest station: Akihabara or Suehirocho
Open: Daily (5-10pm)
Tel: 03-3253-4560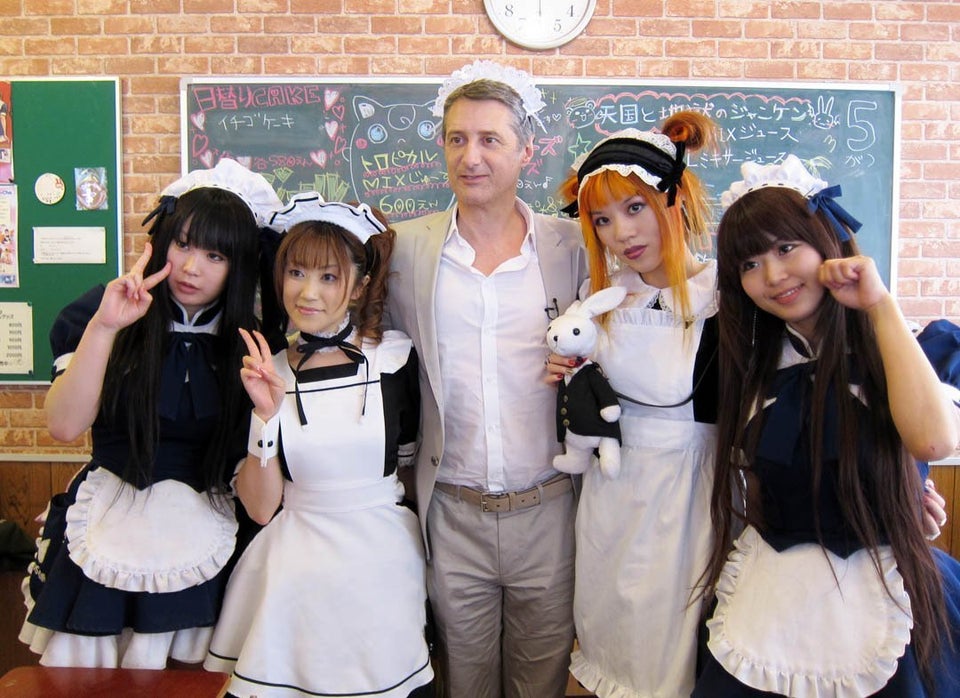 A peek inside Tokyo's maid cafes
Related