The man arrested on suspicion of mailing at least a dozen suspicious packages to Democrats criticized by Donald Trump is a big fan of the president, with a long criminal history.
Cesar Sayoc, 56, was taken into custody by federal authorities on Friday in Plantation, Florida, according to multiple press accounts. Law enforcement also took possession of a van covered in stickers supporting Trump and criticizing Democratic officials.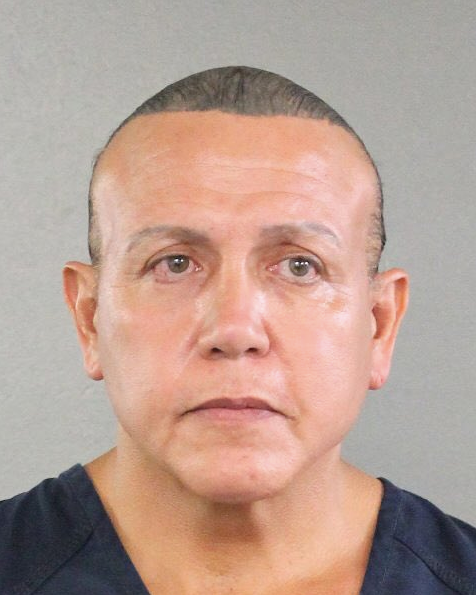 Sayoc is a registered Republican and called himself a promoter and booking agent. He was also an amateur bodybuilder and worked as a stripper, according to The Associated Press. He was once sentenced to probation for a bomb threat, the AP reported.
According to The New York Times, Sayoc threatened a power company customer representative in a dispute over a utility bill. He said the bombing would be worse "than 9/11" and that he planned to blow the agent's head off, according to records released by the Miami-Dade state attorney's office, the Times reported.
Sayoc appeared to be living for years in his van, which was parked in a lot outside a strip mall in Aventura, Florida, and was showering at a nearby beach or at a local fitness center, according to the AP. The van was plastered with pro-Trump slogans, photos of the president and at least one sticker saying, "CNN sucks."
Some of Sayoc's social media posts appeared to suggest he was a member of Florida's Seminole tribe. Relative Lenny Altieri told the Times that Sayoc's mother was from Brooklyn and his father was from the Philippines. He was raised by his grandparents, Altieri told the Times.
He was arrested numerous times, including for felony grand theft in the third degree in November 2013; he pleaded guilty the next year. He was found guilty of a misdemeanor retail theft charge that stemmed from a May 2015 incident, along with multiple traffic violations.
Sayoc declared bankruptcy in 2012, when he had $21,109 in liabilities. The filing indicated he lived with his mother, owned an 11-year-old Chevy Tahoe with 285,000 miles on it, had collected unemployment and was working as a store manager. His attorney's office was flooded with phone calls after his name emerged.
A Twitter account made in 2016 that appears to belong to the suspect has more than 1,000 images, many dedicated to baseless conspiracy theories. A spam of posts from this year all claim that Parkland, Florida, school shooting survivor David Hogg was a protester paid by billionaire George Soros. Another post claims Rep. Maxine Waters (D-Calif.) took money from the Russians and is a "poverty pimp." And in a July post, he claims that Rep. Debbie Wasserman Schultz (D-Fla.) is known for "ripping off the elderly." Soros, Waters and Wasserman Schultz were all targets of suspicious packages this week.
Other intended recipients of the packages included former President Barack Obama, former Vice President Joe Biden, Hillary Clinton, Robert De Niro, former Attorney General Eric Holder, Sen. Cory Booker (D-N.J.) and former CIA Director John Brennan.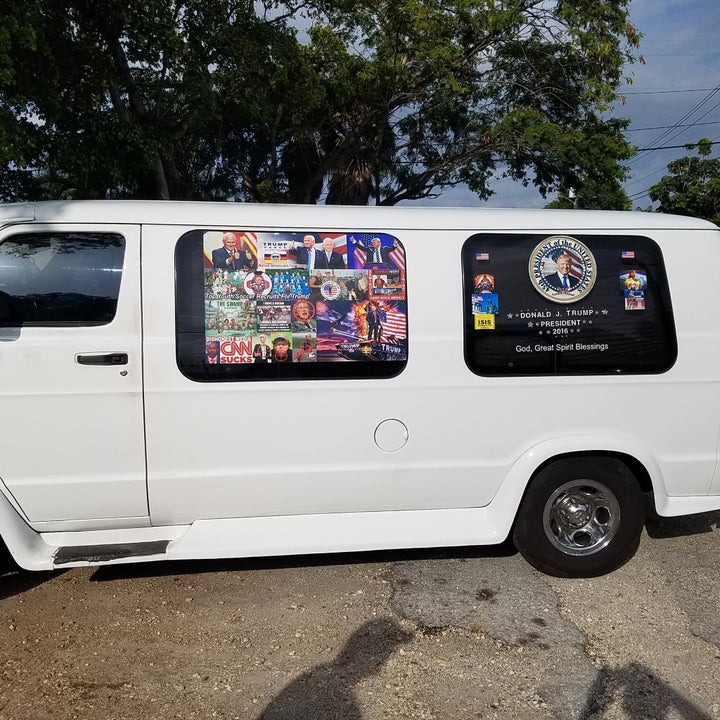 A Tampa resident who said he encountered Sayoc in a hotel parking lot in Miami last May told HuffPost that the suspect was quirky — given the stickers on his van — but didn't seem "violent" during their hourlong conversation.
"He wasn't talking violent or anything like that but basically talked about fake news, Obama, Hillary Clinton, stuff like that. He said his family didn't agree with him, that he only associated with other Trump supporters," said the man, who asked to be identified only by his first name, Korey.
When Korey, a 40-year-old black Trump supporter, saw the van on TV Friday morning, he immediately identified it as Sayoc's. Korey said he couldn't believe the "regular Republican" he had spoken to was the bomb suspect.
"It was crazy, man. He never said nothing verbally hateful. He didn't say, 'I want to kill Obama.' He railed against him but never threatened," Korey said.
Korey said he was one of those who initially believed the bombs being sent to top Democrats were a false flag operation perpetrated by the left, as Trump implied Friday morning.
"I was thinking it too. I thought it was someone doing this to send a message to scare people. Maybe a Democrat," he said. "Finding out that this guy did it — it was kinda like, I can see him doing it, just due to how much support or how passionate he was about the news media and Hillary Clinton. I put two and two together, and now I'm like, wow, he really was crazy."
This is a developing story and will be updated.
Support HuffPost
The Stakes Have Never Been Higher
Popular in the Community