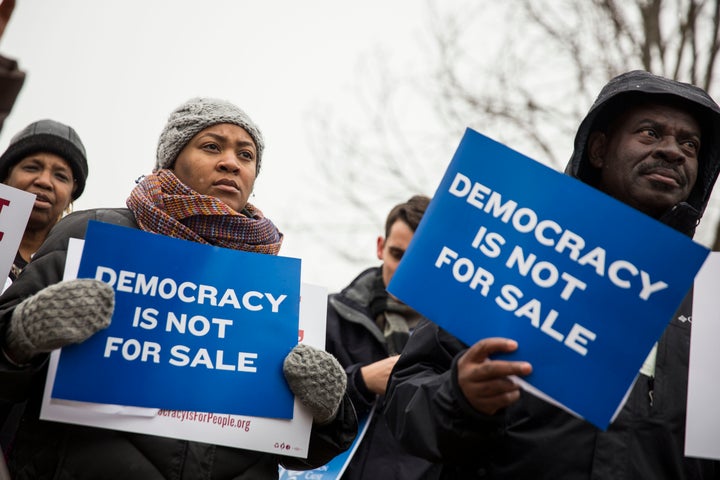 WASHINGTON -- In 1996, Maine became the first state to enact a public financing system for statewide elections, inspiring other places, including Arizona, Connecticut and New York City, to follow suit. This year, Maine hopes to blaze a trail again by becoming the first state to fix the heavy damage visited on its system by multiple Supreme Court decisions.
The system that Maine residents passed in a referendum vote in 1996 provided candidates with a lump sum of public funds if they met a threshold of fundraising in $5 increments from voters in their districts. Candidates were further provided matching funds if their opponent was funding their campaign with their own money, or if an outside group was spending money on the race over a certain amount. Debuting in 2000, the Maine system, known as "clean elections," worked better and better with each election cycle. By 2008, 85 percent of legislators were running with public funds.
"Maine's law in '96 was a landmark," said David Donnelly, president of the campaign finance reform group Every Voice and the head of the campaign to enact Maine's 1996 initiative. "It was the first of its kind in the country. People all around the country work to replicate it... The experiment worked -- not just the fine details of it, but that you can create a system of small donations."
The idea was to provide a path for candidates to run even if they didn't come armed with a network of wealthy donors willing to give $1,000 or $5,000. Passage of the referendum allowed waitresses, teachers, firefighters, convenience store clerks and others to run for office and win. Women benefited especially, running in greater numbers than had been possible before. Thanks to public funding, the state soon had the most blue-collar legislature in the country.
Deb Simpson, who served in the state legislature from 2000 to 2010, was a single mother working as a waitress in Auburn when she first ran for office, using public funds from the clean elections system. In a 2006 interview, Simpson said that the public funding system gave her "the resources without having to figure out how to ask for money from donors when I really didn't live in that world."
But in 2010, the Supreme Court expanded the ability of corporations and unions -- and, ultimately, wealthy individuals -- to influence elections by spending through outside groups. And in 2011, the high court found that providing public funds to match outside groups and self-funding candidates was a limit on the free-speech rights of those groups and candidates. Participation in Maine's public funding system dropped to 51 percent in the 2014 election as the state was inundated with outside group spending and public funding participants were left with no backstop of matching funds.
In the spring of 2014, activists in the state began organizing to fix the law as best they could within the constitutional bounds established by the Supreme Court. They collected nearly 80,000 valid signatures to place a new referendum on the ballot that aims to fix and expand the public funding system. Maine's voters will go to the polls on Nov. 3.
The referendum proposes three types of reform to the current system. It would replace the now-nullified matching fund system, for when a self-funding candidate or an outside group spends big in a race, with a program to allow candidates to continue to collect $5 checks and to qualify for another grant of public funds if such circumstances arise.
The referendum would further increase disclosure by requiring all express political advertising by outside groups -- be they unions, super PACs or nonprofits -- to display a disclaimer showing the group's name and its top three donors. It would also require gubernatorial transition committees and inauguration committees to disclose their own donors. Lastly, the referendum would increase penalties for campaign finance violations.
The push to fix Maine's clean elections law comes amid growing discontent about the role of money in politics at all levels of government. Since the Citizens United decision, politicians have increasingly had to fete millionaires and billionaires for six- and seven-figure contributions to super PACs and dark-money nonprofits. Corporate treasuries are now tapped to give to dark-money groups like the U.S. Chamber of Commerce. As of the midway point of 2015, the majority of presidential election funds for the 2016 race had come from donors giving $100,000 or more.
Those organizing to fix Maine's system hope to show that there is a way forward for empowering ordinary citizens even in the oligarchic world created by the Supreme Court.
"I'm really eager, and the people here in Maine are really eager, to win this," said Andrew Bossie, head of Maine Citizens for Clean Elections, the principal group backing the referendum. "Not just because we want to win in Maine, but because we want to see this issue of money in politics, which people are cynical about -- we want to show them that something can be done."
"If you care about public financing like I do, you come to states like Maine and there's a little more oxygen in the air," Sarbanes told The Huffington Post. "It just makes you that much more determined to make it happen at the national level."
Sarbanes predicted that as more states enact working public financing systems, there will be more legislators with experience using them.
Maine's referendum has the support of Democrats, Republicans and independents in the state. So far, it has faced no funded opposition.
Supporters of the clean elections system hope that fixing it can serve as a model for other states -- and that it will help reduce the distance people feel between themselves and their representatives.
"One of the people that I was talking to in Bangor said, 'I like clean elections because five dollars makes me a political player,'" Bossie said. "I certainly don't think you'd say that in Congress, but we have a role in government. It's encouraging us to have a role in government -- everyone."
"Even for some people, five dollars is a stretch," he went on. "They're struggling. And those are the people we need to hear from. That's the system that we propose to fix."
CORRECTION: This article previously stated that New York City enacted a public financing system after the state of Maine did. In fact, the city established its system in 1988.
Popular in the Community