 WASHINGTON -- The most important thing to know about the Republican caucuses in Maine that will report their results Saturday night is that turnout four years ago was extremely low.
How low? Four years ago, just 5,338 Republicans participated. Total. In a state with just over a million adults eligible to vote, that amounts to a turnout rate of 0.52 percent.
How low? By comparison, as a percentage of the voting-eligible population, the turnouts for this month's Colorado, Minnesota and Nevada caucuses were 2 to 3 times higher. The turnout for Iowa's caucuses in early January was more than 12 times higher.
How low? The turnout rate for Maine's 2008 Republican Caucuses was even lower than the turnout for the Ames Iowa Straw Poll in August, both in absolute terms (Ames attracted 16,892 Iowa Republicans) and as a percentage of Iowa's eligible adults (0.75 percent).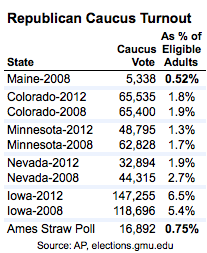 Keep in mind that first two winners of the Ames Straw poll -- Rep. Michele Bachmann (R-Minn.), with 29 percent, and Rep. Ron Paul (R-Texas), 28 percent -- went on to receive far less support in the full Iowa caucuses in January (5 and 21 percent respectively).
The lesson from the Ames Straw Poll is that a combination of strong organization and die-hard support can combine to produce unpredictable results in extremely low turnout contests. Paul's campaign had that combination for the Ames vote and may well have it again Saturday in Maine.
Anecdotal reports, however, suggest that this may be Paul's best chance for a victory: Exeter Patch reports that Paul's supporters turned out in force Saturday morning at one Maine caucus site.
"His people are the most organized here," according to one caucus worker. Patch reporter Jason Claffery also found "zero presence" for the Gingrich and Santorum campaigns.
"Ron Paul has made a strong play for Maine," the Associated Press reports, "making it essentially a two-man contest since Newt Gingrich and Rick Santorum aren't actively competing there." Meanwhile, according to AP, Mitt Romney's campaign and affiliated super PAC have been "all but absent" from Maine with a "virtually nonexistent" television advertising presence.
Finally, Public Policy Polling (PPP), the Democratic-affiliated firm that conducted polls for the earlier caucuses but conducted a recent tracking poll in Maine, posted an analysis casting some doubt on the conventional wisdom that Romney should run strong in a state like Maine due to its proximity to New Hampshire (which Romney won by a comfortable margin) and Massachusetts (where Romney served as Governor).
"Maine GOPers are definitely not in love with Romney," writes PPP's Tom Jensen, noting that Romney had trailed Herman Cain in a survey PPP conducted there in October. Romney's favorable rating at the time was net positive (51 percent favorable, 37 percent unfavorable) though far lower than the rating Romney received on a PPP poll in neighboring New Hampshire in December (63 percent favorable, 30 percent unfavorable).
The PPP analysis also points out that while Paul was "not that popular with Maine Republicans" (his rating was 34 percent favorable, 51 percent unfavorable), "that doesn't mean Paul can't win." Motivate enough hard-core supporters to participate in a low-turnout caucus, and the numbers on the October PPP poll might be less relevant.
Will that strategy work for Paul in Maine? We should know the answer in a few hours. Caucus results are expected Saturday night, sometime after 7:30 p.m. Eastern Time.

Support HuffPost
The Stakes Have Never Been Higher
Popular in the Community