A state lawmaker in Maine has introduced a bill that would affirm climate change denial as free speech in the state, and shield deniers ― notably Exxon Mobil ― from prosecution by the state's attorney general.
Republican Rep. Lawrence "Larry" Lockman introduced LD 771, titled "An Act To Protect Political Speech and Prevent Climate Change Policy Profiling" earlier this month, at the behest of Jonathan Reisman, a self-described "prominent 'denier'" and associate professor of economics and public policy at the University of Maine at Machias.
Lockman has earned a reputation in the state house as a polarizing political figure. In 2014, he faced down calls for his resignation after comments surfaced in which he argued men should be able to rape women if abortion is legal.
"If a woman has [the right to an abortion], why shouldn't a man be free to use his superior strength to force himself on a woman?" Lockman wrote. "At least the rapist's pursuit of sexual freedom doesn't [in most cases] result in anyone's death."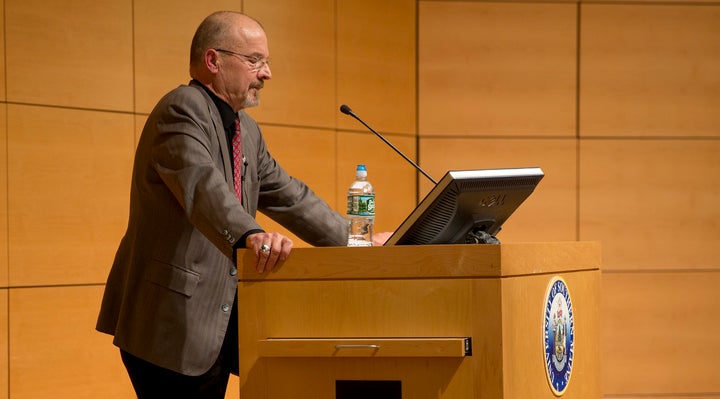 Reisman told The Huffington Post in an email Wednesday that the bill was drafted and submitted at his request in an effort to stymie Maine Attorney General Janet Mills, whom he says "has a serial record of abusing the 1st Amendment."
It's unclear how the bill further protects free speech beyond what's already guaranteed under the First Amendment. A question to that effect from HuffPost went unanswered by Reisman.
"Here the Attorney General has made quite clear that she believes that opposition to the climate change policy of the Obama administration is a criminal offense," Reisman told the Press Herald. "Her investigation is attempting to criminalize political speech that they disagree with."
Reisman elaborated on his position in an op-end sent to HuffPost, arguing that Mills is gagging free speech as defined by the Citizens United Supreme Court case in 2010. The case effectively classified financial contributions as free speech, opening the floodgates for corporate interests to pour money into political campaigns.
The bill would also prevent Maine from taking a person's "climate change policy preferences" into account when purchasing goods or services or in awarding grants or contracts.
"This bill is a head scratcher," Oamshri Amarasingham, advocacy director at the ACLU of Maine, told HuffPost. "All it seems to do is protect speech that is already protected by the First Amendment."
"If Rep. Lockman has heard from anyone who was denied a government job because of their position on climate change, he should send them our way."
Lockman emphasized to the Associated Press that his bill isn't only about protecting climate change deniers. It would also protect the free speech of people concerned about climate change. 
For example, he said, "I don't want to see a Republican state attorney general issuing subpoenas for the records of progressive or liberal think tanks or public policy groups to chill their free speech."
Lockman told The Associated Press he expects the bill will generate plenty of interest at its first public hearing, scheduled for April 6. 
This story has been updated with comment from the ACLU of Maine.
Calling all HuffPost superfans!
Sign up for membership to become a founding member and help shape HuffPost's next chapter
BEFORE YOU GO
PHOTO GALLERY
Climate Visuals For The Climate Change Denier In Your Life