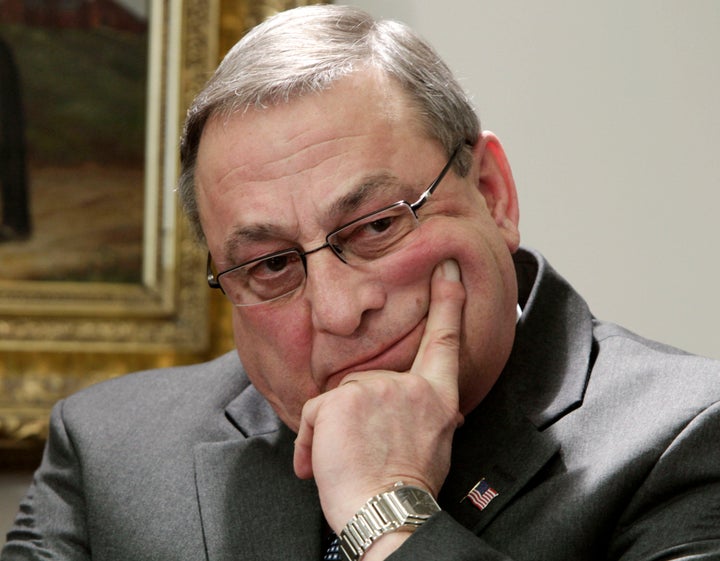 WASHINGTON -- Eight Republican state senators have issued a rare public rebuke of Maine Gov. Paul LePage (R), writing an op-ed expressing "discomfort and dismay" with some of his recent comments directed at labor backers.
The controversy centers around LePage's recent decision to order a mural depicting the state's workers' history removed from the Department of Labor, arguing that it was biased against businesses and employers. When asked how he would react if protesters carried out their plan to form a human chain around the mural, LePage replied, "I'd laugh at them, the idiots. That's what I would do. Come on! Get over yourselves!"
"But for him to announce that he would 'laugh at the idiots' should they choose to engage in our honored tradition of civil disobedience is another personal attack that only serves to further lower the bar of our public discourse," write the senators in the op-ed, which ran in The Portland Press Herald and the Kennebec Journal. "We may disagree with civil disobedience in this particular instance, but it is a fundamental right each and every one of us might engage in if we found the issue important enough.
Chris Hall, a lobbyist for the Portland Regional Chamber, told The Portland Press Herald that in his 21-year career, he has never seen a group of legislators write such an openly critical opinion piece of a governor who is a member of their own party. "This is extraordinary," Hall said.
The eight GOP senators -- Roger Katz and Brian Langley, joined by Thomas Saviello, Chris Rector, Nichi Farnham, Earle McCormick, Roger Sherman and Thomas Martin -- argue that LePage's recent controversies are distracting them from their jobs of governing and passing legislation.
"[W]e find ourselves continually diverted, responding to yet another example of our chief executive picking a personal fight not worth fighting," they write. "'Government by disrespect' should have no place in Augusta, and when it happens, we should all reject it."
"The issue of the day behind the artwork removal is a legitimate disagreement between the governor and labor," added the senators. "When running for office, some of us did not have the support of organized labor. We may find ourselves on opposite sides of an issue or vote, but we are all working to achieve what we feel is best for our great state. We are not the enemy of labor and labor is certainly not an enemy to us."
On Thursday morning, LePage stopped by the GOP caucus meeting and told lawmakers that he regretted stirring up these fights during the legislative session, rather than waiting until the summer to have them.
"It was a distraction that they did not need, and it just got away from them," state Rep. Leslie Fossel (R) told The Huffington Post at the time.
LePage's comments at the meeting stopped short of an apology.
This is not the first time LePage has attracted national attention for his caustic rhetoric and controversial stances. In January, he proclaimed that he wasn't going to attend a Martin Luther King, Jr. Day celebration--and if the NAACP didn't like it, he said, the group could "kiss my butt."
Popular in the Community